Epson Unveils New Line-up of Professional Large-Format Photo Printers: the SureColor P-Series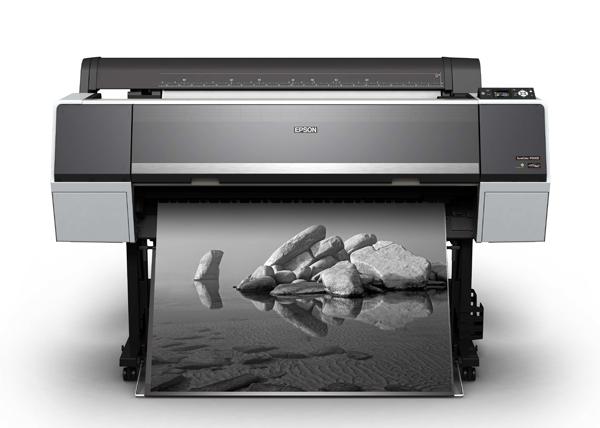 Epson announced a new line-up of professional large-format printers for photography this morning. Called the Epson SureColor P-Series lineup, the printers include the UltraChrome HD eight-ink, 24-inch SureColor P6000 and 44-inch SureColor P8000, which are designed for photographers, graphic designers, and commercial printers.
Epson also unveiled the 24-inch SureColor P7000 and 44-inch SureColor P9000, which use a revamped Epson UltraChrome HDX 10-color ink set for both commercial and flexographic printers, along with photographers, graphic designers, and fine art reproduction houses.
The SC-P7000 and SC-P9000 are also available in a Commercial Edition version, which features a new Violet ink for expanded color gamut, designed to output matching 99-percent of the Pantone Formula Guide Solid Coated. The printers are also configurable with an optional Epson SpectroProofer UVS in-line spectrophotometer, which is designed to provide automated color management and verification-related tasks for a range of proofing applications.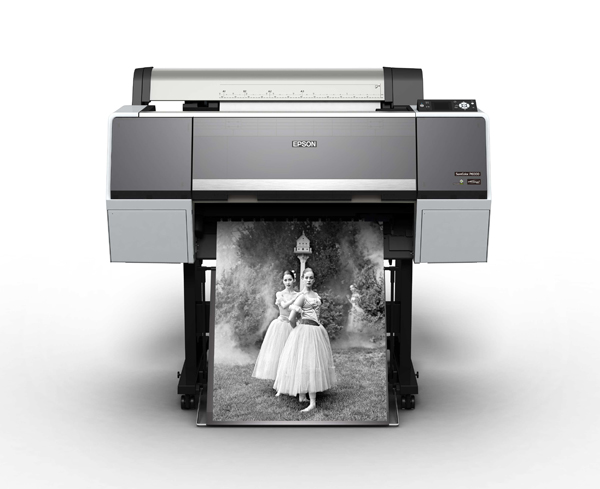 The new Epson pro large-format printers use the company's latest imaging technologies including Epson's PrecisionCore TFP printhead.
Here's a rundown of the rest of the features on the new Epson SureColor P-Series large format pro photo printers:
• Epson UltraChrome HD and HDX Ink: The SC-P6000/P8000 use the eight-color UltraChrome HD ink and the SC-P7000/P9000 use the 10-color UltraChrome HDX ink. Both professional ink sets are designed to deliver outstanding color with improved black density; new Black ink is 1.5 times denser than previous ink formulation, which is designed to provide significant improvements to overall contract ratio and optical clarity, and improved Resin Encapsulation Technology delivers superior gloss uniformity. All SureColor P-Series printers are designed to work exclusively with Epson UltraChrome HD and HDX ink.
• Epson PrecisionCore TFP Printhead: The SureColor P-Series is designed to deliver consistent, high performance with variable size ink droplet technology as small as 3.5 picoliters for excellent print quality. Enhancements include a new wave form, improving dot placement and accuracy. User-scheduled cleaning cycles improve print head health.
• Proofing Standard: Designed for commercial and flexographic proofing, the SC-P7000/P9000 Commercial Edition printers include an all-new Violet ink for expanded color gamut targeting improved spot color matching accuracy.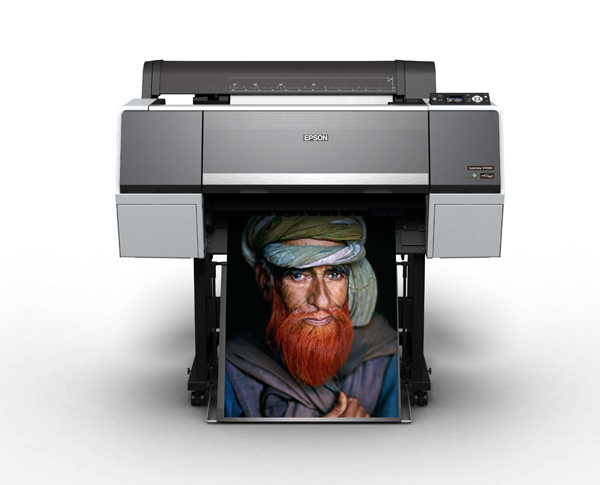 • More Robust Media Handling: Supports virtually any media type in roll or cut-sheet, from photographic paper to 1.5 mm thick fine art media and poster board. New roll media handling offers user-selectable 3 mm top and bottom margins and improved guide rollers for reduced media surface impressions. High-speed rotary cutter included.
• Optional Internal Print Server: Internal 320GB print server boosts workgroup productivity by quickly transferring print jobs to free-up workstations; adds print queue management and print job save and reprint functionality.
• Optional SpectroProofer UVS: Developed jointly with X-Rite, the in-line spectrophotometer provides automated color management and verification-related tasks for a range of proofing applications. It supports all current illumination standards for UV and UV-Cut measurement and is UV selectable between M0, M1 and M2.
The Epson SureColor P-Series goes on sale in October 2015. Pricing breakdown is below.
| | |
| --- | --- |
| Epson SureColor P6000 24-inch – Standard Edition | $2,995 |
| Epson SureColor P7000 24-inch – Standard Edition (Light Light Black Starter Ink Set) | $3,995 |
| Epson SureColor P7000 24-inch – Commercial Edition (Violet Starter Ink Set) | $3,995 |
| Epson SureColor P8000 44-inch – Standard Edition | $4,995 |
| Epson SureColor P9000 44-inch – Standard Edition (Light Light Black Starter Ink Set) | $5,995 |
| Epson SureColor P9000 44-inch – Commercial Edition (Violet Ink Starter Set) | $5,995 |