The Epson Stylus Pro 7900; A 24" UltraChrome HDR Ink Set Printer Page 2
In the print driver, be sure to select No Color Management (#7) to avoid unexpected results, and note that if you're on a Mac you have the option to print in 16-bit color. For images with smooth tonal gradations, like sky and skin tones, this improves output by sending more color information to the printer. The differences are subtle, but when viewed side by side you can see a difference.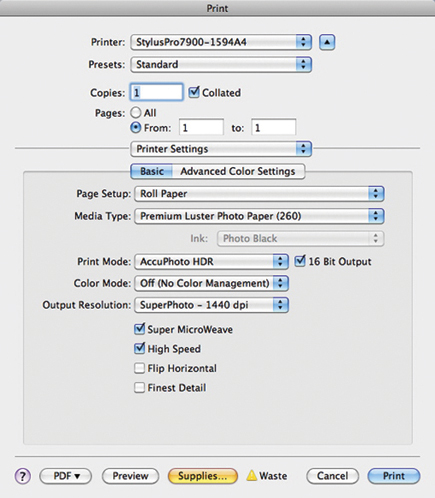 #7. You have several quality options in the print driver. For general printing, I find the SuperFine setting provides excellent results. For exhibition-quality printing, I'll choose SuperPhoto for increased resolution. If you're on a Mac, you have the option to print in 16-bit mode. This option is not yet available to Windows users.
There are three quality settings for output that are suitable for photo printing—Fine (720dpi), SuperFine (1440x720dpi), and SuperPhoto (2880x1440dpi). In general, I found that SuperFine is a good choice for general printing, while SuperPhoto is used for final exhibition-quality prints. Moving up to SuperPhoto doubles the print times and uses significantly more ink, so I reserve this for times when the output quality is critical.

Epson claims the 7900 is twice as fast as the 7880 and in my testing, I found that speed difference to be pretty accurate. The Canon imagePROGRAF iPF6200 still holds a slight edge in print speed, but the difference is minor. Compared to the HP Z3200, it's significantly faster, outputting a 16x20" print in the SuperFine mode (1440dpi) in just under 4 minutes, while the same print in SuperPhoto mode (2880dpi) takes about 7 minutes. The new print heads have an improved screening algorithm that Epson calls AccuPhoto HDR Screening that improves dot placement to produce much smoother tones. Combined with the variable dot size, the final prints look very much like a continuous tone print. Compared to prints from the 7880, tonal transitions are visibly improved, especially in areas like sky or skin tones, and color shifts in different lighting sources are virtually unnoticeable.

Black-and-white printing on the Epson pro series has always been among the best of any printer available, particularly with their Advanced Black and White Photo mode. Part of this is due to the way Epson encapsulates the inks. There is essentially no bronzing or metamerism on the prints.
#8. Epson's Advanced Black and White Photo mode uses all three blacks (black, light black, and light light black) to produce excellent quality monochrome prints. You can fine-tune the settings to produce toned prints if you like.
As before, the Advanced Black and White Photo mode (#8) is available to produce neutral or toned prints using all three black inks while minimizing the amount of color ink used in the print. Output in this mode is very good and one nice feature is the ability to fine-tune a print for just the toning effect you're looking for. Epson is also claiming an improved black density with the 7900, giving a Dmax of 2.6 on their Premium Luster paper (the 7880 is rated at 2.55 with the same paper).

Switching from photo to matte black is no longer the chore it used to be. Because both inks are installed at all times, it's a simple button push to select which ink you want to use. While there is still a minimal amount of ink waste in the switchover, it's not the expensive and time-consuming task it was with the 7880. The front panel tells you which ink is active at all times (#9).
#9. The updated control panel on the x900 printers gives you detailed information in color, including which black ink is in use, and the current ink levels.
The color gamut with the new UltraChrome HDR inks is visibly larger. In measuring the ICC profiles for Premium Luster from both printers, the 7900 was 21 percent larger in volume. A look at the gamut chart (#10) shows that the new printer has greatly improved the green and red ranges, while also giving you a smoother tone map. While orange might seem to be an odd choice, this ink makes a tremendous difference in the quality of skin tones—comparing images with other printers, the Epson is a clear winner in skin tone reproduction. Landscape photographers will also benefit here with better color rendition in rich warm colors and improvements to the greens and sky tones.
#10. The addition of green and orange inks has really expanded the color gamut of the 7900. With the larger range, skin tones take on a new level of accuracy, and the improvements in the greens and blues will be welcome by anyone printing landscape images.
Conclusion
The new Stylus Pro 7900 and 9900 printers from Epson bring some nice enhancements to the digital photographer interested in high-quality output. With a significantly larger gamut and improved print speed, the new printers are a great option for anyone printing vivid colors or portraits. You'll pay a premium for the new technology, mainly due to the advanced print head, but if you want the absolute best, it's worth the extra. If you frequently change between photo and matte black inks, the savings in time and ink will pay for the difference in price in short order. For those primarily interested in black and white, or with a more modest budget, the 7880 and 9880 are still excellent options. But, when comparing all the options available, from all three companies, Epson is solidly in the lead once again with the 7900 and 9900.
Requirements
• Windows XP or later (32- and 64-bit)
• Macintosh OS X 10.4.9 or later (10.5 or later for 16-bit printing)
• USB or Ethernet port
New Media Options
Along with the 7900, I had the opportunity to try out four new papers from Epson's new "Signature Worthy" line. These are mould-made fine art papers—Hot Press Natural and Bright, and Cold Press Natural and Bright. Like the names imply, the natural papers have no optical brighteners and therefore have a warmer tone to them that will appeal to many. The Bright papers have a cold white look that is very crisp. All four papers are 100 percent cotton rag. The Cold Press has an obvious but not overpowering texture to it while the Hot Press is a very smooth surface that reproduces fine details exceptionally well. With the UltraChrome inks, the blacks are rich and the color gamut is exceptional for a rag paper. It's not cheap—a pack of 25 sheets of 17x22" Hot Press will set you back nearly $150, but once you've seen the results you won't mind the dent in your wallet.

For more information, contact Epson America, Inc. at: www.epson.com/proimaging.

FEATURED VIDEO