The Epson R-D1 Journey Begins
A New Digital Version Of A Classic Rangefinder Camera, And More... Page 2
An Evaluation And Recommendation
The obvious perspective regarding the Epson R-D1 is that its primary appeal should be to those photographers who are dedicated to classic rangefinder cameras. To provide these photographers with a body that gives them digital-capture capability surely must be the core market Epson considered for this product. But there is also a newer contingent, those photographers who have picked up on the relatively recent Voigtländer Bessa camera and the many lenses made for it. So does the Epson R-D1 also have a potential with photographers beyond the community of classic collectors? Only time will reveal whether that is the case. But in terms of functionality and performance, many will find the Epson R-D1 body provides a good digital photography experience with results to match.
This very softly lit and subtle architectural detail was captured with precise fidelity and excellent separation of all the tones and soft tints of color with the Epson R-D1 with the Rollei 40mm Sonnar lens.
Whether enthusiasm for the R-D1 is motivated by wanting something a little different, a classic look with an automotive-like instrument pod of dials rather than an LCD read-out, or as a supplement to an existing investment in classics, the Epson digital rangefinder is surely competitive with any other APS sensor digital camera, and then some. Whether it is worth shelling out almost $3000 is really a very individual matter, and surely not one dictated by practicality. Personally, I am not inclined to sentimental or show-off photographic purchase motives. But I would be very disposed toward the Epson R-D1 myself if for no other reason than it provides a satisfying photographic experience and produces exceptional results. Isn't that reason enough?
Rollei (Carl Zeiss) Sonnar 40mm f/2.8HFT & Planar 80mm f/2.8 HFT
The two lenses used with the Epson R-D1 for this report are new Carl Zeiss, German-made classic designs for the Rollei 35 RF camera (M-bayonet mount), and are available in either chrome or black finish.

For more information on Rollei products, contact Rollei U.S.A., 2015 Mountain Ave., Unit B, Stroudsburg, PA 18360; (570) 629-4391; fax: (570) 629-2533; www.rollei-usa.com.

Epson P-2000 Multimedia Storage Viewer
The Epson P-2000 Multimedia Storage Viewer provides a photographer with much more than just a 40GB portable, battery-powered hard drive with memory card and USB connection to download and store digital camera image files. It features a unique 3.8" super high-definition LCD screen that displays photo image files with brilliant detail and sharpness. The potential applications for a photographer are much more than just storing and reviewing digital camera files in the field. Besides all of the popular image file formats, the P-2000 also supports video and audio formats, and even has it own speakers for audio playback. It is an ideal pocket companion for every kind of photographer. For a complete list of specifications, please visit the Epson website at: www.epson.com.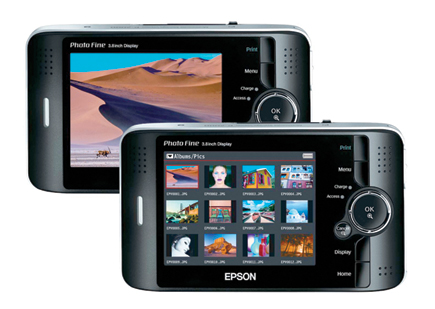 Technical Specifications
Liquid Crystal Display (LCD): 3.8" Photo Fine LCD by Epson
Hard Drive: 2.5" 40GB hard drive (36.5GB FAT 32 available for storage)
Built-In Memory Card Slots: CompactFlash Type I/Type II and IBM Microdrive (3.3v); Secure Digital and MultiMedia cards; Memory Stick, xD Picture Card, and Smart Media supported with optional third-party CompactFlash adapter--sold separately
USB Interface: Hi-Speed USB 2.0
Dimensions And Weight: Dimensions: 3.3x5.8x1.2"; Weight with battery: 14.4 oz
List Price: $499
Technical Specifications
Camera Type: Rangefinder digital camera with interchangeable lens mount
CCD Sensor: APS size: .93x.61" (23.7x15.6mm); Total CCD resolution: 6.3 million pixels; Effective pixels: 6.1 million; Magnification factor: 1.53
Lens Mount: EM mount (compatible with M mount), L mount with optional third-party adapter
Sensitivity: ISO 200/400/800/1600
Storage: Secure Digital memory card (supports up to 1GB)
Camera Body: Magnesium alloy
Power Requirements: Li ion battery and charger
Dimensions And Weight (Body Only): Dimensions: 5.59x3.48x1.56"; Weight without memory card and battery: 1.24 lbs
Estimated Street Price: $2999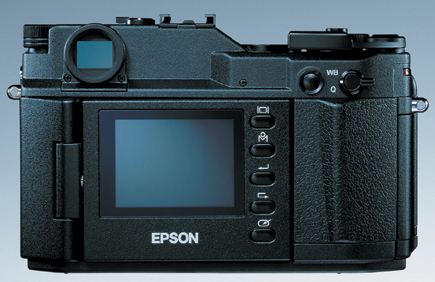 For more information and a full listing of specifications on the R-D1, visit Epson's website at: www.epson.com.

LATEST VIDEO

SPONSORED VIDEO
Testing Tamron's SP 150-60mm G2 lens while capturing birds and alligators in Apalachicola, Florida.