Epson's Stylus Pro 4800; Monochrome Digital Printing Has Arrived
Here at Shutterbug we have followed the long and sometimes tortuous road toward getting quality black and white prints digital style. Readers, and we, have suffered through the rigors of metamerism, bronzing, and the associated color shifting and frustrated attempts to match what's on the screen with what comes out of the printer. We have tried duotones, third-party inks, and even black ink-only printing. While we await the testing of the new Epson Stylus R2400 (the 13x19" K3 printer) we have had the opportunity to work with the new Epson Stylus Pro 4800, a 17" wide printer that sports the new K3 inksets, the same setup as the R2400. The 4800 sells for $1995, with a "pro" edition, which includes a Pantone-licensed, SWOP-certified PostScript, Language Level 3 Compatible RIP by ColorBurst, and an Ethernet card (for shops and studios), that sells for $2495.


Does pigmented ink printing replace silver printing? No, but as a way of making expressive prints, those who respond to tonal variations and discrete controls, it will keep even the most demanding printer busy with, and excited about, their work. Does the new generation of Epson printers cure the problems of the past, those that seemed inherent to the medium? Yes, and it also responds to desires for warm, neutral, or "cool" prints, even duotone printing, in a way that many of us have been awaiting. Do the prints pass the longevity demands as well? Yes, if 200 years plus black and white satisfies you, at least when using recommended display and storage guidelines on certain papers, according to Wilhelm Imaging Research (www.wilhelm-research.com).

Much of this success can be attributed to the new generation of pigmented inks, which Epson calls UltraChrome K3. According to Epson, UltraChrome K3 inks are of higher density than those in the past. In addition to cyan, magenta, yellow, light cyan, and light magenta, the inkset can include black, light black, and "light, light" black inks. Of course, the drivers also play an important role, but more on that later. There are two ink modes--Photo Black and Matte Black--which are swapped out to maximize ink density on the two types of media. The Matte Black is for use with Epson Fine Art, Enhanced Matte, and UltraSmooth Fine Art papers, and those of their ilk.
Cool to neutral: This photo from a digital camera was printed in Advanced Black and White mode on the Epson Stylus Pro 4800 using the "Cool" setting. Results are cold/blue, similar to Brovira in Dektol, or even the old Medalist look. No shifting, no bronzing.
The print head in the 4800 features 180 nozzles per channel and can yield 2880x1400 resolution. Epson claims that a 16x20" print can be output in a bit over six minutes, and our tests confirm this, given that you start the clock after the information hits the printer. You can work with roll, with built-in cutter, or cut sheet up to 17x22". If you use one of the four paper feed options, being straight-through front manual feed, you can handle up to 1.5mm thick poster board.

We printed both color and black and white images with the 4800, going for the 16x20" print size in each case. Images came from a variety of sources, including converted 48MB raw files from a Canon EOS-1Ds Mark II and scans from 35mm and medium format slides and negatives that ranged from 48-72MB in size. Initial tests were on Epson's Luster paper, a very fine surface that has both the softer qualities of matte surface and the sharpness one associates with glossy.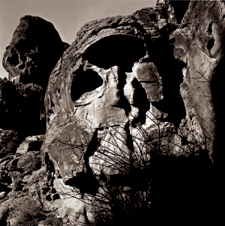 Want warm-toned prints without shifting color? The new Epson Stylus Pro 4800 delivers same. This black and white scan from a 35mm Delta 400 frame was printed using Advanced Black and White mode and "Warm" settings. This may sound like heresy, but it looks like the old Portriga.
This is hardly a desktop unit; lacking a stand, we worked with a thick plywood board atop some sawhorses. It isn't lightweight by desktop standards, coming in at over 85 lbs. But setup was relatively easy, after some hefting and tape removal, as was loading the ink cartridges. We worked with FireWire connections off a Mac iBook, which looked kind of funny sitting next to the large printer. During driver installation we also installed the Epson LFP (Large Format Printer) remote panel, which allowed for access to firmware updates on the website, power cleaning, media counter settings, and media adjustment.

As mentioned, there are various media paths through this printer. You can use the supplied paper tray and manual top feed for most--check the instruction book for the differences and to match media with the loading procedure. You will use the front manual feed slot for UltraSmooth Fine Art, Textured Fine Art, Enhanced Posterboard, and Velvet Fine Art, for example. The paper tray use is pretty standard, using sliders to adjust for paper size. Roll paper requires the supplied roll adapter; note that while there is a built-in cutter, there are some media types, such as Water-Resistant Canvas, Vinyl, Banner, etc., that will not work with the cutter. It's a good idea to check the paper configuration settings as well, especially when working with paper of various thicknesses. All this might seem like lots of backroom homework to get set up, but once you do the process all you need to do is save the settings and select the appropriate one when you switch media.

Printing setups are fairly typical, and won't be foreign to anyone who has printed before...to a point. Of course, this is where many printmakers have disagreements about the best course to follow. In Color Management we chose ColorSync for color prints, and given the proper paper profiling we got dead-on, screen-matching color each and every time. You do have a number of options here to tweak, including Mode (color space) and Gamma, with 1.8 being the default. You can also mess with brightness, contrast, saturation, etc., but that's where your testing will come to the fore, matched to your individual taste and how you like to work. Once you do all this, and are confident with results, just save the settings for future work on the same paper.
The Advanced Black and White mode settings really do deliver what's promised, if you like what Epson considers Warm, Cool, or Neutral prints. If you're not happy with the general settings you can move the tonal values and image color all over the map.

FEATURED VIDEO