Enter Shutterbug's Fall Photo Contest & Win Great Gear, Prizes & Cash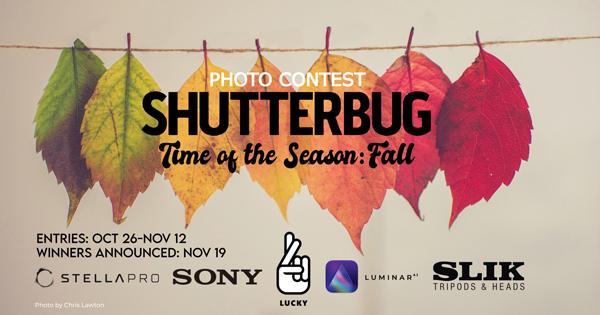 It's time to get your best fall photos together, shoot a few more, and enter Shutterbug's Time of the Season Fall Photo Contest for a chance to win a bunch of great gear, prizes, and cash.
All genres are welcome, so show us your favorite fall landscape shots, macro images, vacation photos, portraits, and anything else that captures the essence of this crisp, colorful season. You have until November 12 to submit your entries, and winners will be announced November 19.
The Grand Prize Winner takes home over $3,700 in gear and prizes.
Grand Prize Winner Receives:
-$500 cash prize
-Sony Alpha a6400 mirrorless camera ($898)
-StellaPro™ CLx10 Continuous LED Light ($1,299)
-Slik Carbon Fiber CF-834 Tripod w/ the PBH-45LP Ball Head ($569)
-Skylum Luminar AI photo editing software ($316)
-Lucky Camera Strap Standard 53 camera strap with Quick Release ($96)
-Time of the Season Photo Book ($57)
Plus, four Finalists will receive a $50 Amazon Gift Card, Skylum Luminar AI photo editing software, and the Time of the Season photo book.
So get busy and send us your best stuff by entering here,