Eight Unique Monopods; Multifaceted Camera Support Options Page 2
Manfrotto 682B Self-Standing Pro
Specs: Three-section; aluminum leg sections; flip-lock leg releases; 27.5" minimum collapsed length; 64.5" maximum extension; weight is 2.4 lbs; 2.25" platform; foam grip; $83.95, street.
Special features: Bottom cap unscrews, three legs flip down to facilitate the self-standing function; flip-lock lever tension is adjustable.
Pros: Lens and film/media card changes aided by self-standing capability; heavy-duty unit.
Cons: Stored legs rattle during bumpy transport.
Comments: The three legs are captive to the bottom cap; this makes them much faster to deploy than the Giottos P-Pod's individual legs, but they can't be adapted as a bipod or wall brace.
Manfrotto 3245 Automatic
Specs: Three-section; aluminum leg sections; twist-action leg release; 26.5" minimum collapsed length; 65.5" maximum extension; weight is 26 oz; 2" platform; $80.95, street.
Special features: Pistol grip with trigger provides final rapid height adjustment.
Pros: Comfortable size and weight; second fastest setup time of monopods reviewed; bottom leg section is the largest in diameter, allowing use of Uni-Loc DuoPod (DPA) accessory foot brace; convenient large wheel just under camera platform is great aid in tightening/ loosening 1/4"-20 camera screw.
Cons: The gauge of the aluminum tubing used in the leg sections is the lightest of the monopods reviewed here; therefore, if you add a Uni-Loc DuoPod foot brace (see "Customizing" section), be careful not to overtighten the clamp, which could kink the tubing, interfering with the extension action.
Comments: There are no section release/lock rings or levers...you grasp the lower leg section (the only one exposed when the monopod is collapsed) and twist clockwise to loosen, extend mid section fully upward (the leg "ring" thus exposed is
non-functional trim), then twist counterclockwise to tighten; pressing grip trigger while pulling upward gives last 19.5" of camera positioning leeway.
Slik E-Z Pod
Specs: Six-section; plastic grip-body, aluminum leg sections; flip-lock leg release levers; 19" minimum collapsed length; 62.5" maximum extension; weight is 1.5 lbs; 1.75x2.5" platform; $79, list.
Special features: Twin-trigger (top one releases, bottom one locks) pistol grip provides final rapid height adjustment; built-in tilt head with quick-release platform; shoulder strap.
Pros: Lightweight and compact; grooved leg sections prevent leg-lever rotation; least expensive of the eight monopods reviewed.
Cons: Cumbersome procedure necessary to re-orient camera from horizontal to vertical.
Comments: Though a six-section model, the flip-locks are very well designed and smooth in operation, making it much faster to deploy than you might expect. Spring-loaded final height adjustment takes a bit of getting used to, especially with lightweight cameras. The sturdy built-in tilt head makes the unit ready to go, with no further investment in accessories necessary.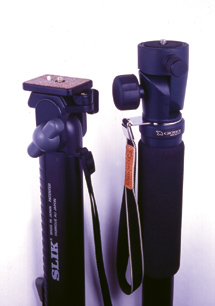 The built-in tilt heads of the (left to right) Slik E-Z Pod and Giottos P-Pod MM5570.
Uni-Loc 1600M/3
Specs: Three-section; aluminum leg sections; twist-lock leg releases; 26" minimum collapsed length; 62.5" maximum extension; weight is 1.5 lbs; 1.5" platform; $73.50, street.
Special features: Leg release locks are knobs positioned perpendicular to the leg.
Pros: Lightweight; fast to set up; lower leg section is largest diameter, accepting the accessory Uni-Loc DuoPod (DPA) foot brace; lower section watertight and mudproof.
Cons: Interchangeable leg tips are extremely tight-press fit, lubrication helps.
Comments: The perpendicular knobs are much faster to engage/disengage than most typical ring locks; also available together with the DuoPod brace as a kit.
Customizing Your Monopod
An accessory or two can contribute greatly to your monopod's stability and versatility. It should be obvious that in its purest, unaccessorized form, a monopod can only totally eliminate motion in one plane--vertical. Forward/backward and lateral tilt are limited only to the extent of the steadiness (or lack thereof) of your grip.

Fortunately, there are accessories, either built-in or add-on, that can go a long way toward taming motion in the remaining two planes. As noted previously, the individual screw-in legs of the Giottos P-Pod can serve as a wall brace or convert the monopod to a bipod. Much the same functionality can be added to other monopods with the Manfrotto 3422 Monopod Support. Its sturdy 2.25" die-cast metal base simply mounts onto a monopod's camera screw (3/8", or 1/4" with adapter bushing). The 9" long metal brace tilts and locks via a generously sized winged knob, doing duty as a wall brace, bipod, and chest pod. The unit features a light-duty Manfrotto Micro Ball Head, featuring a 1.25" camera platform and a claimed maximum capacity of 4.4 lbs. Street price is $46.

Another Manfrotto item of note is the 3248 Shoulder Brace for Monopod. Its 30mm base mounts between the monopod and the head and swivels freely, and both arm and shoulder support pivot for maximum adjustability (but neither can be locked). The arm is extendable from 7.5-12", and arm/support snap into storage position. Street price is $15.

For monopod designs that have the largest diameter leg section at the bottom (e.g., Uni-Loc, Benbo, Cullmann, Manfrotto 3245 Automatic, and recently introduced NeoTec 684B), the Uni-Loc DuoPod (DPA, $89 street) and DuoPod Pro (DPK, $149.95 street) foot braces add a large dose of lateral stability. The DPA model is the lighter version (1.4 lbs), and clamps to legs of 20-30mm in diameter. The DPK Pro model (2.95 lbs) is a super heavy-duty unit geared largely to production TV/video crews, and is designed specifically to fit the 35mm diameter leg of Uni-Loc's larger Major monopods.

There are many shoulder straps, carrying cases, spikes, snow shoes, clamps, etc. Manfrotto has a 3247 Belt Pouch that supports a collapsed short monopod, a good solution, especially in conjunction with a chest or shoulder brace, when maximum mobility is imperative. They also offer a 3421 Long Lens Monopod Bracket for sports photographers, which suspends the lens from the top via the lens' tripod arm. In short, if you can identify a problem, there's likely a gizmo to solve it; if not, make one!
Winners, Clear And Otherwise
First, let me say that there are no losers among the eight monopods reviewed here. All are proven designs of good to excellent construction, and will serve you well straight out of the box, with nothing more added than a head, if needed. But the basic camera-on-a-stick concept can be greatly enhanced, refined, and tailored to any particular requirements. The three criteria I've chosen to address are 1) compact storage; 2) setup speed; 3) added stability via accessories.

Since the first two considerations are, unfortunately, mutually exclusive, there must be separate "compact" and "fast" winning categories. Even so there are blurred lines and multiple contenders. At 15" collapsed, the Gitzo G1566 Mk 2 easily wins the compact category by the numbers. Add a head, however (and you'll want to at only 54.5" fully extended), and it will be very close to the 19" Slik E-Z Pod, which has a built-in tilt head. But the Gitzo still gets the nod, as you can always remove an accessory head for separate storage. The addition of a Manfrotto 3422 Monopod Support will let you brace the 'pod against your chest, a wall, fence, tree, etc. (I should mention that Gitzo offers a couple of monopods with built-in shoulder braces, though I prefer the modular approach.) In the course of experimenting, I discovered that the Gitzo's pointy little rubber foot can be unscrewed and replaced with a Giottos FP-2021 Multifunction Shoe, which has the same thread; this provides 4" of grip on slippery polished floors, and serves equally well in soft sand.

But unlocking and locking the diminutive six-section Gitzo's five twist-locks is a time-consuming process. It follows, then, that a two-section monopod will require the shortest setup time. Factor in a large, easy-to-grasp flip-lock lever and the Cullmann Titan CT 304 is the shoe-in speed demon. At 34.5" sans head, though, it won't be a carryon item unless you can disguise it as a cane. Also, in fairness to Uni-Loc, I should note that the two-section version of their monopod (three-section reviewed here) would run a close second in setup time. The Cullmann CT 304 mates perfectly with Uni-Loc's Super-Tilt head and DuoPod (DPA) foot brace. That, plus a quick-release platform and a pivoting chest/wall brace would make this one formidable unipod, as long as extreme "packability" isn't the deciding factor.

This is a mere smattering of the scores of monopods available from these, and other, manufacturers. Once you try one I'm sure you'll be pleasantly surprised with the increase in picture quality and minimal erosion of your mobility. So define your own criteria for the ultimate monopod and start creating...Frankenpod awaits!
Manufacturers/Distributors
Bogen Imaging Inc. (Gitzo and Manfrotto)
565 E Crescent Ave.
Ramsey, NJ 07446
(201) 818-9500
www.bogenimaging.us
HP Marketing Corp. (Giottos and Novoflex)
16 Chapin Rd.
Pine Brook, NJ 07058
(800) 735-4373
(973) 808-9010
www.hpmarketingcorp.com
Pro4 Imaging Inc. (Uni-Loc)
701 Aspen Peak Loop #523
Henderson, NV 89015
(800) 636-0844
www.pro4.com
RTS Inc. (Cullmann)
40-11 Burt Dr.
Deer Park, NY 11729
(631) 242-6801
www.rtsphoto.com
THK Photo Products, Inc. (Slik)
2360 Mira Mar Ave.
Long Beach, CA 90815
(800) 421-1141
(562) 494-9575
www.thkphoto.com

FEATURED VIDEO