Down On The Farm; Scanning The Web, And (Another) Computer Cautionary Tale
Steve Solinsky's photography is breathtaking on many levels. First, there's his image making in exotic locations that transcends traditional color landscape photography taking it in new directions, then there's joy in his celebration of the ordinary captured in extraordinary ways.
© 2003, Steve Solinsky, All Rights Reserved
"I Don't Like Spiders or Snakes..."
--Jim Stafford
First there were viruses, then spam, now web surfers have to combat parasites that can hijack their Internet browsers; it's enough to turn you into a Luddite. But as the song asks, "How're ya gonna keep them down on the farm after they've seen Paree?" This month we'll discuss a problem you may have noticed on your own computer and introduce a few sites that may have the solution. In addition, you'll meet a few Webmasters from some of the best and brightest photography sites on the Internet.
Gallery Of Fine Art
When I see a truly great image I gasp. That's what happened when I hit Steve Solinsky's homepage (www.solinskyphoto.com) the first time. Don't rush through or skip the slide show that greets you; sit back, relax, and enjoy the photographs.

Solinsky's work is breathtaking on many levels. First, there's his image making of exotic locations that transcends traditional color landscape photography, taking it in new directions. Second, there is joy in his celebration of the ordinary imaged in most extraordinary ways. His Image Catalog contains seven collections that help you rethink color photography. In each case, Solinsky has created bold, genre-busting images that are displayed with class and style. Clicking any collection opens a page of thumbnails; clicking one of them opens a larger image along with pricing information. You can browse through large photographs by clicking next and back arrows. Oh yeah, the prices are amazingly affordable considering the quality.

The posters, although no size is mentioned, available in the Posters section are a downright bargain. His catalog contains similarly spectacular images of America, Ireland, The Tropics, and new work, including the knock-my-socks-off, Uelsmannesque "Tidelands Shrine," which is labeled a "digital montage." You won't see any Italians in the Italian collection, but you will see their traces. (Kinda like the Martians reflected in the water at the end of The Martian Chronicles miniseries.) Everything in Solinsky's pictures seem meticulously placed to archive a crisp, formal composition. The way a window curtain blows in "Curtain in the Wind" is as if a young, barefoot Sophia Loren just walked by and the breeze from her flowing skirt disturbed the red (it had to be red) curtain. In the About the Artist section, there's a great portrait of Solinsky and some biographical information; he looks like a nice guy. If you want to see his work in person, the Coming Exhibits section contains information about various gallery exhibitions, art shows, and tours of his studio. If you go, be sure to say "Hi" from me.
Ed Rudman may feature a beautiful woman's portrait on his homepage but when you click "Enter" you are treated to a matrix of all kinds of photographs, including "puppets."
© 2003, Ed Rudman, All Rights Reserved
Models, Models, And Puppets, Too
Connecticut-based Ed Rudman may feature a beautiful woman's portrait on his homepage (www.emrphoto.com) but when you click "Enter" you're treated to a delicious matrix of all kinds of images, including dare-I-say-it puppets. The site's design is fresh and easy to navigate. Clicking any of the six galleries in the matrix takes you to a 3x3 thumbnail grid; simply dragging your mouse over any of them displays a larger photograph. Be patient while these larger photos load; it takes some time on my (still at it)
dial-up connection.

Rudman's Model portfolio is full of engaging images with fresh approaches to tired themes and demonstrates his style with negative space, too. Unfortunately his site's format prevents the use of any kind of caption, but it would have been fun if we could see comments or information about some of these photographs. By the time you click through More Models and get to Even More Models, you'll see that Rudman's color and especially his monochrome work has grown and is more spontaneous while being more deliberate at the same time.
Rudman calls the puppet section (there's an out-of-place gargoyle skulking there, too) Still Life but I think there's some funny stuff lurking here that he may not yet have discovered and photographed. There are currently only a few images in this section but Rudman clearly has a talent for still life and a way of transforming the cliché of a "daisy in a bottle" into something special. His Portrait section is filled with photographs of young people, including a baby, which leads me to think he is either a young photographer himself or young at heart. Especially notable is the panoramic portrait of four young girls whose cropping will cause every photographer viewing it to ask, "Why didn't I think of that?"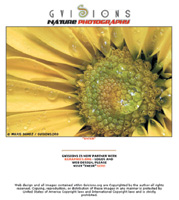 Both the photography and the clean-looking web design are done by Gilkermaxis Gamez. The site features a newsletter-graphics style that wraps information around his great nature photography.
© 2003, Gilkermaxis Gamez, All Rights Reserved
Just Call Him Maxis
You have to love any photographer named Gilkermaxis Gamez, and you have to visit his website (www.gvisions.org), too. Both the photography and the clean-looking web design are done by Gamez, and the site features an almost newsletter style that wraps great nature photography around information. He's a young dude, too, as can be seen by the photographs in the Biography section, and while he considers himself a "bird photographer" the Gallery section includes portraits and landscapes as well.

His portraits show traces of a talented beginner but his Avian Gallery contains much for bird watchers and practitioners of this difficult discipline to admire. Once you click on a thumbnail in a gallery window, you're taken to another window that displays a slightly larger version (I wish it were bigger) of the same photograph with back and next arrows, and clicking the "i" button produces a pop-up "About this Image" window with technical details. Since the enlarged image is small relative to the space available in the window, I wonder why Gamez feels he must place his name so big across these photographs. Right-click copying is already blocked; try it and see his clever response, but I respect his concerns about digital theft. The Digital Gallery includes quiet, yet moody monochrome landscape images, while his Open collection is ablaze in color and action, including an in-car portrait of the late NASCAR legend Dale Earnhardt.
When my Internet Explorer browser became infested with parasites, I visited www.spywareinfo.com, where I found a storehouse of information on this subject. As you can see, my short-term solution was to switch from Internet Explorer to Netscape 7.1.
A Public Service Announcement From Web Profiles
It's bad enough computers can get viruses, but parasites? Yes, boys and girls, exploiting yet another security flaw in Microsoft's Internet Explorer, vicious hackers and "script kiddies" are using parasitical programming to hijack your browser software to modify your start and search pages and even add shortcuts to your Favorites folder--without even a polite dialog box asking permission. It's all designed to force you to visit a website of the hijacker's choice. Nope this isn't the Pirates of the Caribbean; it's worse and since this is the Internet it even has a buzzword.

Spyware is software that is surreptitiously installed on your computer to gather information for later retrieval. It comes in two varieties: surveillance spyware and advertising spyware. Surveillance software includes the kinds of stuff "the boss" might install on your computer to see if you're looking at sports or porn sites instead of working. Advertising spyware is software that may be installed alongside other software or, more often than not, via Microsoft's ActiveX controls without your knowledge and can collect personal information or show you ads.
Ad-aware is a "freeware" program that will "quarantine" parasitic files that have been playing havoc with your Windows (98/SE/Me/NT4/2000/XP) browser. The company offers an upgraded version for a modest fee but the freeware version worked for me.
Advertising spyware logs information about the user, including e-mail addresses, browsing history, online buying habits, hardware and software configurations, and even your name, age, and sex. You got it, it's Spyware.

So what are you going to do, call Spy Busters? The Windows version of Internet Explorer seems the most prone to these sorts of attacks so the first step is to tighten up its security settings. (If you're already infected, it may be too late.) Start by opening Internet Options and going to the Security tab. In the ActiveX area, disable anything not marked as "safe and not signed." For ActiveX marked "safe and signed," set the choices to "Prompt." This approach did not work 100 percent of the time for me, so I visited www.spywareinfo.com, where I found a storehouse of information on this subject.

Further research on this subject turned up a freeware program called Ad-aware (www.lavasoft.de/support/download) that will "quarantine" files that have been playing havoc with your browser. The company offers an upgraded version for a modest fee but the freeware version worked for me. If Internet Explorer has been acting strangely and taking you places you don't want to go, get to this website tout de suite.

Don't forget: If you want to recommend your own or a friend's website for an appearance in this department, e-mail me at editorial@shutterbug.net.

LATEST VIDEO