Digital Storage Solutions On The Road; Options Galore For The Traveling Photographer
How can you make the most use out of that limited quantity of memory cards when on the road, especially on a long trip? The answer: a portable drive. When connected to a host computer via USB 2.0, all these devices are recognized as an external drive--but not immediately in some cases: it may require activation of a USB function on the device. Adding to the utility of many of these portable devices is a built-in card reader/writer that is immediately recognized as such by the computer as well. These drives seem to work equally well under the latest versions of Windows XP and Mac OS 10.4 (but confirm compatibility with older operating systems before buying the unit).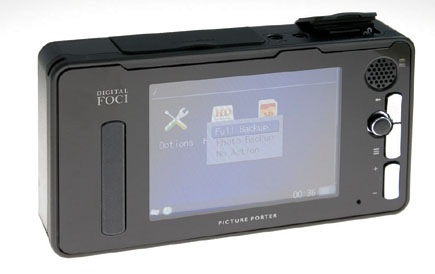 Ease of use and a fairly low price mark the Digital Foci Picture Porter Elite a good choice.
Most of the devices we've selected also offer additional benefits, among them a large screen display--over 3.5" diagonally, which lets you view downloaded pictures individually or as slide shows, and the device will even display a histogram and exposure data. Several of these devices let you view video clips, listen to music (functioning practically on par with a dedicated MP3 player), and even record audio (via the built-in mic or through a line-in connection to an external sound source or from a built-in FM radio). And stereo earbuds and a remote may even be supplied.

Of course, not every device offers these bells and whistles, nor is that a primary concern here--but convenience features are nice during a lull in your shooting schedule. More importantly, among primary functions centered on the images, not all devices provide the same quality or degree of utility.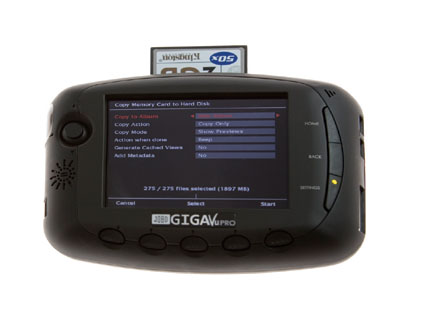 The JOBO GIGA Vu PRO evolution sports one of the largest color screens in the group. It was a pleasure viewing my digital files on this device.
Each of these devices runs on a rechargeable battery. If we drain the battery looking at videos, listening to MP3s, or even constantly being awed by our own photographic talents in slide shows, there won't be any power left when it comes time to download images from memory cards. Not to mention, these devices are a lot bulkier and heftier than the everyday lightweight, slim-line MP3 player. But to play it safe, keep the auto-switching (dual-voltage) power adapter/charger handy (and plug adapters, where necessary). On the other hand, consider carrying a spare battery--a good option if you'll be on the road for more than a few days and away from a source of electrical power for charging. Or, with select portable drives, you can charge the device (when switched off) directly from the USB port on your laptop.

Other Key Features
Each of the devices we're looking at carries a rugged 2.5" hard drive similar to the one housed inside that laptop that travels everywhere with you. Storage capacity can range from 40GB to an amazing 160GB. I've worked extensively with one device that sports an 80GB drive. I've taken it on two trips, let it bounce around a bit in the unpadded section of a camera backpack (inside its pouch), and it was no worse for wear. Provided you don't throw it against a concrete wall or use it for batting practice, any of these devices should hold up for some time. And just for added insurance against modest bumps and grinds, each portable drive does come with its own pouch, or, in one instance, inside a hard, rubberized casing.
The Wolverine ESP 5000 is an economical choice and simple to use, with a reasonably good color display.
Putting Five Devices To The Test
Here is how we judged each device and some of our results:
· Ease of use. How easy was it to navigate the screens and use the buttons to activate the various functions? Was the interface intuitive? You don't need to be a rocket scientist to run these devices, but one device in particular--the Sanho--lost points here.

· Memory card support. Does the device support the memory card you primarily use? The card most widely supported is CompactFlash (and Microdrive); SmartMedia is not supported on these devices (but may be supported on others). The Wolverine and Digital Foci provided the widest card support among viewers, with the Sanho supporting the most cards in any category.

· Card reader/writer. Does the device do double duty as a card reader/writer when connected to a host computer via USB 2.0? All these devices read from and write to the memory card. But the question remains, is the card recognized by the connected computer just as it would be had you been using a stand-alone card reader? Only the Epson, Wolverine, and Digital Foci can make this claim, making them the most utilitarian devices among those reviewed.

· Raw file support. Does the applicable device support raw files for your camera? The good news is that firmware is constantly being updated and all it takes is a simple download off the web. But verify support before buying the device. All viewers that were reviewed here support raw files.