Digital Stock
How To Market Your Images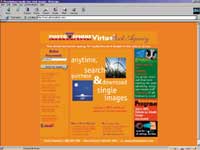 Many digital stock companies, such as Photosphere, have web sites that allow photo buyers to purchase individual images or CD-ROM collections.
Photos © 1999, Joe Farace, All Rights Reserved
A tree is a tree is a tree
--Max Sennett
That silent film pioneer may have been talking about why shooting movies on location in Hollywood was a good idea for the fledging film industry, but he could have just as well been talking about stock photography.

The American Society of Media Photographers (ASMP) defines a stock image as "available photography, in the file, which may be licensed for use." This concise definition works just as well for digital stock photography as it does for silver-based images. Stock is one of the few areas in commercial photography where the financial reward is greater the harder that you work. Unlike assignment photography where you have to be on the "top three" list of every Art Director in town in order to make a buck, stock lets you shoot what you want when you want. The way to financial success is not just in creating great stock photographs, but in how you sell them.

In the January '99 Shutterbug, Peter K. Burian wrote about the opportunities for stock photographers and presented 10 tips to improve the marketability and marketing of your stock photographs. The information in this story expands on those tips by showing you how to directly market your stock images in digital form.

Royalty Free Or Preview? There are two ways to market your digital stock images directly to potential photo buyers: CD-ROM and the Internet. If you plan on selling just one or two images at a time, your best outlet will be the World Wide Web (WWW). If you prefer to sell many--up to 100 or more--images at the same time, CD-ROM is your best choice, but that doesn't mean that the Internet isn't a great place to sell your discs.

Before you digitize even one image, you need to make a decision on how you will license or sell your images. Creating CD-ROMs containing preview images is one way to provide sample images for viewing by potential clients. Typically, the images supplied are low resolution and suitable for layout or FPO (For Position Only) only. If a client wants to pay to use the image, they will contact you to obtain the original slide or you can e-mail them a digital image.

You can also sell discs or downloads of images on a royalty free basis. In this case when a client buys a CD-ROM full of images, they actually purchase the right to use a particular image, or collection of images, as many times as they want. That doesn't mean you give up all rights on how your images can be used. Few royalty-free agreements grant total rights to the buyer and you can write an agreement that specifies only those uses that you are comfortable granting. Some common exceptions are that purchasers are not permitted to use the images to create obscene or scandalous works of art. The subject of what constitutes "obscene" fills many law libraries, but a good rule of thumb may be to paraphrase a Supreme Court justice's ruling that, "I know dirty pictures when I see them." Images with readily identifiable photographs of people may not always be used in such a way as to constitute an endorsement of a product or service. This is less a problem for the editorial use of an image than a commercial one.

Some consider the choice of selling royalty-free stock images to be controversial but I prefer to stay out of this argument. The choice of how to license or sell your stock images is ultimately up to you. I believe that any photographer has the right to sell their images in any way they wish without dictates from anyone. Assignment photographers are free to set their daily or hourly rates however high or low as they choose and I think stock photographers--including digital stock photographers--have that same right.

The choice of what form you intend to offer your stock images will also determine the file format you will use. For previews, JPEG (Joint Photographic Experts Group) format is probably best. This will enable you to post images on the Internet or have a large collection on a CD-ROM disc. TIFF (Tagged Image File Format) files will be best for royalty free discs or Internet downloads. Because a TIFF file for a particular image will be larger than a JPEG compressed file, you will be able to get fewer files on a disk. These two file formats are only suggestions--you can offer them in whatever format you want--but because they are cross-platform, people will be able to use them on Mac OS or Microsoft Windows-based computers. Another suggestion is that your file names should use the three-letter suffix .TIF or .JPG that is used by Windows. While not required for Macintosh systems, the suffix will help identify a file for Mac OS users and is required by many Windows graphics programs. Whatever choice you make, the techniques that follow are just as applicable for creating low resolution JPEG preview files as they are for producing royalty free discs containing TIFF files.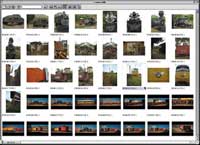 To create an interface for your stock photography CD-ROM, you can use cataloger program, like Kudo Image Browser, to create a group of your images that can be viewed with the company's freeware browser.
Take A Spin. Because they can hold over 600MB of data, CD-ROM is a perfect format for storing digital stock images. CD-ROM drives are also ubiquitous and every new PC or Mac OS computer is equipped with one. Best of all, CD-ROMs are inexpensive to produce and have low storage and shipping costs. Discs can be created in Mac OS, ISO 9660 for PCs, or you can use a hybrid format that will run on both kinds of computers. When creating your "master" disc, software, such as Adaptec's Toast, lets you specify which kind of disc you want to make.

Once you've created the original photographs, your next costs involve scanning, interface design, and producing the discs themselves. If sent to a photo lab or service bureau, typical 35mm scanning costs can range from $1-$15 per scan, with scans made with Kodak's Photo CD process being at the low end of that scale. If you have the time, you might consider purchasing a film scanner and doing the scanning yourself. Information about scanners can be found in Shutterbug's Photography Buyer's Guide.

Your disc's interface can be as simple or as complex as you want to make it. The disks can have folders stuffed full of images that are arranged by categories, and buyers can simply drag the files onto their hard disks to paste into a document or preview with an image-editing program. An alternative is to use one of the cataloger software packages I mentioned in last month's Shutter-bug. Some companies offer a stand-alone browser that lets anyone look at all of the images on a catalog that was created with their software. For example, the free browser software included on the latest versions of Extensis Portfolio 4.0 lets purchasers read catalog files created with the program. You could also include a copy of a freeware or shareware image browser utility on the disc, such as IMGALL2, which is available from all of the usual shareware suspects including www.shareware.com.
Ulead System's Photo Impact has a SmartSaver plug-in that lets you save images in JPEG, GIF, or PNG formats for use on the WWW.
To make your original or "master" disc, all you need is a CD-R or CD-RW (CD-ReWritable) drive. You can copy the files to your hard disk then use the appropriate software, such as Toast, to write them onto a CD-R disc. Since hard disk space is always a problem for many photographers, I like to write all of the images that will be transferred onto CD-ROM first to a 1GB Iomega Jaz cartridge and then write the master disc from that. You can even make the CD-ROMs yourself. After your master disc is created, you can actually copy it from one CD-ROM to a writable disc in a CD-R or CD-RW drive. This is not as expensive as it sound. My newest Windows computer includes an internal 36x CD-ROM drive and internal CD-RW drive that only added a little over $250 to the cost of the system. This setup enables me to create limited runs of market specific topic CDs. The key to making this work is that you need a fast enough CD-ROM drive that can send data to the CD-R drive. If it's not fast enough, you will get disc errors and instead of creating stock photo discs you'll be making Frisbees. A 16x drive is about as slow as you can go without problems.

If you make your own CDs, then you'll want to put some kind of label on them to distinguish them from the generic discs you'll be buying. The least expensive way I know to do this is to apply a label to the CD-R which will also add a little stiffness to the thin disc. Neato, a company that makes media labeling products, offers MediaFace label design software for use with Mac OS or Windows computers. Along with the software, the company includes a label applicator and several sheets of labels that are compatible with most ink jet or laser printers. Their new photo quality labels produce professional quality results without a big investment. If you have dozens of CD-ROMs to label, the downside is that it can be a s-l-o-w process. If you make large quantities of CDs, you may want to consider a printer that's been specifically designed to print on white, printable CD media, such as those available from Eastman Kodak and Ricoh Digital Media Systems. Discmatic offers a seven color, 1200x600dpi Windows-compatible ink jet printer called the Opal7 for $1998. In addition to printing photo quality output, the Opal7 has an automatic numbering feature for adding serial numbers. It also allows text to be written around the inner and outer edges of the disc.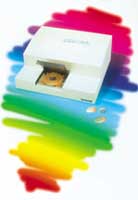 Discmatic's Opal7 printer is designed to print photo quality images on printable CDs such as are available from Eastman Kodak.
.With CD-R discs costing about $1 each in quantities, making your own discs is inexpensive but can be a time consuming method. If you want to produce 1000 or more discs a slightly cheaper and much faster way to do this is to use a mass duplicator, such as CD-Lab. When 1000 discs are ordered, they will create a glass master disc which is used to actually stamp out the new CD-ROMs, then do two color printing to label your disks for 77¢ each. Prices are lower for larger quantities. Other duplication companies offer similar prices and some will even produce CD-ROMs in quantities as low as 500. Some, like CD Duplication Service, which specializes in small run CD duplication, will even produce a few discs using CD-R media. Even if you don't have a CD-R drive, companies like this enable you to make a few test discs to see if creating a stock photo disc is how you want to market your stock images. Visit the company's web sites to get information or call them about their policies and practices. Each ones does business a little differently and what some include as standard others may offer as options. Before having a thousand or more discs pressed, do your homework just as you might do when checking out a new photo lab. Don't forget to ask for references for any photographers whose stock photo discs they may have produced.

Weave A Web. Large marketers of digital stock photography such as Corel, PhotoSphere, and PhotoDisc have web sites where they sell images one at a time. What can't you? Setting up a web site is easier than you think. All you need is to create a design and find a company to host it. Many Internet Service Providers (ISP) include space on their servers for a site when you sign up and if the space is not adequate you can pay for more or look to a company that specializes in hosting commercial sites. Not all hosting services are as Mac OS friendly as they could be, so I urge Macintosh users to shop carefully and only sign with one that is. Most local computer publications have ads for people who host sites and the cost is most affordable. In my area, the cost of hosting a site varies, but $75 a month is a common number that also includes unlimited Internet access.

Software, such as FileMaker's HomePage and Adobe PageMill, can make creating a web site for your stock photography as easy as working with desktop publishing or word processing software. You can click and drag your way to producing a home page without even knowing what HTML means. (HyperText Markup Language, in case you're interested.)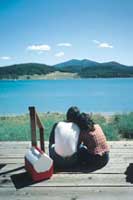 Photographs of people are always in demand, especially one that has space at the top for a cover graphic.
One of the most important aspects of designing your home page is preparing images for web use. You already have your images in digital form, but they need to be converted into a file format that will display well and fast. Windows users should pick up a copy of Ulead's PhotoImpact, which includes a plug-in called SmartSaver that lets you preview the image before and after it's compressed for the web. The plug-in lets you save images in JPEG, GIF (Graphic Interchange Format), or PNG (Portable Network Graphics) formats. Mac OS users can use Adobe Image Ready, which is also available for Microsoft Windows, or any one of the many Export plug-ins that allow you to save images in web friendly format. BitJazz, for example, offers PhotoJazz, a $99 Windows and Mac OS file format plug-in that enables you to save photo quality image using lossless compression with reductions in size of two and one-half times. Designed for use with any Photoshop-compatible application, the technology in PhotoJazz cuts image file sizes by less than half their original image size for efficient transmission and storage-with no quality loss. PhotoJazz uses a technology BitJazz calls condensation. Based in quantum thermodynamics and information theory, condensation enables a lossless compression ratio that averages 2.5 with Kodak's standard color test photographs. The plug-in uses the same amount of memory for any size image and compresses three times faster than PNG (pronounced "ping"). Imagebase programs, such as Extensis Portfolio, let you export a complete catalog as an HTML file for use on your web site.

The actual mechanics of setting up a web site are beyond the scope of this story and is the subject of many useful books on the subject, including my own. Check out Amazon.com for books about building a web site. When designing your web site, keep in mind that it is more like a daily newspaper than a brochure and needs to be updated regularly--especially if you intend to sell stock images directly. If you only intend to use the site to sell your discs--which is also good idea--then it should be a constantly changing billboard showing images from your latest disc and offering a way to order them directly. You can have people call your office to place an order, but many credit cards companies, such as Visa, will help you set up your site to take credit cards and a give you a merchant account that deposits the credit card purchase directly into your checking account. Contact you local bank for information on setting up your web site to accept a credit cards.
Digital Theft
The biggest fear many photographers have about getting involved in digital stock photography is the potential for copyright violations. The sad truth is that no matter what method you choose to market your images, opportunities exist for theft. Once a photograph leaves your control, anything can happen to it. If you send duplicate slides to a company for evaluation, they can be copied or scanned and used without permission. If you provide low res, FPO images on disc or the Internet, they can still be used because whoever is going to steal your work doesn't care what the photograph looks like anyway. The problem with image theft is not limited to digital images; it happens with analog images, too. I had one client (at least one that I know of) call to complain about their quality of the prints I made for them from an assignment. When they showed me what was an obvious copy of my work, I realized someone had copied my prints. To show them the difference, I handed them an original print from my files and diplomatically pointed out to them that someone within their organization had illegally copied my photographs. Because they could see the difference, they were able to understand the advantages of ordering prints from me--instead of stealing them. Nevertheless they would have kept on ripping me off if the magazine they sent the print to hadn't refused to use it because the quality was so bad.

There are Photoshop-compatible plug-ins available that will let you place a copyright symbol in the middle of a digital image, and cautious photographers may want to use it for their preview images, but the truth is that any competent Photoshop user can make it disappear. A better choice would be to use the DigiMarc system that's bundled with Adobe's Photoshop and ImageReady, Corel DRAW and PHOTO-PAINT, Micrografx Graphics Suite, Webtricity, and Picture Publisher. Whenever an image is opened or scanned into an application carrying a DigiMarc reader, the user is reminded that your image is copyrighted. When a viewer reads the embedded message in the pixels of the image, it directs them anyplace on the web--your home page or any destination you choose. DigiMarc-enhanced images are easy to create and the images look untouched. Each photograph carries a unique ID embedded directly into the file. There are no visible bylines or tags to interfere with image quality. For more information about DigiMarc, visit their web site at: www.digimarc.com.
Manufacturers/Distributors
Acutrack Software Duplication
3109 Castro Valley Blvd.
Castro Valley, CA 94546
(888) 234-3472
fax: (510) 581-7386
www.acutrack.com
Adaptec
691 S. Milpitas Blvd.
Milpitas, CA 95035
(800) 934-2766
(408) 945-8600
fax: (408) 262-2533
www.adaptec.com
Adobe Systems Inc.
345 Park Ave.
San Jose, CA 95110
(408) 536-6000
fax: (408) 537-6000
www.adobe.com
BitJazz Inc.
PO Box 570
San Geronimo CA 94963
(415) 642-4829
fax: (415) 642-4839
www.bitjazz.com
CD Duplication Service
(336) 584-4969
fax: (336) 584-4969
http://cddupe.netpath.net
CD-Lab
5455 N 51st Ave., #36
Glendale, AZ 85301
(602) 931-0467
www.cd-lab.com
CD Solutions, Inc.
PO Box 536
100 W Monument St.
Pleasant Hill, OH 45359
(800) 860-2376
(937) 676-2376
fax: (937) 676-2478
www.cds.com
CMS Duplication, Inc
(619) 587-9756
fax: (619) 552-4426
e-mail: sales@cmsduplication.com
www.cmsduplication.com
Custom Duplication Inc./ComChoice
3404 Century Blvd.
Inglewood, CA 90303
(800) 742-7264
(310) 670-5575
fax: (310) 412-2731
http://needcdroms.com
Discmatic
55 Mall Dr.
Commack, NY 11725
(800) 422-6707
(516) 864-9700
fax: (516) 864-9710
www.discmatic.com
Duplication Masters
11533 Slater Ave.
Fountain Valley, CA 92708
(714) 434-1200
(800) 750-0406
fax: (714) 434-7186
www.duplicationmasters.com
Eastman Kodak Company
343 State St.
Rochester, NY 14650
(800) 235-6325
www.kodak.com
Extensis Corp.
1800 SW First Ave., Ste. 500
Portland, OR 97201
(800) 796-9798
(503) 274-2020
fax: (503) 274-0530
e-mail: info@extensis.com
www.extensis.com
FileMaker, Inc.
5201 Patrick Henry Dr.
Santa Clara, CA 95054
(800) 544-8554
(408) 987-7000
www.filemaker.com
Imspace Systems Corp.
3089-C Clairemont Dr., Ste. 349
San Diego, CA 92117
(619) 272-2600
fax: (619) 272-4292
www.imspace.com
Iomega Corp.
1821 W Iomega Way
Roy, UT 84067
(800) 697-8833
(801) 778-1000
fax: (801) 778-3748
www.iomega.com
Neato
250 Dodge Ave.
East Haven, CT 06512
(800) 984-9800
(203) 466-5170
fax: (203) 466-5178
www.neato.com
Oasis Duplication
659 Zachary Taylor Hwy
(Box 721)
Flint Hill, VA 22627
(888) 296-2747
fax: (540) 675-2500
www.oasiscd.com
The One-Off CD Shops, International
4910 W Amelia Earhart Dr.
Salt Lake City, UT 84116
(801) 531-7585
fax: (801) 531-7567
http://oneoffcd.com
Ricoh Disc Media Systems
1100 Valencia Ave.
Tustin, CA 92780
(714) 566-3235
fax: (714) 566-2683
www.ricohdms.com
Software Duplication Services
2471 Autumnvale Dr., Ste. C
San Jose, CA 95131
(408) 956-9650
fax: (408) 956-0429
www.softdupe.com
Ulead Systems, Inc.
970 W 190th St., Ste. 520 Torrance, CA 90502
(800) 858-5323
(310) 523-9393
fax: (310) 523-9399
e-mail: info@ulead.com
www.ulead.com

FEATURED VIDEO