Digital SLRs
...And Other Denizens Of The Digital Realm
It may surprise some readers to discover that the CCD was invented at Bell Labs in 1969, a fine year for wine, songs, and cars--think of the awesome Plymouth Road Runner. CMOS is a little older, having been developed in 1948. While curmudgeonly writers and editors patiently wait for this technology to be perfected, much as my 83-year-old Dad is still waiting for color television to finally "be perfected," the rest of us have moved on, including a recharged and revitalized Konica Minolta.
KM's Digital SLR...Coming Soon
The company unveiled some preliminary specifications for their Dynax 7 Digital/Maxxum 7 Digital/a-7 Digital (just pick a name, obviously they couldn't) SLR that will feature image stabilization--they call it anti-shake--that is built into the camera body. Yes kiddies, this means all your Minolta A-mount lenses become image stabilized when attached to the camera. Specs are sketchy but the current goal is a 6-megapixel APS-sized sensor using advanced image processing designed to wring detail from highlights and shadows. Price point? If I knew I would tell you but Konica Minolta has no comment on price, at least until photokina, when I hope to get my hands on the camera and make a few photographs with it.
Leica Digiback
But it wasn't Konica Minolta that surprised me as much as Leica. At PMA's Sneak Peek (the day before opening press product and food fest) I held a prototype 10MB Digital-Modul-R camera back mounted on a R9 body. At current exchange rates, it should cost about $4500 and when attached to any Leica R8 or R9 body instantly transforms the camera into a digital SLR.

Developed in conjunction with Imacon and using a Kodak imaging sensor, the Digital-Modul-R lens multiplication factor is a not-too-shabby 1.37x. The camera back uses Secure Digital cards and has a FireWire interface. How big is it? The size of the camera with the Digital-Modul-R attached is about the same as with the Motor Drive R, which is one of the smallest in the business. Compatibility with two-cam Leica R-series lenses means the digitized R8 and R9 bodies can make images using any Leica lens made since 1965. How's that for backward compatibility? Plus, they're not just any lenses--they are Leica lenses, which means topnotch optical quality and construction by Black Forest perfectionists.
14Mp Kodak SLR
Kodak's digital SLR gets a new name: It's now the Professional DCS Pro SLR/n. It also gets a new 24x36mm, 14-megapixel CMOS sensor that has an ISO range of 6 to 1600. The camera captures images at 1.7 frames per second and files can be saved as DCR (raw) files, JPEG, or ERI (Extended Range Imaging) JPEG. Prints that I saw made at long exposures and low light--a sure recipe for noise--were nothing short of amazing. The camera is still a big lug, best suited for photogs with slightly larger than normal hands or people who think a Hummer H2 isn't quite big enough. You can also install a PocketWizard wireless flash system inside the body and (get this) original 14n cameras, now with a lower price, can be updated to the new imaging chip for a modest charge.
Nikon's D70
New product announcements before PMA have more leaks than the Titanic's boiler room, so the only person in Las Vegas who didn't know about Nikon's D70 digital SLR was a recent immigrant from Easter Island who was prowling The Strip looking for the "heads." The D70 has an attractive, ergonomic shape and a price point (under $1000) aimed at the point and shooter who wants to move on up to an interchangeable lens camera. It's a nice looking camera, and like the D2H says a lot about Nikon's future direction design-wise.

The D70 delivers 6 megapixels using the same chip as the D100 and has a top flash sync of 1/500 sec. The camera will be bundled with an 18-70mm zoom that my colleague Peter Burian will have more to say about. Nikon seems to have gotten religion about portable flash and also introduced a new i-TTL multi-flash control system that includes a modestly priced SB-600AF flash. Nikon promises to put one in my hand for real world tests real soon.
Fuji Under Glass
One of the many digital SLRs de jour shown "under glass" was Fuji's FinePix S3 Pro, a 6-megapixel camera that claims 12.3 million pixels from its Super CCD SR (Super Dynamic Range) imaging chip. Do I believe it? Dunno. But what I do know is that the FinePix S1 I used delivered remarkable image quality (I wasn't allowed to test the S2) so I expect image quality to be quite good regardless of what megapixel rating Fuji or anybody else wants to assign to it.

The camera's construction appears more robust than the S1 and S2 and it has memory card slots for CompactFlash and the mostly useless xD Picture Card. A big 2" LCD preview screen on the back gives you a peek at images and, as with other Fuji SLRs, there's a separate window for the most commonly used controls. If you are new to the series, the S3 accepts many Nikon F-mount lenses including AF-D (no relation to BF-D), AF-G, and AF-S, along with many Nikon compatible on-camera flash units.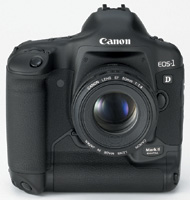 Canon Mark II
Another non-secret was Canon's EOS-1D Mark II. Yup, breaking all of their already inconsistent worldwide product naming schemes, they named this puppy after Inspector Morse's (don't you watch PBS?) car. It's as pretty as a Mark II Jaguar, too. Retaining the lithe, sculptured shape of the 1D that we have all come to know and covet, the Mark II tosses that camera's CCD chip out the window and uses all CMOS all the time. Inside there's an 8.2-megapixel CMOS imager that can blast away at 8.5 fps in continuous bursts of up to 40 frames and raw images in continuous bursts of up to 20 frames, which should be enough for most photogs.

The Mark II is compatible with CompactFlash (Type I or II) and features a second card slot for Secure Digital cards, but won't switch between them without user intervention. Think of it as a reserve gas tank. Price tag won't require a second mortgage, but let me give you a hint, used--let's all say it together--Mark I prices have increased. Canon's new Digital Photo Professional (DPP) software has instantaneous raw image adjustment display and support for .CR2 and RAW.TIF as well as Exif TIFF and JPEG formats, and they don't even charge extra for it.
EVF Finders
My colleague Jack Neubart and I spent a lot of time discussing this new breed of 8-megapixel EVF (Electronic View Finder) digital cameras. Are they SLRs? Even the companies that make them couldn't agree, but there were lots of them around at PMA, but clearly the class act was the mellifluously named Olympus C-8080 Wide Zoom sporting a 28mm-140mm f/2.4 ED (Extra Dispersion) glass lens and a street price less than $1000. Now since you can buy a Canon EOS Digital Rebel or Nikon D70 for less than that, you have to wonder why you might want a non-interchangeable lens camera? Do the math! The C-8080 has 8 megapixels, weighs 23.3 oz, and has an optional B-HLD30 Power Battery holder that's obviously not designed for shooting Junior's soccer practice. The good-looking camera takes Type I Compact Flash and the mostly useless xD Picture Card. In SLR news: While Olympus showed some new lenses and flash for their E-1 digital SLR system, an Olympus official promised that a second body will be introduced this year.

Similarly, Fuji's FinePix S20 Pro seems to be a little brother to the S3 with a 6.2-megapixel Super CCD SR chip that doesn't claim to be bigger than it is and a built-in 6x optical and mostly harmless 2.2x digital zoom. It has a built-in, pop-up flash, PC connection, and can sync with electronic flash at up to 1/1000 sec. (That's not a misprint.) This slick little camera offers ISO from 200-1600 and FireWire and USB 2.0 connectivity. Fuji is aiming this camera at photographers who shoot school portraits and social events. Looks like a winner to me, although I'd like to see an optional battery back to increase the number of shots and add some bulk to the camera so it impresses the clients a little more.
Glimpses Of What (Might) Be Ahead
There were a lot of cameras displayed "under glass." The Fuji S3 and Konica Minolta's digital SLR come first to mind, but the most interesting one was located in a twilight area somewhere between wishful thinking and an Elvis sighting. It was the surprise alliance of Epson and Cosina to create an interchangeable lens digital rangefinder camera, something I've been jumping up and down about for some time.

Looking far clunkier than any of the previously elegant Voigtländer offerings, the camera is said to accept Leica M-mount lenses and has a tilting, swing-out LCD preview screen. Will it see production in this photokina year? If it does, a lot of companies are going to be caught with their proverbial knickers down. And so as we move toward a maturing digital market, it may be Leica R- and M-mount cameras showing the way. Who woulda thunk it?

Manufacturers/Distributors'

FEATURED VIDEO