Digital Insider's Tips & Tools; What You Need But Don't Know It…Yet
"I think it is good that books still exist, but they do make me sleepy."--Frank Zappa
One book that hopefully won't put you to sleep is entitled How I Photograph Women and is the successor to my eBook titled Everyday Glamour Photography, which just happens to be this book's subtitle. The 80-page book contains more than 100 color and black and white photographs of gorgeous models and contains all of my secrets for photographing women, including insider's tips on working indoors and outdoors, lighting, posing, and retouching. The book is available from Blurb.com (www.blurb.com/bookstore/detail/254293) and you can find it by going to the Bookstore and searching under "Farace." The softcover version costs less than $20 plus shipping and a hardcover version is available for just a few dollars more.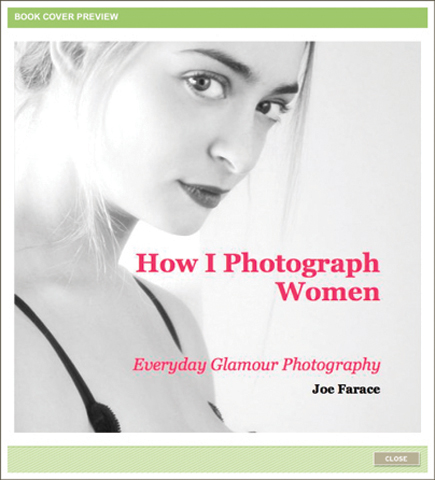 © 2006, Joe Farace, All Rights Reserved
The Stamp Act
Endicia's PictureItPostage (www.pictureitpostage.com) is a combination of software and a website where you can create real USPS postage stamps featuring your own photographs. It's easy to do: You can use the online tools or download free Mac OS or Windows software that lets you assemble the stamp's design and place the order. PictureItPostage offers a 11/2x13/16" canvas on which to place your photos and the final stamp measures 21/2x19/16". The customized postage is printed on sheets of 10 with two sheets in each order and costs $18.95, including the stamp's face value plus shipping and handling. Discounts are available for larger orders. Designing the stamp using the free software was easy and fun and at the suggestion of the editorial director I created one to honor the League of Creative Infrared Photographers (www.irleague.com) featuring one of my IR photographs of Zion National Park. PictureItPostage software does not allow you to add text to an image, so I added text in Adobe's Photoshop and saved it as a JPEG file before importing into Endicia's software. It takes 10 business days to receive the stamps and the results are surprisingly good, allowing you to place your photographs on outgoing mail, including promotional materials!
© 2007, Joe Farace, All Rights Reserved
The Paper Chase
I don't seem to write as many paper-oriented stories as I did back in 2000 when there was lots more novelty about making inkjet prints that looked like photographs. Of course, that was all before the ready availability of inexpensive monitor calibrators, downloadable paper profiles, color managed software, and hybrid pigmented ink printers that output photo-quality prints with little muss and fuss. But that doesn't mean there aren't some interesting papers out there. Lately, I've been making prints using Harman's (www.harmantechnology.com) media and the results when printed with my Epson Stylus Photo R2400 have been spectacular and don't just look like photographs, they look like photographs made in a traditional wet darkroom. Harman's fiber-based Professional Inkjet Gloss was recently joined by Inkjet Gloss Warmtone media. Both have a special coating applied to a fiber paper base producing prints with greater detail, definition, and extended tonal range with excellent archival properties. These baryta-coated fiber papers produce results with the look and feel of traditionally processed gelatin photographic prints.
Print 'Em Up
Epson's (www.epson.com) Stylus Photo R2880 is a 13" inkjet printer that features the company's UltraChrome K3 with Vivid Magenta ink technology, a high-performance print head, and Radiance technology to smooth color transitions and optimize highlight and shadow detail. In case you're wondering, the R2880 replaces my workhorse R2400 (sigh) as the flagship of Epson's 13" printer line-up. UltraChrome K3 with Vivid Magenta ink technology uses a high-density magenta pigment to produce a wider color gamut and improved reds, blues, and purples. Our old favorite three black levels--black, light black, and light light black--are carried over from the R2400 to deliver impressive black and white output.

Radiance technology was developed by Epson with the Rochester Institute of Technology to improve color transitions and reduce grain as well as produce consistent color when viewed under different lighting conditions. The output offers permanence ratings as long as 200 or more years for color and black and white prints. See www.wilhelm-research.com for the latest archival information on the printer and media. The Epson R2880 sells for $799.99 and, oh yeah, prints directly onto printable CDs and DVDs.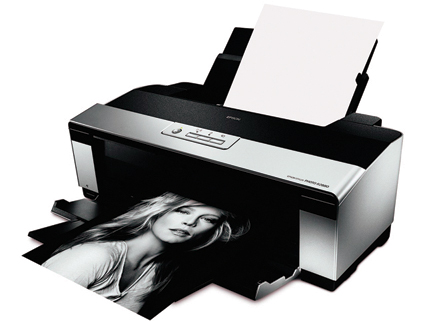 LATEST VIDEO

SPONSORED VIDEO
Testing Tamron's SP 150-60mm G2 lens while capturing birds and alligators in Apalachicola, Florida.