Digital Innovations
Stocking Stuffers
The new Pentax EI-200 digital camera combines 1600x1200 resolution with a (35mm equivalent) 34-108mm zoom lens and built-in flash. The camera uses CompactFlash media for image storage and is bundled with an 8MB capacity card.
When the outside temperature hit 100 yesterday, I knew it must be time to write my annual "stocking stuffer" column. The best stocking stuffers are relatively inexpensive, useful to the recipient, and small enough to fit in a stocking, but some of this month's suggestions may be a little bit bigger and cost more than a Three Stooges' mouse pad. (Don't laugh, I have one!)
I'll start off with some generic suggestions that fit the stocking stuffer description perfectly, then move onto some hardware and software that might not fit in anyone's stocking or even their budget, but will bring a smile to your favorite pixographer's (see section "What's In A Name") face.
RAM chips. To paraphrase the old yuppie axiom, nobody can be too rich, too thin, or have enough Random Access Memory. Unless you already have a gigabyte of RAM installed in your computer, everybody can always use more computer memory.
New digicam memory card. Digital camera users always need more memory to capture either more or larger images. Purchase the highest capacity CompactFlash or Smart-Media card you can afford for your loved one. If you give them a new high capacity card, they can use that puny 8MB card that was bundled with the camera as a back up. If the camera accepts Type II CompactFlash cards, show them how much you really love 'em by getting an IBM Microdrive, now available in 1GB size.
More removable media. No matter what kind of removable media your digital photographer uses, they can always use more disks or discs. Iomega makes Zip disks in different colors which can help digital imagers organize images by categories and they make great stocking stuffers. If they use Iomega's Clik! drive, an extra couple of disks will also be appreciated. CD-R discs in stacks of 20 or more may be a tight fit in a stocking, but won't make a dent in your budget.
New Digicam From Pentax. It's been a while since Pentax introduced their first digital camera in 1997, now they're back with one that should make a great stocking stuffer. It's called the EI-200 and is a 2.11 megapixel digital camera that produces images with a resolution of 1600x1200 or 800x600. The photographs have a 4:3 aspect ratio and are complimented by new ASIC (Application Specific Integrated Circuit) high-performance picture treatment technology as well as Hewlett-Packard's imaging technology allowing the CCD chip to render images with increased tonal range and color saturation. The EI-200 may be so-named because it has two manual settings for light sensitivity that are equivalent to ISO 100 and 200. The camera's lens has a 35mm focal length equivalency of 34-108mm along with a maximum aperture of f/2.4-4.0, depending on which end of the zoom you're using. While the camera has autofocus capability, manual focus is also an option. The EI-200 captures images in uncompressed TIFF and JPEG formats. The JPEG compression ratio can be set for three levels: Good, Better, or Best. A bundled 8MB CompactFlash card is capable of storing one TIFF file, seven Best quality JPEGs, 14 Better quality JPEGs, or 27 Good quality JPEG images at 1600x1200 pixels. The camera's built-in flash has several automatic modes, including slow shutter synchronization and redeye reduction. A 2" LCD preview screen on the back of the camera lets you edit and review images as you shoot. Connections include video output for NTSC and PAL, along with USB and IrDA (Infrared Data Association) connections, but the camera is only compatible with Windows 98, which may disappoint Pentax fans using Mac OS computers. The EI-200 is powered by four AA batteries and four alkalines are included. The camera has a retail price of $999 and includes a copy of Adobe Photoshop LE. For more information about the Pentax EI-200, visit the company's web site at: www.pentax.com.
Delkin Devices' new eFilm Reader-5 has one slot for downloading images from every current capacity SmartMedia card along with a separate slot for CompactFlash Type I and Type II, including IBM Microdrive, memory cards.
Dual Card Readers Are Better Than One. Delkin Devices markets the eFilm line of digital camera memory cards and just introduced their new eFilm Reader-5. It has a slot for downloading every capacity Smart-Media card along with a separate slot for CompactFlash Type I and Type II-including IBM Microdrive-memory cards. The eFilm Reader-5 contains a USB enabled controller and is 100 percent compatible with every currently available Compact-Flash and SmartMedia card. The reader can transfer images and data between two different memory cards by first dragging and dropping the files to and from your hard disk. The good-looking card reader is about the size of a computer mouse and has rubber skid pads and a one-meter long cable so it can sit on a desktop tower or even your mouse pad. The eFilm Reader-5 has a list price of $89.95 and is compatible with Macintosh and Windows computers. For more information about the eFilm Reader-5 and Delkin's other readers and eFilm memory cards, visit their web site at: www.delkin.com.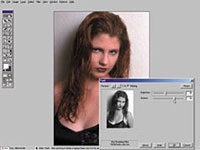 Wish you had made that portrait in black and white instead of color? Using SilverOxide's Panatomic X plug-in you can convert your color images, such as this portrait of model Kim Goetz, into a gray scale photograph that has the same tonality of Kodak's now discontinued film.
SilverOxide Plug-In. Anyone who's ever used Photoshop's Grayscale Mode command knows that while your color image is converted into gray tones, what you end up with is not necessarily representative of what you would achieve if the photograph had originally been made with real black and white film. SilverOxide.com offers a collection of Windows-only Photoshop compatible plug-ins that corrects this deficiency. They recently introduced a new plug-in that models the tonality of Kodak's Panatomic-X film, which has been out of production for several years. The film was introduced in the early 1930s and photojournalists, artists, and photographers, including Ansel Adams have used it. Kodak still produces a variant of the film, with the same name, for the Aerographic market. Known for its micro-fine grain, Panatomic-X was also chosen by some photographers because of its tonality. It has, for example, a different green response than Kodak's T-Max and a different blue response than their Tri-X film. Using a supply of film that had been refrigerated for at least five years, SilverOxide put the film through its scientific modeling process to develop the plug-in, which allows digital imagers to reproduce the tonality of this historic film. SilverOxide.com also offers many black and while film filters, including ones that emulate other products from Kodak as well as Ilford, all of which can be obtained from their web site at: www.silveroxide.com.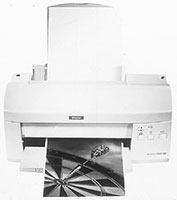 Epson's new Stylus Color 980 printer is the company's first model that has 2880dpi resolution capability along with variable droplet technology to produce excellent photographic quality output along with a speed rating of 10.5 pages per minute. You can print an 8x10 photograph in 98 sec.
New Epson Consumer Printers. Just before the Seybold trade show, I had a teleconference with Epson about their new consumer printers, which includes a $99 four color model capable of 2880dpi output resolution. The Stylus Color 777 has svelte styling as well as compatibility with Mac OS and Windows computers. Their new line-up also includes the $199 Stylus Color 980, which will be of interest to many of this column's readers. The chunky-styled printer also has 2880dpi capabilities and when coupled with its tiny, three-picoliter droplet size should produce some amazing photographic detail as well as sharply defined text. Like the previous 900 and 900G Epson models, these printers are heavy-duty and are rated at 5000 pages per month, which is even more pages than I pump out during my printing sessions. Connection to your Macintosh or Windows computer is through built-in parallel or USB ports, but Ethernet and FireWire ports are optional for faster throughput or office networking applications. Epson has promised me a review unit, so look for some hands-on impressions in the future. For more information about all of the new four-color Epson printers, including the budget priced $69 Stylus Photo 580, visit their web site at: www.epson.com.
Agfa's new SnapScan e20 model proves that you can get both quality and affordability in an under $100 flat-bed scanner.
A Great Scanner At A Great Price. Recently I received an e-mail from a reader who encountered several problems with her flat-bed scanner. I was surprised when she told me the company's name; I'd never heard of it even though I had compiled a list of 186 different scanner models from many companies for Shutterbug's Photography Buyer's Guide 2000. What surprised me more was that with flat-bed scanner prices from major suppliers at an all-time low, she purchased some no name-brand.
A case in point is Agfa's new SnapScan e20 flat-bed scanner. One of the problems with the reader's off-brand model is that while it was compatible with Windows 98, it was not compatible with Windows 2000 which created even more problems for the reader because the company had no intentions of developing a driver for Windows 2000. Agfa's SnapScan e20 is not only compatible with Windows 98 and 2000, but it works with Mac OS computers through its built-in USB connectivity. The e20 scanner offers 36-bit color depth at a resolution of 600x1200 and has a maximum scanning area of 8.5x11.7".
The SnapScan e20 is bundled with Corel Print Office 2000, Readiris optical character recognition software, and AGFAnet software allowing you to have your digital images turned into silver-based prints through your choice of local photo labs who are part of the network. The scanner includes Agfa's amazing ScanWise software that I use on my personal SnapScan Touch scanner that it is versatile and easy to use, while producing high-quality results for even neophyte users. Like all "e" series scanners, the e20 features interchangeable colored handles in orange, blue, or graphite so that users can change the color to match their computer or personal taste. The price for this package is only $89, which represents a lot of scanner for the money. For more information on Agfa scanners, visit their web site at: www.agfa.com.
ACD Free! ACD Systems Inter-national announced the release of ACDSee 3.1. It is a full-featured image viewer, browser, database, image file management, and manipulation tool. This new version uses the plug-in architecture of the previous version and offers a number of new features including the option of using an advertising-enabled version of the software. ACDSee 3.1 lets users generate web pages from photographs; generate and print thumbnail contact sheets; send images by e-mail directly from ACDSee; and play the embedded audio in Exif JPEG files. The package includes a trial version of LuraWave and LuraDoc extreme compression technology plug-ins (see "Digital Innovations," October 2000). A full-featured version of ACDSee 3.1 can be downloaded from www.acdsystems.com and used free for 90 days. At the end of the trial period, users can choose to run the software in "sponsored" mode, which allows free use of the full version of ACDSee 3.1, but requires that you look at banner ads when using the software. Users may also opt to purchase a registered version of the program for $49.95 that's free of any advertising.
You're Gonna Need A Bigger Stocking! While too big for even a WWF champion's stocking, here's a new flat panel monitor that would make a great holiday gift. CTX International announced its new Flat Panel Series of LCD monitors for Windows and Macintosh computers. Available in 15, 17, and 18" versions, the new monitors are designed for high-end applications including desktop publishing, digital imaging, and computer aided design. Each monitor in this series uses active matrix color technology coupled to a thin LCD panel design-they're only 1.6" deep-along with on-screen display controls. The 18" version has a USB hub with one upstream connection (coming from the computer) and four downstream (out to peripherals) jacks which will be useful for all of the devices that end up being connected to your computer. The $999 PV510 15" monitor (15.1" viewable area) supports a XGA resolution of 1024x768 with a refresh rate of 75Hz and like all monitors in this series meets the stringent TCO '99 regulations, ensuring environmental and safety compliance. The PV710M 17" monitor (17" viewable area) supports a true SXGA resolution of 1280x1024 with a 90Hz refresh rate. The PV880 18" monitor (18.1" viewable area) targets high-end consumer and professional applications and supports a true SXGA resolution of 1280x1024 with a refresh rate of 75Hz, and is capable of sustaining a Macintosh-based resolution of 1024x768. Price tag for this model is $3199. For more information, visit CTX's web site at: www.ctxintl.com.
What's In A Name?
For some time I've used the word pixography to describe the art and science of digital imaging. I even wrote a column by that name for the PPA's Professional Photographer magazine, but for the record, I did not invent the term. While attending MacWorld Expo many years ago, I had a conversation with photographer Bill Niffenegger. During the course of our conversation about the somewhat new discipline of digital imaging, Niffenegger referred to it as "pixography" and its practitioners as "pixographers." Since that time, I adopted and nurtured that term which I often use in this column. Recently, I received e-mail from a colleague informing me that Xerox has developed a digital imaging kiosk system, much like Kodak's more originally named Picture Maker system, that they have called "Pixography." I don't work for Xerox, never have, and no one from the company ever talked to me about the name. I first used "pixography" in an article I wrote in January 1994 and plan to continue using it for a long time, but my use of that term does not constitute an endorsement for this or any other Xerox product.

FEATURED VIDEO