Digital Innovations
Printing Your Digital Images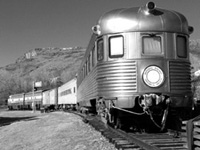 Photo A

Proving you don't even need to start with an image digitized from film, this photograph of a 1940s-era passenger car was captured as a JPEG file using an Olympus Camedia E-10 digital camera (A), then converted into a gray scale file as if it was made with ISO 25 Agfa black and white film using a yellow filter (B). The final result is an image (C) that has the tonality of a film-based image but was completely produced--from capture to output--using digital techniques.
Photos © 2001, Joe Farace, All Rights Reserved
One of the first things digital imagers are in a hurry to do after capturing an image is to print it. It is here in the real "digital darkroom" where pixographers have made technical advances that have freed them from some of the restrictions of working in a traditional, wet darkroom.
Printing photographic images in your new desktop darkroom means no more working in the dark with fingers soaking in smelly chemicals while waiting for results. This is not to demean traditional darkroom methods; there is nothing more luminescent than a platinum or palladium contact print made from a large format negative. Printing via digital technology is simply the latest link in a chain that started when Louis Jacques Mand Daguerre placed a silver-covered copper plate in iodine vapors and watched an image appear.
Some photographic purists may scoff at digital printing. They claim that the images created using computer technology are not permanent, but the truth is that while some traditional photographic prints may be processed to assure permanence, others, through either materials or processes used, clearly are not. In much the same way, some digital prints may be produced using inks and papers that will create an archival print, while others may not. The choices made by the image maker, whether through experience or inexperience, decides what the final result will be.
Ansel Adams, who was also a pianist, often compared photography to music. He felt that the act of capturing the image was the musical score, but the finished print was its performance. Nowadays, it is just as likely that this print will be produced digitally as it will be via traditional, optical path/silver methods.
Out Here In The Real World Once an expensive luxury, photo quality printers are affordable for even the most casual snapshooter. It wasn't always that way. The photo printing landscape changed with Epson's 1995 introduction of the Stylus Color ink jet printer, an under $500 device that could output text as well as 720dpi photographic quality images. Overnight, the paradigm shifted to how inexpensively can you build a photo-realistic printer? When companies producing under $200 photo-realistic printers exceeded that goal, the new goal became how large a print can an inexpensive printer make.
In talking with photographers and designers around the country about how they used photo quality printers, their answers broke down along the line of the three "Ps"--proofs, prints, and portfolios.
Proofing: Most original digital color printers started life as proofing devices for making a quick approval print for a client before producing separations. Many photographers still use their desktop printers for proofing. Since the image will ultimately be viewed by the reflected and not the transmitted light of a computer monitor, some shooters prefer to view them that way, too. A paper proof printed on inexpensive but high quality media provides insurance that the image looks the way it looks on your monitor. Since large format paper is expensive, I always make proofs when getting ready to print 11x17 or 13x19" images. Making a paper proof is also a good idea when sending a digital file to a client or service bureau so the recipient knows what the finished image should look like.
Printing: Like many photographers, I often deliver ink jet output for images that don't require long life, such as business portraits or model headshots. Certainly, recent ink jet papers and inks used with some of the newest ink jet printers will produce prints that have a life as long as a lab-made "C" print. For most applications, the people receiving the prints don't even ask if they're "digital" because they look just like "real" photographs to them.
Portfolios: For professional and aspiring professional photographers, one of the advantages of producing photo quality output in-house is the ability to update and customize a portfolio. Having an ink jet printer, like the Epson Stylus Photo 1280 or Stylus Photo 2000P, lets photographers print high quality portfolio images up to 13x19".
Plug-In Of The Month
Just because you capture a color image doesn't mean you may not want to output it as a monochrome print. When it comes to black and white digital images, SilverOxide. com's Bill Dusterwald is a busy guy. His collection of Photoshop compatible plug-ins continues to grow. Now, he's created a series of Enhanced filters that not only converts your color image into a monochrome file that looks like it was shot with a specific kind of Agfa, Ilford, or Kodak film, but also lets you add the effect of using a red, green, or yellow filter with that film.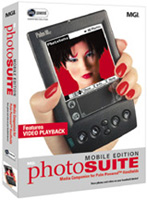 MGI's PhotoSuite Mobile Organizer supports popular graphic image file formats including JPEG, PNG, BMP, GIF, as well as AVI, WMV, and MOV. While on your PDA (Personal Data Assistant), you can create slide shows and even playback video clips.
All of SilverOxide's plug-ins render colors as "real" black and white film record them. By differentiating red, blue, and green, as interpreted by these filters he obtains predictable gray tones that are based on real world experience. Depending on the film you want to emulate, these new Enhanced filters cost $55 each. Other conversion filters are offered as one Kodak or two Ilford sets for $85 each. Up until recently, all of the SilverOxide plug-ins have been Windows-based. Dusterwald has been working on Mac OS versions, which should be available by the time you read this. For more information, as well as to compare the difference between SilverOxide's plug-ins and Adobe Photoshop's Grayscale conversion, visit www.silveroxide.com
Photography In Your Palm
More often than not, it is software that drives the sale of hardware. The original Visicalc spreadsheet software is credited with boosting sales of Apple Computer's Apple II and Lotus 1-2-3 was the engine that fired sales of IBM and compatible machines. Palm OS handheld devices have been around for a while; I tried one of the very first models (I had a Newton before that), but was unimpressed. To me, it seemed like a yuppie toy, but many people I respect, such as one of my book publishers, uses a Palm OS device on a daily basis. Like many other devotees, she tells me how she "couldn't live without it." I guess I was waiting for the right software to come along, and now I've found it.
MGI's new PhotoSuite Mobile Edition software lets users store, view, and share photographic and video files on both color and gray scale Palm OS handheld devices. The package includes a Windows-based desktop application called PhotoSuite Mobile Organizer that's designed for enhancing images and optimizing those files before transferring them to the PDA (Personal Data Assistant) software called PhotoSuite Mobile Organizer. This program supports popular graphic image file formats including JPEG, PNG, BMP, GIF, as well as AVI, WMV, and MOV (see section "Graphic File Format Acronyms"). While on your PDA, you can create slide shows and even playback video clips. PhotoSuite Mobile Organizer lets you "beam" photos and video clips to other handheld devices, even transferring color images to a gray scale PDA.
Since the program supports MOV files, you can also display portfolios created using Voyager PhotoFolio 3 software that was featured in last month's column. I think displaying images from your portfolio on something such as a Handspring Visor (www.handspring.com) would be a great way to show images to a potential client or get past some obstacle (can you say "security guard" or "property owner") that might be standing in the way of making a great photograph. Showing examples of your work has always been a great way to melt the ice with people and having it in a transportable, camera bag-able form sounds like a great idea. The estimated street price of MGI's PhotoSuite Mobile Edition is $24.95 and you can download a 14-day trial version at: www.photosuite.com/palm
New Life For Photo CD
I have good news for those of us who are big Photo CD fans. Eastman Kodak has signed a deal with Durst Dice America to market the Photo CD system as well as develop and support the next generation Photo CD scanning systems based on Kodak technology. To be jointly developed by both companies, the new Windows NT-based Photo CD system will provide a complete solution for scanning 35-70mm format film onto Kodak Photo CD Master and Portfolio II discs. In their joint announcement, no mention was made of the 4x5 sheet film and other sizes that the current system can handle. The new system will include a Kodak Professional RFS 3570 Plus scanner, a Windows computer with 19" monitor, and optional Auto Film Advance Accessory. The new Photo CD software includes film terms developed by Kodak and a scene balance algorithm for improving first time scans, something often lacking in the way some vendors currently implement this procedure. Enhancement controls will allow for adjustment of color balance, density, saturation, and contrast. For more information, visit www.kodak.com/go/professional
It's Good To Be Prepared
I recently had a less than fun experience with my Power Macintosh G3 computer. After performing almost flawlessly for the past two years, the system locked up while upgrading the system software to Version 9.1. Restarting the computer, I was greeted by the blinking question mark. All of you Mac heads out there know what that means, but for the rest of you it means that the computer does not recognize the installed hard disk. Mostly bad news, but because of experiences like these over the years I have made it a habit to back up critical items of my hard disk, including all of my data and System Folder.
My back-up routine runs something like this: Monthly: I back up everything on the hard disk to an APS Technology (www.aps-tech.com) tape drive using 8GB tape cassettes. A copy is stored off-site in my safe deposit box. Weekly: Since installing a 20GB external FireWire hard drive for image storage, I copy all of my current writing files to a separate back-up folder. Since these kinds of text files take up little space, I still have 95 percent of the drive available for storing images and digital stock photo files. Daily: I copy each document I worked on that day onto a color coded and labeled floppy disk. All this may sound like a lot of work but after my recent problems I was up and running within an hour without any loss of data.
Graphic File Format Acronyms
It's easy to get lost in the lingo of digital imaging, and I recognize that not everybody who reads this column is familiar with all of the buzzwords that abound. To help those readers who may be new to digital imaging, here's a quick roundup of some of the acronyms appearing in this month's column:
AVI: Audio Video Interleave, an audiovisual standard designed by Microsoft that is proprietary and Windows-specific.
BMP: Bitmap. Often pronounced, "bump." This acronym is a file extension for a specific kind of Windows-based bitmap graphics file.
GIF: Graphic Interchange Format.
JPEG: Joint Photographic Experts Group, the original name of the committee that designed the standard image compression algorithm.
PNG: Portable Network Graphics.
MOV: Moving JPEG. A compression technique for video images that applies JPEG compression to each frame of a moving image.
WMV: Windows Media Video.
If you're interested in learning more of the language of digital imaging, visit www.edigitalphoto.com and click on the Digital Glossary button. If the term you're looking for isn't there, try the Free On-Line Dictionary Of Computing at: www.foldoc.org Finally, another resource can be found at www.computeruser.com (click on the Dictionary tab).

FEATURED VIDEO