Digital Innovations
Digital Cameras Are For Everyone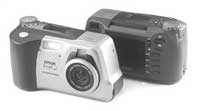 The Epson PhotoPC 750Z is a new digital point-and-shoot camera from Epson that combines the high image quality of their 700 model with a fresh body design and a zoom lens.
One of the things I love most about photography is its democratic nature. Everyone from "happy snappers" using recyclable cameras to advanced amateurs to professional photographers creating images for clients enjoy what I believe is the most satisfying creative pursuit on the planet. These same users can have just as much fun using digital cameras as they can film-based cameras. Far from being monolithic, there are different kinds of digital cameras available for different kinds of users.

Digital cameras fall into three general categories: point-and-shoot, field, and studio cameras and backs. The first is the digital equivalent of familiar point-and-shoot 35mm cameras, where ease of use and low cost are more important than image quality. If you want to take a picture of your new baby and include it into a holiday letter, these cameras do a great job. At the next level are digital field cameras, many of which are based on single lens reflex 35mm cameras from companies such as Nikon and Canon. Since field cameras often use the same lenses as film-based cameras, they are easily integrated into your existing camera system. That fact alone makes them a popular choice for photojournalists and other on-location photographers working on tight deadlines. The ultimate in image quality comes from digital studio cameras and backs, which are used by advertising photographers who create images based on an Art Director's sketches. Often these photographs are converted directly into digital separations for four-color printing. Some studio cameras must be connected directly to a computer and require high-output lighting to shorten long image-capture times down to a reasonable few seconds. These expensive cameras and backs deliver the film-like resolution needed for advertising, catalog work, and other applications where resolution is critical.
Propeller is a new Photoshop-compatible plug-in from Nowhouse that adds new painting capabilities to image-editing programs like Adobe Photoshop.
Somewhere between point-and-shoot and field cameras lies the "bridge" camera. The concept of a bridge camera is nothing new. Examples abound in film-based cameras ranging from Nikon's 28Ti to the Contax T2, whose spiritual roots are found in cameras like the classic Rollei 35. Like their analog cousins, digital bridge cameras often use a non-SLR design, feature quality lenses, and offer resolution capabilities similar to some digital field cameras. If you need relatively high-quality images and a field camera's price tag seems too high, a bridge camera may be all you need.

For many months I've been using Epson's PhotoPC 700 digital point-and-shoot camera. The images produced by this modestly priced camera have been remarkable and have graced these columns--as recently as last month. What's more, the PhotoPC 700 has the "feel" of a "real" camera, something often lacking in more expensive digital cameras. Epson has fixed the only design flaw in this camera with the introduction of the PhotoPC 750Z with a zoom lens. The 3x glass zoom lens provides a range of focal lengths equivalent to 34-102mm on a 35mm camera and provides apertures from f/2.8 to f/8. The highest resolution available is 1600x1200 pixels and images can be made in 24-bit color or gray scale. Lower resolutions are available, including high compression 1280x960 pixels that deliver surprising quality when you need to shoot 48 images on the standard 4MB Com-pactFlash card bundled with the camera. The 750Z's 640x480 resolution mode delivers 164 images in quality good enough for use on the web. The camera has a built-in flash with a range of eight inches to eight feet and is compatible with both Mac OS and Windows computers. It can be used with many Epson ink jet printers to output images directly from the camera--without using a computer. A 2" LCD color preview screen allows for more precise composition or to edit the images you've shot. A few seconds after each image is made, the monitor turns itself off, allowing you to view the photograph and decide it it's a "keeper." Then the preview screen shuts itself off to preserve battery life. The 750Z uses four AA Nickel Metal Hydride (NiMH) batteries, which avoid all the annoyances we've come to know and hate about NiCds, and Epson includes a neat charger. For information about the PhotoPC 750Z and Epson's other digital imaging products, call (800) 463-7766 or visit their web site at www.epson.com.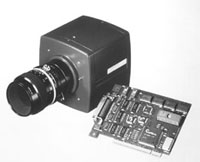 Thomson's Camelia line of megapixel digital cameras are targeted at the slide/film scanning, index print production, studio photography, and scientific imaging markets.
One of the aspects I like the best about using digital cameras is the instant feedback they provide to the photographer. By letting young people see the results of their efforts in minutes instead of hours or even days, this same feature can be used to inspire interest in photography. Mattel Media creates computer products aimed at young girls, something their new Barbie Photo Designer digital camera is sure to do. With a street price under $70, the camera has the kind of cute styling you would expect from a camera named after Barbie, including her trademark pink accent color. Barbie Photo Designer is designed for use only with Windows computers and can store up to six photographs. The bundled software lets young photographers import their photographs and paste them into Barbie postcards as well as their own digital scrapbooks. Is Barbie that popular? Consider this factoid: Somewhere in the world, two Barbie dolls are sold every second. For more information about Barbie Photo Designer digital camera, visit Mattel Media's web site at www.barbie.com.

At the other side of the spectrum is Thomson's Camelia line of megapixel digital cameras that are targeted at the slide/film scanning, index print production, studio photography, and scientific imaging markets. The two models are based on large format (close to 35mm film size) progressive scan color CCDs that produce images with 1536x1024 or 1840x1360 pixel resolution and files in 4.5 or 7.2MB file sizes. The cameras are controlled through your computer's serial port either in continuous mode or "frame on request" mode that can be triggered by an external event or in synchronization with flash or shutter. For more information, call Thomson at (973) 812-9000.
Looking as cute as its namesake doll, Mattel Media's Barbie Photo Designer digital camera sports the trademark pink color and a price point of under $70, making it a great gift for the young girl in your family.
It Keeps On Going, Not. One of the biggest downsides to using digital cameras is short battery life. Newer cameras have addressed the issue by using NiMH or Sodium Ion batteries, but LCD preview screens and built-in flashes gobble batteries faster than a bus load of tourists at a Las Vegas buffet. Mizco Interna-tional has introduced the new Digi-Power DPS 4000 rechargeable battery pack that's designed to work with digital cameras from most leading manufacturers. The DPS 4000 weighs less than 6 oz and its NiMH batteries provide four times more power than ordinary AA cells. Field tests conducted with various cameras have shown that the DPS 4000 is capable of capturing more than 400 high-resolution digital photographs per charge and the batteries can handle up to 1000 changes. The battery pack costs less than $40 and includes a leather case that can be worn on a user's belt. For more information, contact Mizco International at (718) 492-0220.

Ring Around The Flash. S/R Inc. has developed the first ringlight flash slave for use with digital cameras. The Digi-Slave RF-50 Ring Flash will work with the Olympus D-600L, D-500L, D-300L, D-200L (and probably the new D-620L) along with the Agfa 1280 and 1680. Previous ringlight slaves could not be used with these cameras because they use a rapid double flash. A standard slave fires on the first flash, while the digital camera captures the images on the second flash. To solve this problem, the RF-50 is designed to fire on the second flash making it perfect for macro photography applications. The suggested retail price of the RF-50 is $249.95. For more information on S/R products, call (800) 324-7745 or visit their web site at www.cyberramp.net/~srx/flash.html.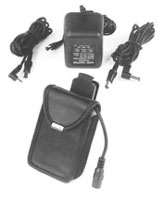 Mizco's DigiPower DPS 4000 power pack provides hundreds of full resolution images for digital camera users before needing to be recharged.
You Need Software, Too. From Down Under comes a software package designed for digital camera users. IXLA's Digital Camera Suite directly connects with digital cameras from Casio, Kodak, Ricoh, Epson, HP, Sharp, Olympus, Nikon, and Fuji. Other camera models are supported via a TWAIN driver that's included. An Import Assistant guides users through the steps of connecting a digital camera to a computer, downloading the photographs, then organizing them into catalogs. A unique feature is the program's ability to store images back into a camera. The package also lets you create albums, calendars, invitations, newsletters, greeting cards, as well as presentations that can include music. A step by step Wizard walks you through the process of creating your own Internet web pages. The package lets you e-mail digital photographs anywhere in the world complete with audio, frames, text, and clip art. IXLA's Digital Camera Suite has an estimated street price of $29. For more information, contact IXLA at (203) 730-8805 or visit their web site at www.ixla.com.

Plug-In Of The Month. If you've been envious of the painting abilities of MetaCreations' Painter program, but haven't been comfortable with that program's steep learning curve, you can use Nowhouse's Propeller to add increased painting capabilities to any image-editing program that accepts Photoshop-compatible plug-ins. Like Painter's Image Hose feature, Propeller gives you a practically unlimited supply of interesting brush styles and effects. As you paint, patterns can be warped along a curved path, producing a fluid stroke that looks and feels different than traditional painting programs. Propeller is easy to learn and use and comes with a collection of built-in patterns or you can add your own by using any PICT, PNG, or TIFF file. The plug-in supports patterns that have alpha-channel transparency and you have full control of stroke speed, direction, and all brush properties. To get the most out of the plug-in, Nowhouse recommends a graphics tablet or pen-based input device. Propeller supports Photoshop 3.0.4 or later (4.0 or later is recommended) and works with either Macintosh or Windows platforms. This spiffy new painting plug-in costs $59.95. For more information about Propeller, visit Nowhouse's web site at www.nowhouse.com.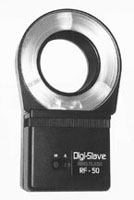 Want to add a ringlight flash slave to your digital camera? S/R RF-50 Ring Flash will do the job.
Speaking Of Graphics Tablets. Wacom Technology Corp. just introduced a new line of five graphics tablets and four input devices with unique capabilities. The Intuos 4D Mouse is the first pressure sensitive ambidextrous mouse that features a thumbwheel control for zooming, navigating, and shuttling videotape. The Intuos Airbrush is a digital airbrush that is equipped with a pressure sensitive pen tip for controlling height and a pressure sensitive fingerwheel for controlling ink flow. The Intuos Lens Cursor is the first with a rotating crosshair lens making it easier to use in CAD applications. All of these tools are designed to be used with an Intuos graphics tablet. The new Intuos tablets have been redesigned and feature doubled tip sensitivity, 1024 levels of pressure, and a new 9x12" size. Tablets are available from the (mostly useless) 4x5" size up to 12x18" for the serious graphics tablet users. For more information, call Wacom at (800) 922-6613 or visit their web site at www.wacom.com.

How Much Is That Stock Photo Of The Doggy In The Window? When I opened my studio, I used to get calls from other photographers asking how much to charge for stock photographs. Now when someone calls, I refer them to Cradoc's fotoQuote software. FotoQuote provides access to over 2000 prices in over 140 categories and contains everything you need for pricing and selling stock images. All of the data, from a working price range for a specific sale to guidance on how to get your price, is available on one screen. FotoQuote is available in Windows and Mac versions and lets you print a quote as a fax cover sheet or on your own letterhead. Cradoc recently shipped Version 3.0 which contains prices based on actual sales records from national stock agencies and photographers. A new RightsWriter feature builds a licensing agreement by selecting terms from pull down menus and allows a license description to be automatically added to your quote. FotoQuote 3.0 includes 30 electronic categories including web banner ads, editorial and advertising photos on the Internet, CD ROMs, electronic brochures and catalogs, in-store point of purchase kiosks, and online corporate annual reports. Other categories include stock photo sales to the music and sports industries and still photos for documentary and feature films. A "Sales Coach" provides advice to sellers depending on each sale's circumstances. The program displays prices in international currencies including US, Canadian, Australian and New Zealand dollars, British pounds, French francs, German marks, and the new Euro. For more information about fotoQuote call (800) 679-0202 or visit their web site at www.cradoc.com.

USB: It's A Beautiful Thing. Just as a camera system includes more than lenses and camera bodies, a computer system is composed of unsung hardware that helps us with our digital imaging. Your computer needs ports to connect digital cameras, scanners, and other imaging peripherals, and implementation of the Universal Serial Bus (USB) standard is going to profoundly affect all digital imagers. More and more scanners are using USB connections and I expect to see digital cameras break away from the slower serial connection most of them use now. Hagiwara Sys-Com recently introduced its SmartMedia Reader/Writer, a USB-based peripheral for transferring data from the SmartMedia cards used by many digital cameras directly to USB-equipped computers at speeds of up to 12MB per sec. A SmartMedia card, which resembles a Wheat Thin more than their makers would like to admit, is the thinnest and smallest type of flash memory card and is available in sizes from 2-8MB. These cards are about 1/3 the size of a credit card, and just as thin. SmartMedia uses a single EEPROM (Electrically Erasable Programmable Read Only Memory) chip embedded in the plastic to read and write data. SmartMedia Reader/Writer supports both 5V and 3.3V SmartMedia cards and requires no external power supply. The device is plug-and-play compatible with Windows 98 and Windows NT Version 5.0. Mac-heads will be glad to know that it also works with Mac OS Version 8.1 or later. For more information, contact Hagiwara Sys-Com at (619) 546-9989 or visit the company's web site at www.hscus.com.

Looking to add USB capability to your computer? Keyspan recently released an entire line of USB products for Windows and Mac OS-based computers, including Apple's iMac. The Keyspan USB Hub provides four powered USB ports for connecting USB devices to the iMac or any USB-capable computer. The Keyspan USB PCI Card provides a low-cost USB upgrade for Power Macintosh or Windows 98 computers that don't already have an USB port. This upgrade makes it easy to connect a Mac or PC to new USB devices including disk drives, joysticks, scanners, graphics tablets, modems, cameras, printers, and telephone products. The Keyspan USB Serial Adapter provides a way to connect existing Macintosh serial devices--including graphics tablets, PDAs, and serial printers to the iMac's USB port. Unlike some single port solutions, Keyspan's adapter features two serial ports. For more information on Keyspan's USB products, visit their web site at www.keyspan.com.

FEATURED VIDEO