Digital April Showers Across The Internet: Short Attention Span Theater
Nicholas Carr, author of The Shallows: What the Internet Is Doing to Our Brains, reports that a study of online retailing in 2006 found that a third of online shoppers with broadband connections abandoned a site if its pages took 4 seconds or longer to load; two-thirds quit when the delay reached 6 seconds. Recent studies by Google and Microsoft found that people abandon a site with a page loading delay of 250 milliseconds. If, as is becoming common in some photographers' web design, there is a prelude before your real content launches or your server is slow, it does not bode well for increasing the number of visitors to your site.
www.kurtbudliger.com
Kurt Budliger's fine art and editorial photography website launches bang-zoom with screen-filling images displayed as a slide show of meticulously crafted images, all filled with lush details. The site also contains Budliger's photojournalistic images of outdoor sports such as fishing, skiing, and kayaking, showing another side of his talents and interests. Yet another of the site's aspects showcases the fact that Budliger is a wedding photographer, an interesting juxtaposition to his fine art landscapes. The wedding work shown is filled with warm, often nostalgic portraits he made for his clients. Click on "Wedding Site" at the top of the screen to see what I mean.
Over on the fine art site, you'll find some stylistic crossover between these two different sites, especially in photographs in the People & Lifestyle Photography portfolio, such as a monochrome image of men fishing from a bridge that could have been made in 1930, or yesterday. Yet look into any one of Budliger's Light on the Land portfolios—there are three different ones—for nature and landscape photography that's as good as it gets. All three of these portfolios offer images of unimaginable natural beauty, showing the magic of light when in the hands of a patient master craftsman. While these photographs literally explode with color, they are also quiet markers of a classic genre that Budliger has reinterpreted for today's viewers. In a world obsessed with one environmental disaster after another, Kurt Budliger's landscape photography is a beacon of hope showing the possibilities of man's harmonious coexistence with nature.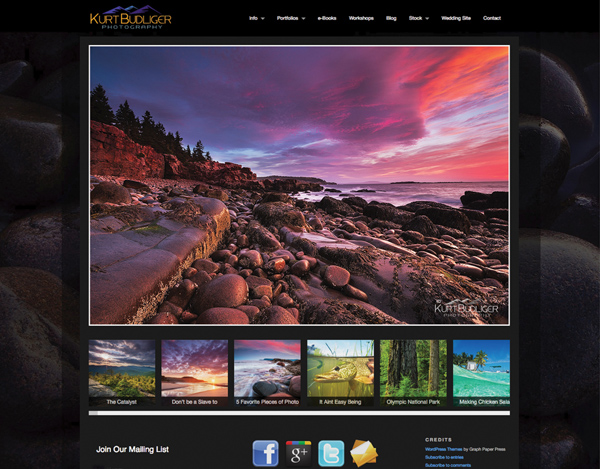 www.ryantischerphoto.com
Ryan Tischer is a Minnesota landscape photographer whose passion and talent for this challenging genre far exceed his youth. His images are collected in eight portfolios, including Making the Images that takes you behind the scenes, giving some insight into the gear Tischer uses and how he works on location. More photographers should include this feature on their sites. Most of his portfolios have descriptive titles such as Lake Superior that kicks off with the glowingly mysterious "Hollow Rock," shot in Grand Portage, Minnesota. Hovering your mouse over "image info" under each photograph causes information about each image to pop up and it is also where Tischer recounts what it was like to capture the image.
Tischer's photography provides a comfortable view of the landscape that belies the obvious physical challenges of making them, most notably in the Winter portfolio—this is Minnesota, after all. In these images he manages to sprinkle in a surprising amount of color, allowing these photographs to rise above typical snowbound monochromatic winter landscapes. Warming it up a bit in Spring/Summer, Tischer shows his mastery of color, whether hitting you over the head with dramatic photographs of sunflowers or lightly dusting the scene with a touch of color as in "Against All Odds," showing a waterfall with a just-blossoming tree in the foreground. Ryan Tischer's talents demonstrate his ability to mix the quiet moments of the landscape with brief glimpses of high drama, all the while maintaining the highest levels of technical achievement.
www.robert-garrigus.com
Robert Garrigus says he's not a professional photographer but his site, which he designed, looks professional and there's no doubting the professional quality of the images found in 19 portfolios. These collections are arranged mostly by geography and cover the globe from unlikely places such as the Czech Republic and Slovenia to more traditional travel destinations such as Italy and Scotland. His photograph "Prague Light Trails" overlays a splatter of colorful modernity on the city's baroque architecture. His Slovenian images burst with color, creating a mysterious fairy-tale series of landscapes contrasting with the soft colors in "Sorica Sunrise" that has a delightful Prisoner of Zenda feeling and had me clicking the Print Pricing link to see his affordable print prices.
All this contrasts with his images of Morocco that are an appealing blend of sand dune landscapes and fascinating portraits of the faces of Marrakech, showing Garrigus knows his way around photographing people. While many of his images focus on the grand landscape and wide-angle views, photographs in the Macro and Abstract portfolio get him up-close and personal with nature, showing elegant plant forms as in "Melting Frost." Robert Garrigus's site is an Around-the-World tour giving a glimpse into places and people most of us will never see, all the while imbuing these classic images with technical prowess to produce a collection of unforgettable images.
http://jasonduchowphotography.com/sports-photography-blog
April's Blog-of-the-Month is from Jason Duchow and focuses on local, high school, and amateur sports events that he shoots—as if the images would appear in the pages of Sports Illustrated. These kids have to love those images and Duchow, too, I'd guess. This blog has a fresh, contemporary feel that is ideally suited to browsing and is a model for how a professional photographer's blog should look and work. As with any photoblog, the images are the star and clicking on any post unfurls a strip of large images, with copyright notice, showing these young athletes at their best.
He not only covers traditional stick-and-ball sports such as football but also has some great photographs of women's volleyball shot indoors, a more difficult technical and aesthetic challenge than beach volleyball, yet Duchow pulls it off with the kind of panache that exemplifies all of his sports photography. Don't miss his coverage of a "powder puff" football game with women playing the game and men as cheerleaders. The group photo is priceless! Jason Duchow has another blog for his portrait photography (http://jasonduchowphotography.com/photo_blog) and it's worth a peek to see the wonderfully inventive portraiture he also produces.