A Different Printer Option For Photographers
Using The Konica Minolta magicolor 2350 EN Color Laser Printer Page 2
The color matching of the prints was right on target, and the overall prints' photographic quality was very good, as good or better than a four-color ink jet, and close to what I would expect from a six-color ink jet. But, do the resulting prints look like ink jet prints and just how photo-realistic are they? The best description I can think of to describe the overall image impression is that on high-quality color laser paper they look very much like images reproduced in pricier, upscale magazines. The detail is sharp, the tones are smooth, and the colors are rich.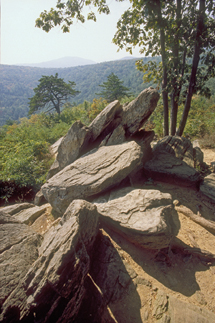 Landscapes are a frequent camera subject and usually contain a mix of subtle, complex colors and often strong contrast defining a lot of fine detail. Again the magicolor 2350 EN produced prints with qualities I am sure would satisfy the expectations of most photographers.
Practical Considerations
Once I was assured I was getting good color matching and the best image quality the magicolor 2350 EN could reproduce, I extended my testing to see just how much practical and efficient value the printer could provide. Although the speed rating of the Konica Minolta is four pages per minute, that does not account for the time required to process and transfer the image data to the printer. I found that if I was printing an 8x10" image with a resolution of 300dpi from Photoshop, the processing and transfer time was fairly lengthy, similar to doing the same thing with many ink jet printers. But then, once the printer actually began to put toner on the paper it was just a matter of a few seconds until the print was finished. If I were doing this with a number of images, one after another, I could have several images in process in the print cue, and the magicolor 2350 EN would then spit them out one after another about as fast as I could open images and send them to the printer. With the default 128MB of printer memory in the magicolor 2350 EN this might be speeded up with additional RAM installed in the printer to its maximum of 384MB. This way of working does get more printing accomplished than doing the same thing with an ink jet set at "photo" resolution, but it does not add up to four pages per minute.
The magicolor 2350 EN's full speed potential was achieved if I instructed the driver to make multiple copies of an image. This was also true printing multi-page documents that were made up of both text and images. This led me to try outputting a multi-page Acrobat .PDF file of a number of photo images sized to about 8x10". This file, once sent to the printer, also resulted in printing the pages many times faster than the speediest ink jet printers I have worked with recently.
Evaluation & Recommendation
Although I have described the Konica Minolta magicolor 2350 EN's performance relative to typical popular photo ink jets, it was not with the idea that the magicolor 2350 EN might be chosen instead of an ink jet, but as a frame of reference. It is because I found that the performance in image quality is similar, and that the color laser can reproduce images much faster and at a much lower cost per sheet printed, the magicolor 2350 EN can fill needs and requirements an ink jet cannot. For those photographers who have a need to make higher quantities of prints, quickly and efficiently, and at a lower cost, the Konica Minolta color laser has a place, thus providing an effective solution for some photographers. There are lots of examples I can think of and I am sure many more I can't. Many photographers have small part-time photo businesses, doing weddings, portraits, social events, school pictures, pets, horses, etc., who may want to produce proofs inexpensively.
Considering the Konica Minolta color laser printer reproduced all of the different subject and image variations I chose to print, I expected it would do well with portraits, and I was not disappointed. However, portraiture brings up in my mind the question of print life. Unfortunately Wilhelm Imaging Research has not rated this color laser printer, so I cannot offer more than a personal, logical supposition. With ink jets that use dye-based inks the print life is relatively short, while pigment-based ink jet inks produce quite long-lasting color. Considering the toner used to form an image with a laser printer is a powdered solid, I would assume it would have properties closer to a pigment ink than a dye-type ink jet image, and should provide reasonably long color fidelity. However, the print substrate, like inexpensive high-quality color laser paper, is made entirely from wood pulp, and the lignin in wood fiber will eventually cause yellowing, thus limiting print life..
My trial of the Konica Minolta magicolor 2350 EN established for me that the color photographic image quality it can reproduce is definitely a positive asset for those who need to provide the services I outlined. If you have a frequent need to make large quantities of printed documents containing photographs quickly and inexpensively, I can recommend the magicolor 2350 EN and be reasonably sure you will not be disappointed in its performance and quality.
Technical Specifications
Print Method: Electrophotographic laser
Print Speed: Color--up to 4 ppm; Monochrome--up to 18 ppm/letter, 17 ppm/A4 (exact print speed differs depending on system configuration, software application, driver, and document complexity)
First Page Output Time: Monochrome--14 seconds from an idle, ready state; Color--25 seconds from an idle, ready state
Processor Type: PowerPC 405 core, 200MHz
Memory: 128MB SDRAM on board, upgradeable to 384MB (one slot)
Interface Support
Standard Interfaces: Ethernet 10/100BaseTX (supports TCP/IP, NetWare IPX/SPX, and EtherTalk protocols); USB 1.1 (supports Microsoft "Plug and Play"); IEEE 1284 parallel (supports Microsoft "Plug and Play")
Optional External Interfaces: Bluetooth and 802.11b wireless technologies supported
Paper Handling
Standard Paper Input: 200-sheet multipurpose tray
Optional Paper Input: 500-sheet lower input feeder
Standard Paper Output: 200-sheet face-down output tray
Duplex Printing: Manual (automatic optional)
Paper Weights: Plain paper--16-24 lb, Bond (60-90 g/m2); Thick stock--24-90 lb, (90-163 g/m2) (letter/A4 size or smaller)
Print Media: Plain paper, thick stock, OHP transparencies, laser-quality labels, and envelopes. Duplexing on plain paper only. Printing on thick stock supported on page sizes of letter/A4 and smaller only.
Physical
Dimensions: 14.02x19.69x15.43"
Weight: Without consumables--55 lbs
Typefaces
Fonts: 137 resident PostScript fonts, 80 PCL font

For more information, visit Konica Minolta's website at: http://printer.konicaminolta.net/products/color/mc2350/index.asp.

LATEST VIDEO