Delkin Devices Photo Memory Cards Review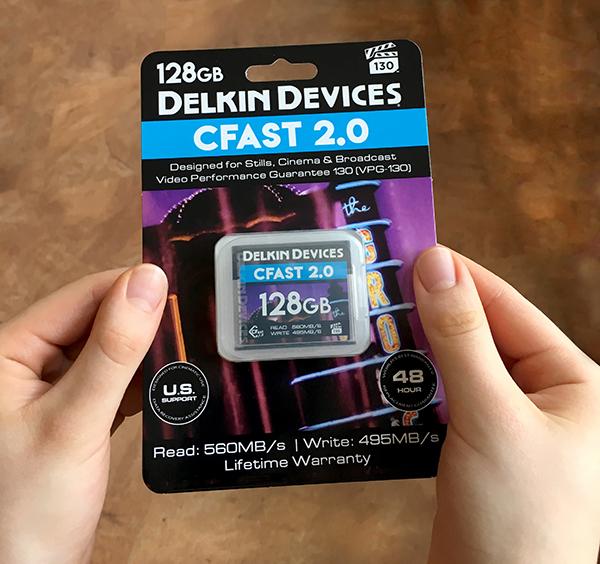 Answer quickly—what is the brand and capacity of the memory card that's in your primary camera right this minute? Don't know? Read this and you might want to switch to a card made by Delkin Devices.
You can probably name four or five big memory card manufacturers, starting with the brands you see most often when Amazon's AI pushes purchase recommendations your way. Delkin Devices may not be on the tip of your tongue. Too bad, because while some memory card manufacturers have been content punching out card after card in a mass consumer product sort of way, Delkin Devices has instead focused specifically on what photographers and videographers need.

Delkin Devices offers memory cards in all of the sizes and shapes that we require, including SDXC, microSD and CF. They also provide XQD, 2.5-inch SSD, USB 3.0 SSD, the new CFast format and soon the CFexpress.
Once over lightly, XQD (as high-end Nikon owners know) uses PCIe specification while the CFast, pictured in the image at the top of this column, uses an SATA interface. PCIe is an abbreviation for Peripheral Component Interconnect Express. The CFexpress 2.0 product is destined to disrupt the market (i.e., muddy the waters in the short term). It will eventually be available in three sizes, the middle size conceived with camera folk in mind. We'll write more about CFast, CFexpress and other new storage formats and memory card technology at another time.
Navigating the alphabet soup of card nomenclature is not a chore for the meek—unless the meek read my recent article Everything You've Ever Wanted to Know About SD Cards But Were Afraid to Ask. But Delkin has sorted their offerings into five easy-to-understand categories. What's more, they label product packages and divulge all specifications in clear, comprehensible language.
The categories are: Select, Advantage, Prime, Power and Black. Black is the best and if you are interested only in the best, skip down to Black now.
SD and microSD cards are available in all five flavors. CF cards are available in Select, Prime and Black.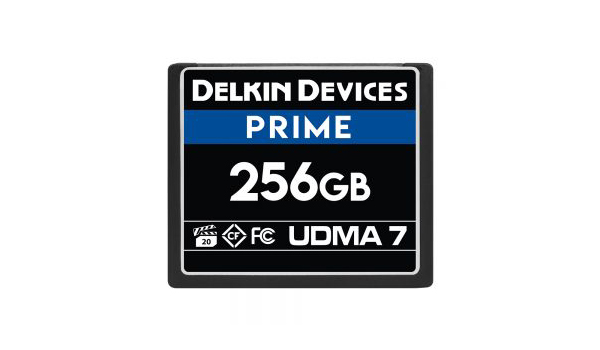 The Select category, marked with a red stripe, is the budget line. Despite the lower price, cards in this category still offer high data transfer rates (up to 660X) and support Full HD 1080p video. Casual picture takers, line up here.
One step up is the Advantage line, identifiable by their white markings. Advantage cards are recommended for camera and video recording where faster speeds are specified. For my money you can skip this group altogether.
Prime (blue) Delkin cards are UHS-II (SD and microSD), are rated at 2000X and are very similar to the Power (green) line which is Delkin's premium offering. Both the Prime and Power series cards enjoy the "World's Best Warranty" which is detailed below.
Delkin Black
Then we have the Delkin Black line. These are made for people who accidentally destroy conventional cards by stomping on them, getting them wet and/or subjecting them to frigid temperatures. Black SD cards utilize a solid molded design where the controller and dies are completely sealed inside and protected. Delkin calculates that Black are three times stronger than a regular SD card. I believe that's a conservative estimate.
Delkin Black cards are specially made for harsh conditions. They are waterproof and dustproof and can withstand up to 45 pounds of force (that's for the SD cards; the CF cards can handle 80 pounds). Delkin Black also have Delkin's popular warranty and a pretty incredible 48-hour replacement plan.
Delkin Black memory cards are available in the following configurations:
SD UHS-I (V30) in 32GB through 256GB (90MB/s Read, 90MB/s Write speed)
SD UHS-II (V60) in 64GB and 128GB (300MB/s Read, 100MB/s Write speed)
SD UHS-II (V90) in 32GB and 64GB (300MB/s Read, 250MB/s Write speed)
microSD UHS-I (V30) in 32GB and 64GB capacities (90MB/s Read, 90MB/s Write speed)
CF UDMA 7 comes in 64GB and 128GB sizes (160MB/s Read, 120MB/s Write speed)
Delkin Warranty
All five categories of Delkin cards mentioned here are covered by a Limited Lifetime Warranty policy. In addition, Prime, Power and Black series cards come with a 48-hour replacement guarantee. Delkin will replace a defective card within 48 hours (excluding Sat/Sun). The replacement process starts before they receive the non-working card. You can also get an over-the-counter replacement of a faulty Delkin Black card at any authorized Delkin dealer.
Pricing and Availability
Memory card prices move faster than a cat escaping the squeeze of a four-year-old. Check with your local camera dealer.
Conclusion
The memory card is the part of your camera that's removable. If you own a good camera, you don't want to put lousy parts in it, do you? Then don't buy bargain cards with names you can't pronounce. You can't take the same picture twice. Be sure your memory card is high quality and fast enough to allow you to enjoy all of the benefits of your camera or GoPro.
—Jon Sienkiewicz

FEATURED VIDEO