David Rae Morris; Returning From Disaster
"The parade was at night. It was a beautiful evening. There were two to three hundred marchers and New Orleans actress Becky Allen became Queen Katrina, the reigning monarch of the Halloween parade this past October.

"New Orleanians have a way of turning tragedy into humor and some people came dressed as refrigerators. I was overcome with the celebration and the irreverence of the event. No other city could do it better. It was the first time I truly felt like I was home."
--David Rae Morris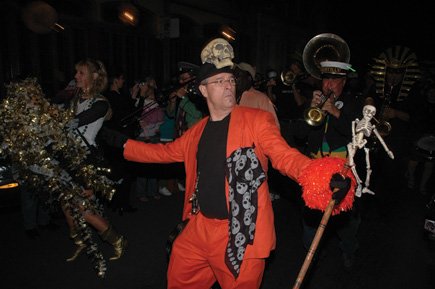 All Photos © 2005, David Rae Morris, All Rights Reserved
For a photographer like David Rae Morris, documenting the tragedy of Hurricane Katrina was different. His beloved town...his friends...how to make sense of it all? The only way for Morris was to throw himself into his work, to tell the story as best he could, to do what he does best.

"The situation was so tragic, so exasperating, and many of us who were working here felt pushed to the limit," Morris recalls with sadness. "There were times I couldn't bring myself to go out and shoot. I needed to go in a bush in the back yard, to scream and cry."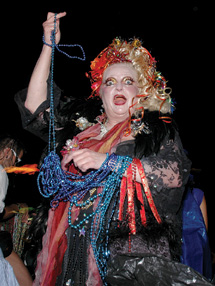 The floodwaters from Lake Pontchartrain stopped one block from his house, but Morris had left New Orleans with his partner and 4-year-old daughter before Katrina hit and had moved in with relatives in Jackson, Mississippi, 200 miles from New Orleans. Jackson was also severely impacted by the storm and there was little if any communication available once the storm hit and the levees broke.

Morris had time to pack his camera gear, his laptop, and his last four years of digital files. He spent the first week working for the Jackson Free Press in Mississippi, photographing the refugees at the Coliseum and the devastation along the Gulf Coast.

"At first I was in Waveland, which was decimated by the storm with nothing left but a pile of rubble," he recalls. "I photographed people trying to salvage what was left of their homes. One photo I shot at eye level. There was 7 or 8 ft of water and two windows showed the water-stained curtains telling a story of the massive flooding.
"The New York Times sent me to Biloxi and Gulfport, Mississippi, and I returned there several days later on my own. There was no gas in Mississippi and it was almost impossible to get to New Orleans.

"A few days later, two other photographers, one from National Geographic, joined me and with our combined credentials, we were allowed access into the flooded city. It was 95Þ and New Orleans was a mess. It was humbling to see and at first I didn't want to come in and thought I could distance myself emotionally. When I did go into the city I realized I had been wrong. I could not distance myself--I needed to feel the tragedy.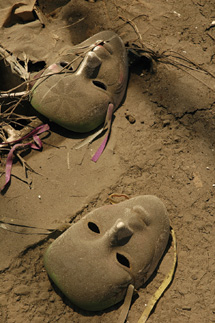 "Since I was not on deadline I could spend time with people I loved and photographer friends. It allowed me to get some of the pictures I did and to show the emotion we all felt. On the Picayune website, which is the local paper in New Orleans, we could watch the satellite images and hear neighborhood dialogs as to locales where we could go."

Humanity Street - Abundance Street - Treasure Street - Agriculture Street--street names so typical of the spirit of New Orleans... In another area the streets are named after the Nine Muses. How could such a thing have happened to a place like this? One photograph taken on Humanity Street shows the big letters Lagniappe, meaning a little something extra, "in this case perhaps a little more Lagniappe than we need," Morris says.
"Not only did I know what the people were going through--I was a part of the story," he says. "I was shooting Humanity Street from a ramp off the highway and the water was about 6 ft deep. You think of the human side of this disaster, the scope and dimension of it. I was reminded of Herbert Morrison's call on the crash of the Hindenburg in 1937 when he broke down and burst into tears, saying, `Oh, the humanity...I can't take it...'
"What surprised me most was the resilience of these people. New Orleans people are a cross between stubborn and carefree and are determined to live their lives. The people I photographed in St. Bernard's Parish were particularly determined to rebuild their houses. Those in the Lower Ninth Ward, which is the neighborhood where the levee breached on the Industrial Canal, were predominantly African American and owned their homes. It is an old community and it was hit hard and suffered the greatest losses."

LATEST VIDEO

SPONSORED VIDEO