David Rae Morris; Returning From Disaster Page 2
One of Morris' most psychologically charged images pictures an African American woman staring sadly from the window of a stopped bus. Morris told me that most of the Lower Ninth Ward had been closed off to everyone. A small section was then opened so the residents who wanted to see their homes could be taken by bus to view their neighborhood and were driven by their houses. No one was allowed out of the bus.

It was emotionally challenging to document the lives of people returning to their flooded homes for the first time, and Morris went back to the Lower Ninth Ward several times. He was fortunate to find people kind enough to let him follow them back in, but painful to watch and photograph them.
Katrina turned out to be an equal opportunity destroyer, however. The breach at the 17th Street Canal also flooded the upper-crust Lakeview neighborhood near the water with its broad boulevards and towering trees, while another picturesque area with many palatial homes sustained overwhelming destruction.
One of Morris' most moving photographs was taken while following a search and rescue team. He had seen what was left of a little store that sold Mardi Gras supplies. Nearby, face-up, lay two Mardi Gras masks, symbols of a place no longer there. It was like looking at the end of an era, presenting a sense of the destruction of a time known for its gaiety and high spirit, the masks a symbol of its identity. The image will be on the cover of Cultural Vistas, the magazine of the Louisiana Endowment for the Humanities.

I asked Morris if he thought the good times would roll again in the Big Easy, if New Orleans could bounce back, and he said that he believes there's a lot of bouncing back already. "Many restaurants and bars have already reopened and schools will reopen soon. Much of the Gulf Coast has a long way to go from the winds and storm surge but the interior is pretty much back to normal.
"I think our spirit is already regained and now it really comes down to politics. Once New Orleans gets up and running it will, however, be a much smaller city. Before the storm there were about 430,000 people and I recently read in the paper that only about 100,000 have returned. Eighty percent of the houses in the city were damaged so finding places for people who want to return is difficult. Workers who came in to help with the cleanup are camped out in City Park.
"Now that the refrigerators with rotten food are being taken off the curbs and the garbage is regularly picked up we are cleaning up all the debris and the Corps of Engineers will be inspecting every house. We are all tired of disaster here and are trying to feel more upbeat.

"As photographers, and many of our newspaper photographers have lost everything, we know that doing our work is the only way to make sense of this tragedy that makes no sense, to channel our feelings and emotions into our work. If we are doing it right it does affect other people."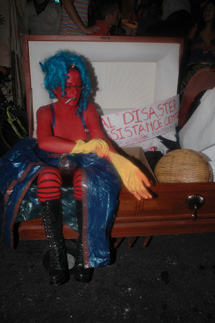 Using mainly his Nikon D70, Morris' photographs have appeared in USA Today, The New York Times, Bloomsburg News, European Press Association, and other periodicals. An exhibition of his work took place at the Ogden Museum of Southern Art in December, 2005. The museum has published Missing New Orleans, a book about the landmarks now gone and has now decided to include an epilogue containing 30 of Morris' photographs from the storm.

Prior to Katrina Morris was known for his photographs of jazz festivals, Mardi Gras, and musicians. Hopefully he will soon be able to return to these private things he loves so much. For now, he is sharing his grief with photographs of an old woman who has been evacuated from her home or a deserted street with two dogs scavenging for food. He shows us the top of a picket fence poking out of the floodwaters that reflect the debris and gasoline that surrounds it.

Morris has been profoundly affected.

"It will be a long time before we are back to normal but already there is live music and wonderful food and I am committed to document that and the resurrection of this place--how a city rises from the waters."

LATEST VIDEO

SPONSORED VIDEO
Testing Tamron's SP 150-60mm G2 lens while capturing birds and alligators in Apalachicola, Florida.