D-SLR "Live" View; It's Not Just For Point & Shoots Anymore
In 1985, Nikon filed a US patent for an "Electronic still camera provided with an electrical viewing system." In September 1991, Fuji applied for a US patent for a "Camera having a liquid crystal viewfinder" after applying for a similar patent in Japan. In March 1995, Casio announced and sold the QV-10, the first consumer digital camera with an LCD and the first with Live View. I remember the first time I used a QV-10 to capture photographs at a model train show; people kept coming up to me asking me if it was a video camera! Oh, how times they have changed.
After dinner at the Ponce Yacht & Fishing Club in Puerto Rico I was walking past these boats and wondered what the Olympus E-3 could do with the sunset. Exposure was 1/125 sec at f/4.5 and ISO 400 and was captured in Live View mode. Lens was the ED 12-60mm at 27mm.
All Photos © 2008, Joe Farace, All Rights Reserved
Add A Live View Accessory
If your camera doesn't offer Live View you can add it as an accessory. Argraph's www.argraph.com Zigview ($229.95) attaches to the eyepiece of your digital or film SLR cameras and displays the image in real time on a 2" LCD display for viewing at any angle. The Zigview-R ($279.95) offers a motion sensor shutter release, intervalometer, and Bulb exposure controller making it ideal for wildlife, nature, and macro photography. The Zigview S2 ($469.95) Digital Viewfinder has a 2.5" LCD screen and features a NTSC/PAL Video Output jack so the image can also be viewed on a video monitor. The display module rotates 300° and flips up and down 180° for easy viewing at any angle, much like the screen on an Olympus E-3. The image can be flipped 180° to conform to the screen position. The Zigview S2 image sensing module and display module can be separated using an accessory video transceiver cable enabling you to remotely view the viewfinder image from up to 40 feet away as well as remotely fire the shutter. The Zigview S2 has a programmable motion detector sensor and intervalometer with the same parameters as the Zigview R.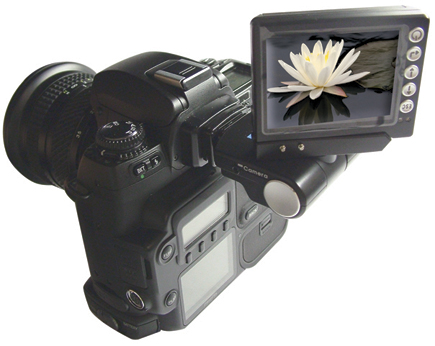 In early 2006 Olympus introduced the EVOLT E-330 digital SLR that allowed live viewing of the image on a flip-out 2.5" LCD preview screen—a first for digital SLRs. Developed along with Panasonic, the camera's 7.5-megapixel imaging chip uses what the company calls Live MOS but in reality NMOS technology, a type of semiconductor that's negatively charged so transistors are turned on or off by the movement of electrons. This approach is said to combine the advantages of CCD with those of CMOS. Since Olympus launched Live View it's been gradually adopted in various guises by other companies, most notably by Canon who's included it on their high-end EOS-1D series as well as their middle-of-the-road EOS 40D, but not without some controversy. Some see all this as a gimmick. Is it? I don't think so, so read on.

Every digital point-and-shoot camera has Live View so what's the big deal with having this same feature on a digital SLR? Some don't like holding a heavier camera at arm's length â la point-and-shoot technique, but that may not be the best way to use Live View on a digital SLR. On page 110 of the EOS-1Ds Mark III User's Guide, Canon recommends using a tripod, so it may be time to re-think how you use Live View. On many of the shots I made here with an Olympus E-3, their latest pro/am model with Live View, I rested the camera on some kind of support—even the floor.
Do SLRs Need Live View?
The answer is, my friend, yes. Live View lets you capture images on-the-fly that have the correct color balance and exposure adjustments without the kind of trial-and-error methodology we used in the old days of film—shooting Polaroid after Polaroid to get it right before shooting "real" film. Now we can capture the image we want, when we want, without guesswork by seeing in real time. I predict that in the not-so-distant future that all digital SLRs will offer a Live View function. Remember, you read it here first.

Live preview makes it possible to check the results of exposure correction before taking the picture, allowing the user to intuitively confirm any corrections, allowing even novice shooters to exploit the advantages of SLR shooting especially in low and mixed lighting conditions. Experienced shooters also benefit since it will allow them to make adjustments more quickly while viewing the LCD monitor, without having to check the just-captured image after every shot.
The Live View Advantage
Here are some situations where Live View provides the best way to capture an image.
These tiny flowers were photographed in the garden of Castillo Serrallés that overlooks the city of Ponce, Puerto Rico and was captured using Live View mode with an Olympus E-3. Exposure was 1/125 sec at f/11 and ISO 100.

LATEST VIDEO

SPONSORED VIDEO