At The Crossroads; Documenting Rural Voices Page 2
"We had plenty of hogs. Never ran out of them. We raised them. See, there were open woods in here. You go out there and mark the pigs when they're little. If you can keep the momma from eating you up. Mark them and when they're fat enough, bring them up here and kill them. It was nothing to kill eight of nine of them at a time. Daddy wouldn't waste a bullet on them, either. Hit them with an ax. Oh, that was a job. I had a chicken heart anyway, but I had to do it. There were guys that would come here and help butcher those hogs; they would drink that blood like a Coca-Cola. Oh man! I called them Palmetto Crackers. They were tough. Get them a glass and you stick the hog in the throat and sometimes that blood would shoot out and they'd get the blood in a glass, add a little salt, and drink it right down. I'm telling you, I've seen a lot of things in my time. Drink that just like it was a Coca-Cola. Didn't know what a Coca-Cola was anyway."
Mack Yelvington, Rancher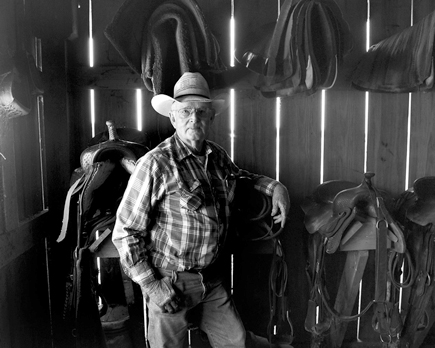 "It was hard times back then. Good times, but hard. We've lived here all our life. Born right in that house yonder. Daddy was born in 1909. Basically lived off the land and made his living that way. He was 100 percent woodsman. Daddy couldn't stand the way the world is right now. I don't like the way it's going, either. It would have been real hard on him to accept the morals of people the way they are today.

"In his era, I can remember him riding away from the house on his horse and momma had baked sweet potatoes and salt pork, white bacon. So salty you can't eat it. She'd put three of four days worth, or however long he was going to be gone, in a brown paper bag and wrap it up. He always carried a raincoat or slicker on the back of his horse and he'd put it in there and wrap it up. That's what he lived on. That was it. You know, he'd leave on his horse and ride by himself and be gone three, four, or five days. That didn't mean anything to him; it was just a way of life. Wherever he went, that's where he stayed."
Randy Thompson, Shrimper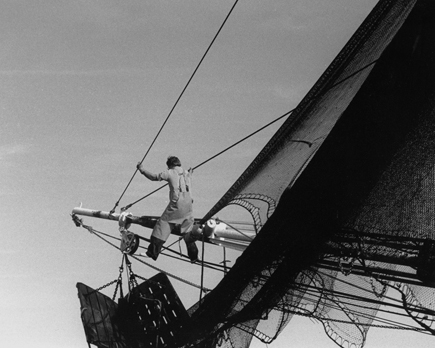 "I started out going with my dad when I was about 8 years old. I would get sick as a dog, but this is the life I know. You know, it's all a game. You have to outsmart the shrimp. You have to know where the shrimp are. I'm a little competitive and I want to catch more shrimp than everybody else. It's a challenge, a kind of fun. The shrimp farming that is going on is making us look differently at the industry. You've just got to adapt. There's not a whole lot of money to be made. But, it's a living."
Jimmy Cade, Fern Grower
"The old-timers mean so much to me. There's a lot of history to be learned from the older generations. Particularly the ones came through the Depression and all. A buggy ride, city tour of Seville, and a bottle of wine was $1.50 or something like that. A minimal amount. But that was money back in those days.

"During school, we'd take our lunch and sit outside and eat. And play marbles. Wore out the knees on every pair of pants my momma made me. She'd patch 'em. You didn't throw 'em away then, you'd patched 'em.

"You know, here, out in the country, well…I think that's where the country has the advantage over the city. You see a person in need, you help them. I've been all over the world, but I always come back to Seville, it's home."
What We Do
After discovering that much of our history and culture is vanishing or being overlooked and forgotten, our projects preserve history and provide a record of fading places and lifestyles. We look for subjects unique to our rural areas and use documentary photography, oral history, and other narratives to preserve these livelihoods rich in tradition.

In documenting culture and heritage, there are few things to consider:
• I rely mainly on black and white film. The interpretation of a subject can be controlled throughout the creative process with attention to detail at each step from composing the photograph to darkroom printing. I enjoy getting my hands wet and continuing in this nearly lost art.

• I often photograph with a 4x5 large format view camera and students ask, "Why are you going to so much trouble to make a photograph?" It's because I love the craft of photography and I want to get involved with the art as fully as possible. I want to immerse myself in the process and visually express myself.

• Rural folks tend to freeze-up when having a camera pointed at them. The best solution is to have them among things or in places where they are completely relaxed and confident. This intimate portrait is much more meaningful and effective than a candid approach. The goal of the portrait is to create not merely snapshots, but a documentary record.

• The environmental portrait reveals something about the subject and his character. Showing home environments, for example, helps to convey aspects of personality that are important in the project. These environmental portraits tell about the life and individuality of the person. The photos are visual symbols of a person's life.

• In documenting and recording vanishing traditions and livelihoods, mostly in rural areas, equipment should be kept to a minimum. Folks in rural areas might not be receptive to having microphones and some of the larger digital recording devices put in front of them. Oral history is simply having a conversation with someone and recording their thoughts and memories about a subject. Keeping it simple is the key.

• I use a very small Sony handheld digital recorder. I show it to people and then set it aside where it is soon forgotten. The audio quality is adequate for my purposes, and I get decent recordings that I can download for audio editing and output for multimedia productions.
Eric Dusenbery is executive director of Cinderic Documentaries, Inc. (www.cinderic.org), a nonprofit organization based in Central Florida dedicated to preserving history and culture through documentary photography and oral history.