Creative Imaging Software; Tailoring Software To The Challenge At Hand
"Of course, there will always be those who look only at technique, who ask `how,' while others of a more curious nature will ask `why.' Personally, I have always preferred inspiration to information."--Man Ray
ACDSee Pro: Digital Coincidence?
On the same day Adobe Systems announced the public beta of Lightroom a.k.a. Photoshop for Photographers, ACD Systems (www.acdsystems.com) released ACDSee Pro Photo Manager. You see, the initial public beta of Lightroom (http://labs.adobe.com/technologies/lightroom) is Mac OS 10.4 only, although a Windows version is planned. While awaiting my software upgrade to OS X Tiger, I was able to install ACDSee Pro Photo Manager on my Windows XP Home system right now. From finding photographs to editing and printing them, every step is designed to cut your work time, allowing you to maximize productivity, just as Lightroom and Apple's Aperture promise. ACDSee Pro Photo Manager supports raw and DNG formats along with ICC and ICM color profiles. Raw processing includes white balance, exposure, sharpness, and noise control as well as IPTC support. ACDSee Pro Photo Manager for Windows 2000 and XP costs $129.99. Lightroom's price tag is TBA (To Be Announced).
The official website (www.manraytrust.com and they even sell T-shirts) states, "Legendary Photography (sic), painter, and maker of objects and films, Man Ray was on (sic) the most versatile and inventive artists of this century. Born in Philadelphia in 1890, he knew the worlds of Greenwich Village in the avant garde era following the 1913 Armory show; Paris in the 1920's and 1930's, where he played a key role in the Dada and Surrealist movements; The Hollywood of the 1940s, where he joined others chased by war from their homes in Europe; and finally, Paris again until his death in 1976." For another perspective on Man Ray's life, read Steve Hodel's Black Dahlia Avenger. Then again, if you worship the guy as a saint, maybe not.

PhotoImpact
Back in digital imaging's Paleozoic era, Aldus offered a Windows-only program called PhotoStyler to compete with Photoshop. When Aldus married Adobe, nobody got custody of PhotoStyler. In the meantime, Ulead Systems, who originally created PhotoStyler, continued to produce an interesting package called Image Pals that was aimed at amateur photographers and over time matured into PhotoImpact. Now at Version 11, this latest update is the most powerful of all and a worthy successor to PhotoStyler. Did I mention it costs less than $50?

One of PhotoImpact's most interesting innovations is that it offers two work spaces: Basic Photo Mode uses a condensed toolset for everyday photo editing, while Advanced users can choose from Standard, Photo, Graphics, or Web Modes. PhotoImpact's High Dynamic Range (Photo>High Dynamic Range) calibrates custom camera curves (say that fast five times) even for digicams such as the Leica D-Lux 2 I used to photograph Acapulco's Flamingo Hotel. Even if you don't know what HDR means, you'll appreciate Ulead's ExpressFix feature that lets you adjust exposure, color, saturation, and focus by clicking mini-thumbnail presets. There's even a "Beautify Skin" setting! The best way to determine if PhotoImpact Version 11 is for you is to download a trial copy from Ulead's website (www.ulead.com) and put it to work.
Ulead ExpressFix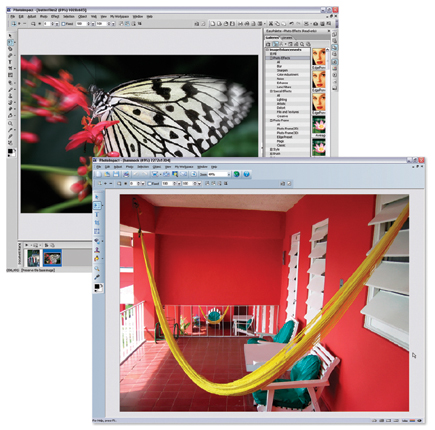 All Photos © 2005, Joe Farace, All Rights Reserved
Plug-In Of The Month
PictoColor's (www.pictocolor.com) iCorrect EditLab Pro 5.0 is available as a Photoshop compatible plug-in or stand-alone application and eliminates the frustration often associated with color correcting photographs. A SmartColor Wizard uses four toolsets. As you progress through from left to right, the tools will not, and cannot, affect any tools applied on the left. This step-by-step process alleviates the frustration of correcting one part of the image while throwing off another. After one pass through the tools you're finished. You can save custom settings to apply to other, similar images individually or as a batch. Color correction parameters can be saved as ICC (International Color Consortium) profiles for color managed workflows. iCorrect EditLab Pro 5.0 adds black and white conversion, sepia toning, and sharpening functions to its updated toolbox. You can even convert a batch of images from one file format to another. iCorrect EditLab Pro 5.0 is Photoshop Action-enabled so each color correction can be recorded as an Action. Price is $99.95 or $69.95 when upgrading from previous versions.
iCorrect Wizard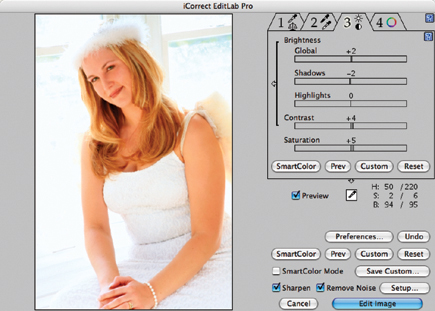 LATEST VIDEO

SPONSORED VIDEO