Creative Imaging Software; Tailoring Software To The Challenge At Hand Page 2
Actions Of The Month
The PanosFX Mosaics (www.panosfx.com) is a set of Photoshop Actions that produces 11 mosaic effects. The first group contains Soft, Vivid, and Pastels. They differ in the color of the tesseras (that's Latin for "tile" in case you haven't read The Da Vinci Code) they produce, which vary from neutral to colorful. Other Actions differ in the color of the gaps between (digital grout?--Editor) the tesseras. The full set contains five other effects, including Sandstone Texture, Vitreaux, Gems, Cells, and Byzantine Golden. Price is $15.99.
PanosFX Mosaics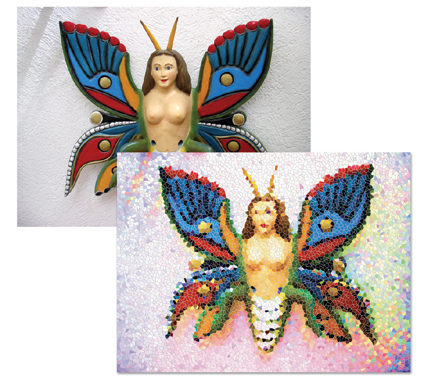 Panos Efstathiadis' Film Machine was featured in the December 2005 issue of Shutterbug and was upgraded by including the ability to combine four images in horizontal or vertical filmstrips. The pack contains three sets with 15 different Actions. Each one produces five different effects: The Flat Real version has the look of a real filmstrip, including color and markings; a Black Flat version replicates the look of a black filmstrip frame; the 3D Real version produces an eye-catching 3D filmstrip; the 3D Black version produces a 3D filmstrip with a black frame; and Vertical.
"Film Machine"

Microsoft Digital Imaging
For less than $100, less a $30 rebate, Microsoft (www.microsoft.com) offers Digital Image Suite 2006. Unlike a lot of bloated Windows-only imaging programs I've installed on my new Compaq Presario (don't even ask...) it ran perfectly out of the box. OK, to be sure, this is more a program for snapshooters than serious photographers, but it's a heckuva effort with an intuitive interface that makes it easy to jump in and use it to find, view, and organize photos and videos. All of the stuff most photographers want to do with snapshots is supported, including Hierarchical Keywords and Labels that let you organize, sort, and find image files. While editing, a Hover Thumbnail feature enlarges thumbnail images whenever a mouse hovers above them, making it easy to view the image, along with details such as date, file type, size, resolution, and any Labels.
Microsoft DIS Browser
Digital Image Suite 2006 provides raw support for Canon and Nikon cameras and lets you save as a JPEG or TIFF file. At the other end of the spectrum is Intuitive Crop that analyzes the composition of a photo, such as faces in portraits or family photos, and suggests a way to crop the photo that will create the best possible image. In the short term this improves the shot but can ultimately improve a photographer's skills by showing them to how to crop in camera. Black & White Effects lets you convert color photos into monochrome images by using a variety of preset filters, altering color tone or manipulating each of the color channels. Device Sync Support makes it easy to share photos and videos with mobile devices. Just flag the desired image files and the next time the mobile device syncs with the computer, the photos are automatically transmitted.
DIS' B&W Effects

LATEST VIDEO

SPONSORED VIDEO
Testing Tamron's SP 150-60mm G2 lens while capturing birds and alligators in Apalachicola, Florida.