CPAC Imaging PRO Version 3.0; Quick, Easy, Good—And More!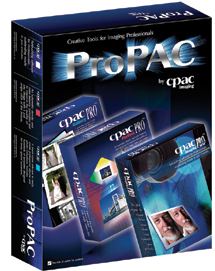 CPAC Imaging PRO, Version 3.0, is sold mainly as a retouching software for professionals with a sell line that says, "Outstanding results in just minutes." But it's much more than that. While Adobe's Photoshop is the de facto software for professional image-makers, that doesn't mean that there are not other applications that can perform some of the same tasks, and sometimes in an easier fashion.

CPAC Imaging PRO is really a combination of many programs. It's like a combo of Photoshop Lite, KnockOut, skin softening software, a colorizer, print layout software, plus a couple of unique twists like built-in suits, backgrounds, and even eyelashes! It's quite robust, and since it's priced at $500, not inexpensive. So for the first question--can this replace Photoshop? Sorry, the answer is no. But for professionals looking to do retouching fast and easy this program is unique and even a little astounding.

Installing The Software
Installing the software is a little more convoluted than most. To prevent piracy, CPAC has come up with a clever tool. When you install the software, you must first locate the "dongle" that you must put in one of your USB ports, or things just don't work. You have to fill in the blanks and then go to a website for the registration number. It's a little dangerous for me, trying to get three 16-digit numbers and letters straight, but once you're done, fire up the program, remove the dongle, and...whoa! The program will not work without the dongle protruding from your machine. The software can be installed in up to five computers, so I loaded it in one at work and one at home. I had to again register and get a unique registration number for each computer. And I also have to cart the dongle back and forth to the office so I'll have it where I need it. I guess it's a sign of the times in which we live.
The above screen shows the tools and layout during the first step. The dotted lines are auto selected by the computer. You can alter them or even manually select areas.
All Photos © 2005, Steve Bedell, All Rights Reserved
Software Functions
The software comes with a very complete and easy to understand help menu as well as tutorials on two CDs that can be loaded onto your hard drive. I'd suggest watching the movies first, they're short and very informative. I did, then went right to work by loading up a portrait file. (Dupe it first, as you can't do that in the software.) Then I clicked the "Auto Face Selection" tool and it somehow circled the face and outlined the eyes and lips so they wouldn't be affected. (Note: If you have a group image, it will also find all the faces and circle them all.) Then I clicked the "Auto Retouch" tool and watched my computer hum away.
(Left): This is the beginning image. (Right): This is after "Auto Retouch" and changing backgrounds.
When it finished its work about 15 seconds later I was honestly stunned. I was looking at a beautifully retouched and softened portrait, and I hadn't done anything! I had assumed I'd have to go clean up eye lines, small blemishes, etc., but all my work was done for me. Amazing! If that's too much work, you can just hit the "Auto Face Retouch" button and be done in one click! It should be noted here that you may set up your own tastes in the "Preferences" section. You have several options to control the softening such as Fine or Course skin texture or Opacity. It can be as automatic or as manual as you wish. You can also manually select the faces and erase out eyes and lips. There are many tools that can also be applied for this task, but if you follow the recommended "steps" it's more logical to apply them later, as we'll see.
(Left) This image of Meghan Quimby shows the unretouched version. (Right) Look Ma, no hands! This is the result from hitting the "Auto Face Retouch" button. This is what you call a "20-second retouch." You can also manually make adjustments.
Step 1 is called "MakeUp." Here you can fine-tune the skin sharpness once again and also add a little "MakeUp" (their spelling). Use the Brush tool, hold down the "Alt" key to change to the Eyedropper (sound familiar?), pick out a skin tone or color from a palette, and brush on. Then use the Retouch tool to brush over a large area and watch blemishes and lines disappear. You can also adjust how strong you'd like the effect, something like the "Fade" command in Photoshop.

A unique control is the Nose Line tool. Here's how it works: Select it, then hold the Alt key down to pick the highlight on the tip of the nose, draw a line up the nose bridge to the top of the nose, and "Bango," you've got a nice highlight on the nose bridge. I actually like it and think it's a useful tool. You can fine-tune the effect with the Opacity tool. Now you're ready to click the "Go to Step 2" button.
This shows the flower with the green screen "knocked out." I did have to pick multiple locations but then the edge smoothing software did a good job of delivering a clean background separation.

LATEST VIDEO

SPONSORED VIDEO
Testing Tamron's SP 150-60mm G2 lens while capturing birds and alligators in Apalachicola, Florida.