Covering The Photo Beat
Thin Light Panel Displays, Cleaners For Video And Laptop Screens, And More Page 2
Flash Range Extender
If you work with telephoto lenses (200mm or longer) and want to take flash pictures at distances farther than the typical distance limit range of 15-20 ft, this specialized accessory might appeal to you. The Flash X-tender (sometimes called the "Better Beamer") from Visual Echoes is a lightweight (3 oz) folding Fresnel lens that attaches easily to popular shoe mount flash units with touch fasteners. It can add two to three f/stops of light for distant subjects by tightly concentrating the light. A new model, FX-3, is specifically designed to fit the Canon Speedlite 580EX, but other versions are also suitable for use with many other brands of flash units. It has an MSRP of $40. Contact: Visual Echoes, 749 S. Old Rand Rd., Lake Zurich, IL 60047; (847) 438-3587; fax: (847) 438-3629; e-mail: visualechoes@worldnet.att.net.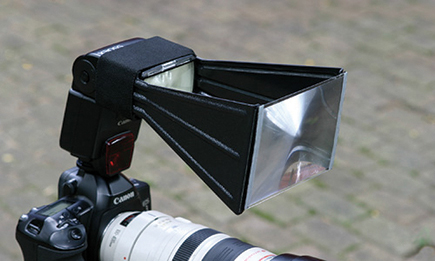 Power Module For Nikon SB-600 Flash Units & Cable For Connecting Quantum Batteries To Olympus FL-50 Flash
You can use a Quantum Battery 1 Compact or Bantam Battery with the new module XK6 that connects directly into the flash compartment of the Nikon SB-600 flash. With this external rechargeable power unit you get consistent recycling and typically five times the capacity of normal "AA" size batteries. The power packs have an LED "fuel gauge," which displays both the power remaining and the charge level of the battery. News, wedding, and professional event photographers will appreciate the benefits of this external power system. The MSRP is $48.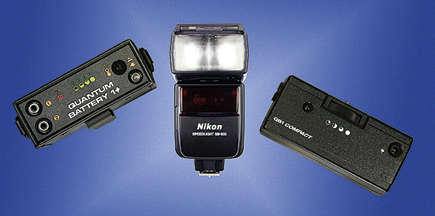 In addition, if you work with the Olympus FL-50 flash the new CO5 cable from Quantum lets you easily connect it for use with Quantum Turbo batteries. This permits "nonstop flash" since the Turbo batteries offer faster flash sequences, needed when using the camera motor drive. These batteries have a display that shows the remaining charge capacity on a "fuel gauge" and have built-in smart chargers. The Turbo batteries not only provide high voltage for flash output but also low voltage to power digital cameras. The Olympus FL-50 flash will also work with Quantum's Bantam and Battery 1 Compact. The MSRP is $50. Contact: Quantum Instruments, Inc., 1075 Stewart Ave., Garden City, NY 11530; (516) 222-6000; fax: (516) 222-0569; www.qtm.com.
TAP Offers Double CD Wedding Album
The new Topflight album from Taprell Loomis has a double CD capacity to hold extended wedding coverage of the ceremony and reception inside a compact package. It does not hold prints, just CDs, as it's intended for photographers submitting proofs on CD rather than prints. It has simulated leather covers enhanced with "Our Wedding" embossment and molded plastic inserts to hold the CDs. The MSRP was not available at press time. Contact: Taprell Loomis, 2160 Superior Ave., Cleveland, OH 44114; (800) 827-5679; fax: (800) 276-2572; www.tap-usa.com.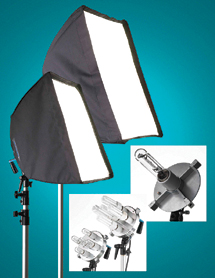 Continuous Light Quickly Changes From Tungsten To Daylight
F. J. Westcott has introduced the Spiderlite TD5, a continuous light for still and video photographers. The TD5 nomenclature stands for Tungsten/Daylight, five lamps. The user can insert up to five lamps using a standard E26 base into the solid metal, 5" deep unit that has built-in points for direct attachment of a softbox. It will accept five 150w (3200Þ Kelvin) halogen lamps or five 23w (5100Þ Kelvin) fluorescent lamps with the equivalent output of 500w. Three controls offer different combinations of the five lamps to adjust lighting ratios when using multiple light heads on one set. The Spiderlite TD5 is offered alone or in three kit versions, which include the light, one tilter bracket, one silver softbox (in either of two different sizes), and one heavy-duty light stand. The Spiderlite TD5 alone has an MSRP of $400 but the kits with accessories start at $430 and range up to $960. Contact: The F. J. Westcott Co., 1447 Summit St., Toledo, OH 43603; (419) 243-7311; fax: (419) 243-8401; www.fjwestcott.com.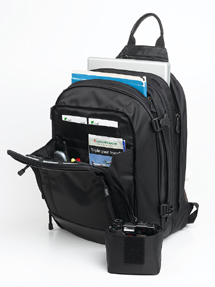 Stylish Backpack For Laptop And More
Many photographers have the need to carry a laptop computer and related accessories on assignment. The new Tenba DB-17CL ProDigital Photographer's Business Companion accommodates laptops with up to 17" screens, has room for business papers, a removable padded pouch pocket for point-and-shoot or compact SLR cameras, media cards, batteries, a PDA, a cell phone, and more. An expansion joint can be zipped open to add an extra 2.25" depth, adequate in size to hold a compact digital projector. A shock dispersion wall around the laptop compartment provides protection for delicate screens. Four hefty, adjustable side-straps also double as a luggage strap for securing the backpack onto the telescoping handle on suitcases. It measures 13x15.5x7" without the expansion. The street price is $145. Contact: Tenba, 8 Westchester Plaza, Elmsford, NY 10523; (914) 347-3300; fax: (914) 347-3309; www.TenbaGear.com.
To submit information for Photo Gear please contact Robert E. Mayer by e-mail at: rmayer@kconline.com or regular mail at: Shutterbug Magazine, 1419 Chaffee Dr., Suite #1, Titusville, FL 32780.