Covering The Photo Beat; A Transceiver Caddy, Portable Storage Device, And Camera Bags
Nikon's COOLPIX P100
The COOLPIX P100 is the first of Nikon's compact digital cameras that allows you to capture movies in HD (1080p). The 10.3-megapixel camera also features a backside illumination CMOS sensor; a Night Landscape mode; a 3" LCD screen; a five-way Vibration Reduction Image Stabilization System; a Sport Continuous Scene mode; subject tracking; pre-shooting cache; and a Smart Portrait System. The Smart Portrait System includes In-Camera Red-Eye Fix, enhanced Face-Priority AF, Skin Softening, Smile mode, Blink Warning, and Blink Proof. The suggested retail price
is $399.95.
Contact: Nikon Inc., 1300 Walt Whitman Rd., Melville, NY 11747; (800) 645-6689; www.nikonusa.com.

EZDigiMagic Portable Data Storage
The EZDigiMagic portable desktop data storage device (model DM550-BD) offers you the ability to store 25GB of data on one single-sided Blu-ray disc or up to 50GB on a dual-layer disc. This compact unit weighs less than 3 lbs and its 2" color TFT screen allows you to see images without the aid of a computer monitor. It features a USB host port for copying data from a camera, camcorder, or USB flash drive. Supporting most file formats, it can be connected directly to a television for image viewing. You can also use the USB 2.0 cable to turn the EZDigiMagic into an external Blu-ray burner and player for PC or Mac computers. It accommodates all popular memory card formats and has a retail price of $799.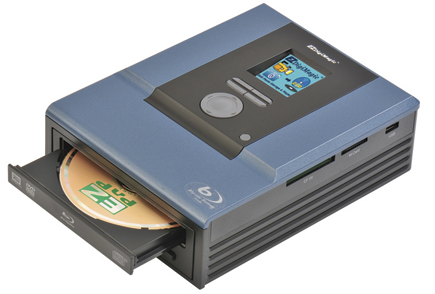 Contact: EZPnP, 1855 Northwestern Dr., El Paso, TX 79912; (800) 828-6475; www.ezpnp-usa.com.

Hildozine Transceiver Caddy V2
The Hildozine Transceiver Caddy V2 is designed to safely attach to any PocketWizard brand transceiver so it can be easily mounted to a light stand or tripod. Simply attach the caddy to a transceiver or receiver with the screw and then use the attached bungee cord to secure it as needed. This device saves time and eliminates clutter. The suggested retail price is $19.95.
Contact: HiTec Sales & Marketing, LLC; fax: (248) 676-9262; www.hitecsales.com.

FEATURED VIDEO