Covering The Photo Beat; Memory Mates, BLOWiT Fans, And The Monoball P System
Denny Mfg. Adds To Photo Gift Line
The Denny Manufacturing Co., Inc. has added single-sided statues and T-shirts to their current photo gift line. The new statues are mounted to acrylic and then cut out removing the background from the photo. The single-sided statues were added to complement the existing double-mounted statues which totally encase the photo in acrylic. The cost of the single-sided statues are approximately 25 percent less and do not have clear acrylic on the front. They are available in the following sizes: 2x3, 5x7, and 8x10".

They have also added a "direct-to-garment" printer to their extensive line of equipment. The direct-to-garment printer allows them to print directly on T-shirts and sweatshirts. Unlike the dye sub process that must be printed on 100 percent acrylic, the direct-to-garment printer will allow them to print directly on 100 percent cotton. The custom creations are available in a variety of sizes, ranging from youth to adult.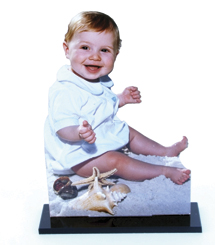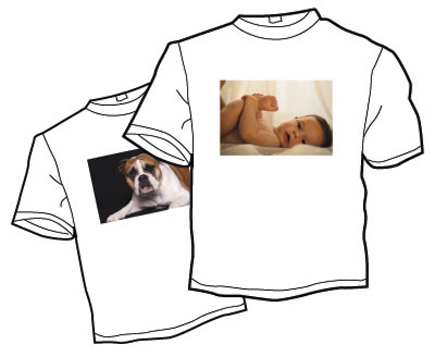 Contacts: The Denny Manufacturing Co., Inc., PO Box 7200, Mobile, AL 36670; (800) 844-5616; www.dennymfg.com.
Denny Novelty; (800) 844-5616; www.photonovelty.com.

Contemporary Acrylic Frames
With these acrylic frames from Midwest Photographic Resource Center, pictures are easily placed behind an acrylic face with strong magnets to create a striking, contemporary look. This allows a photographer to easily personalize their studio for different clients or seasons, and showcase his/her latest work. Photographs are easily switched out. Simply place the photo between the two 5x5" pieces of acrylic and the small magnets in each corner will hold it together. There is a large magnet in the frame to hold the block in place.
Contact: Midwest Photographic Resource Center, 130 North Central Dr., O'Fallon, MO 63366; (800) 932-5286; www.midwestphotographic.com.

Children's Art Series Memory Mates By TAP
TAP offers a unique, new way to present your child's precious school portraits: the Children's Art Series Memory Mates. Display your photos in a Memory Mate designed by 5th and 6th grade students from Rocky River Schools in Rocky River, Ohio.

Choose from the Elementary Jungle Mate, the Cool School Mate, and the Music In Me Mate. All three designs hold a 5x7" horizontal and a 3x5" vertical image.
Contact: TAP; (800) 827-5679; www.tap-usa.com.

BLOWiT Fans For High Fashion
BLOWiT Fans are now available to photographers. The fan allows both directional and angle adjustments that provide precise targeting to create perfect wind-blown hair. The universal mounting clamp attaches to light stands and allows easy control of the speed and direction of airflow.
Contact: Personal Cooling Concepts, LLC, BLOWiT Fans, PO Box 5452, Fort Smith, AR 72913; (479) 646-0943; www.blowitfans.com.

LATEST VIDEO