Covering The Photo Beat; Memory Cards, Inkjet Paper, And A Digital Photo Frame
Delkin's 305X UDMA CompactFlash PRO Cards
Delkin has released their 305X UDMA CompactFlash PRO cards and accessories. The cards feature high read/write speeds with a transfer capability of 45MB per second. The UDMA CompactFlash PRO cards are available in the following capacities: 1GB ($79.99), 2GB ($109.99), 4GB ($179.99), and 8GB ($299.99). Delkin also offers a UDMA-enabled CardBus adapter and FireWire reader. Contact: Delkin Devices, Inc., 13350 Kirkham Way, Poway, CA 92064; (800) 637-8087; www.delkin.com.
Transcend's Multi-Card Reader M3
The compact Multi-Card Reader M3 is adapter-free and features a slot for nearly every memory card on today's market: CompactFlash, SD, xD-Picture Card, Memory Stick Series, miniSD, and microSD. The card reader allows you to easily transfer data to and from memory cards for digital cameras, cell phones, and camcorders, plus PDA and GPS units. It is fully USB 2.0 compliant and USB powered. The unit can transfer data at rates up to 480MB/s. It is Windows, Mac, and Linux compatible and has a two-year warranty. Contact: Transcend Information, Inc., 1645 North Brian St., Orange, CA 92867; (714) 921-2000; www.transcendusa.com.
Children's Costumes From Hoenshel Couture
Hoenshel Couture offers a complete line of fanciful portrait costumes for children of all ages. The designs are durable and feature the vibrant colors and whimsical patterns that children enjoy. The portrait clothing pieces start at $24. Contact: Hoenshel Couture, 3501 Columbia Dr., Cibolo, TX 78108; (210) 587-7650; www.Hoenshel.com.
Ornamental Garden Bench From Meese Orbitron Dunne Co.
This Greek-inspired ornamental garden bench is crafted from durable weatherproof polyethylene. It weighs 29 lbs and measures 4 ft in length so it can seat two adults. The bench is available in white, natural sandstone, or a granite finish and sells for $198.44 (wholesale). Contact: Meese Orbitron Dunne Co., 4920 State Rd., Ashtabula, OH 44005; (440) 998-1202; www.PropDecor.com.
ILFORD's Galerie Gold Fibre Silk Inkjet Paper
ILFORD's Galerie Gold Fibre Silk paper is a 310 gsm barium sulfate (baryta) based medium that offers a minimum of curling. It produces creamy whites and rich blacks for fine art prints that last. Galerie Gold paper is available in 8.5x11, 13x19, and 17x22" packs of 10 and 50 sheets, or 17, 24, and 44" wide (40-foot long) rolls. Contact: OJI ILFORD USA, 1350 Main St., Springfield, MA 01103; (888) 453-6731; www.ilford.com.
The Storm Case iM2450 From Hardigg
The iM2450 case is ATA-approved, measures 18x13x8.4", and features an indestructible, watertight exterior to protect your equipment from harsh conditions. The interior offers multilayered cubed foam that you can customize to fit your needs. Press & Pull latches allow for easy access but stay closed when needed; molded-in hasps accommodate a padlock for added security. Contact: Hardigg Cases, 147 North Main St., South Deerfield, MA 01373; (800) 542-7344; www.hardigg.com, www.stormcase.com.
Photo Professional Inkjet Gloss Paper From Harman Technology
GLOSS FB AL paper uses baryta coating to provide sharp detail, extended tonal range, and archival properties. It also offers a smooth finish, brighter whites, and richer colors. It is available in Letter, B, Super B, and A2+ sheets as well as 17, 24, and 44" rolls. Contact: HARMAN technology LLC, 18766 John J. Williams Hwy, Ste 4-327, Rehoboth Beach, DE 19971; (888)372-2338; www.harman-inkjet.com.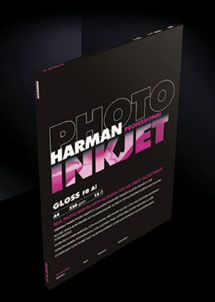 Smartparts' SyncPix Digital Photo Frame
This digital frame is available in espresso or black and 5.6, 8, 10.5, and 11" sizes. The SyncPix does not require a computer; simply insert a memory card into the frame and upload your images. The frame features 256MB of memory and can store 3000 digital images. Your photos are synchronized and re-sized during the upload process and remain in memory after the card is removed. SyncPix also features an energy-saving Sleep mode and five-button control panel. The retail price ranges from $179.99-$299.99. Contact: Smartparts, 29-J Commerce Way, Totowa, NJ 07512; (800) 442-1418; www.smartpartsproducts.com.
To submit information for "Roundup" please contact our New Products Editor by e-mail at: Cynthia_Boylan@primediamags.com or regular mail at: Shutterbug Magazine, 1419 Chaffee Dr., Ste. #1, Titusville, FL 32780.

FEATURED VIDEO