Covering The Photo Beat; A MacBook Sunshade, Gorillamobile, And Laptop Deck
Tamrac Adds To Ultra Pro Series
For professionals who need to carry a moderate amount of equipment, finding the right size shoulder bag can often be a difficult task. Most small shoulder bags aren't large enough to accommodate the large f/2.8 lenses and shades that these photographers use. Many of the large shoulder bags that can accommodate these lenses are simply too big to carry every day. Tamrac's new Ultra Pro 17 is said to be the perfect solution. The Ultra Pro 17, Model 5617, was specifically designed to hold two pro bodies, flashes, and multiple lenses, including the three most popular zoom lens sizes—a wide-angle zoom, a standard zoom, and a tele-photo zoom (including a 70-200mm). A laptop with up to a 15.4" screen is also protected in a separate, completely foam-padded rear pocket.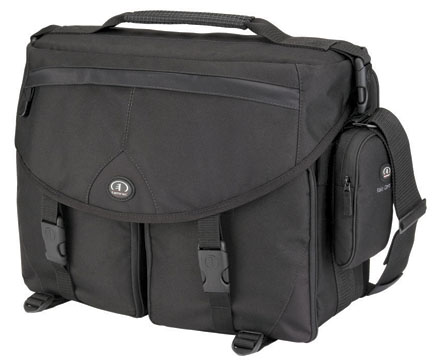 The Total Coverage Top combines the security of a zipper with the convenience of quick-release buckles and fast-access hook and loop closures. It also features a Speed Pocket for fast access to accessories and personal items. Two ZipDrop front pockets contain Windowpane-Mesh and paraphernalia pockets to visibly organize accessories. The front pockets also incorporate Tamrac's patented Memory & Battery Management System, which uses red flags to identify available memory cards and batteries from ones that are used up. A zippered back pocket keeps manuals and maps within easy reach, while the Piggy-Back Pocket zips open to allow the bag to be slipped over the handle of rolling luggage.

Contact: Tamrac, Inc., 9240 Jordan Ave., Chatsworth, CA 91311; (800) 662-0717; www.tamrac.com.

HoodMAC Sunshade
Hoodman's one-size-fits-all sunshade for MacBooks provides glare-free viewing in the great outdoors. The HoodMAC fits 17" MacBooks and is "worn" by your MacBook just like a hat (spring tension in the HoodMAC keeps it securely in place). With the help of three sets of snaps, you can cinch the HoodMAC down for a great fit on both 15" and 13" MacBooks. The HoodMAC pops into shape ready to mount when released from its travel bag with no assembly required.
When it is time to put the HoodMAC away, fold it into three circles, place it back in its flat travel bag and you are done. The HoodMAC retails for just $39.99. You can go to www.hoodmanusa.com to find a dealer near you, or you can order direct. There are also models available for 14-16" PCs.

Contact: Hoodman Corporation, 20445 Gramercy Place, Ste. #201, Torrance, CA 90501; (800) 818-3946; www.hoodmanusa.com.
The Gorillamobile From Joby
This tiny tripod was designed for use with Apple's popular iPhone since this innovative device now has a camera feature but it can also be used with a wide variety of pocket-sized point-and-shoot cameras. The legs have two dozen flexible joints that bend and rotate, allowing you to position the tripod any way you wish. Rubberized rings and foot grips provide a secure footing on any surface. The Gorillamobile comes with a suction cup, two high-bond adhesive clips, and a universal camera adapter for almost limitless compatibility. The MSRP is $29.95.
Contact: Joby, Inc., 1535 Mission St., San Francisco, CA 94103; (888) 569-5629; www.joby.com.

Laptop Deck For Pro Photographers
The Tallyn Series Laptop Deck is specifically designed for the digital photographer who wants to have their laptop as close at hand as their camera, unlocking the full power of tethered shooting, Live View functions, USB file transfers, and wireless shooting options.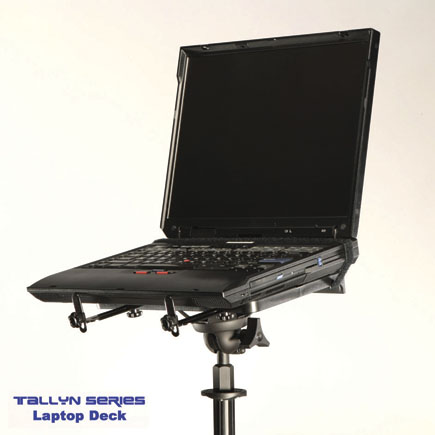 The Tallyn Series Laptop Deck has been engineered to mount onto any Manfrotto Professional Tripod or Studio Titan Camera Stand (via a standard 3⁄8" thread) with no additional hardware, and features an external locking bolt to provide an incredibly stable and secure platform. The large ball head allows for a full range of mounting angles and the adjustable brackets allow the Laptop Deck to support laptops up to 17" wide and up to 8 lbs. When combined with the dual-platform Studio Titan Camera Stand, the Laptop Deck provides an all-in-one studio solution for tethered shooting.

The Tallyn Series Laptop Deck is available at Tallyns.com or can be ordered by calling (800) 433-8685. It sells for $84.95.

Contact: Tallyn's Professional Photographic, 1609 West Detweiller Dr., Peoria, IL 61615; (800) 433-8685; www.tallyns.com.

New ADOX MCC 110 B&W Paper: Successor To Agfa Classic
Freestyle Photographic Supplies, in partnership with Fotoimpex, Germany, has announced the arrival of a long-awaited photographic paper, the new ADOX Premium MCC 110 variable-contrast fiber-based paper. Designed to be the replacement for the late Agfa Classic 111 paper, ADOX Premium MCC 110 uses the same emulsion as the original Agfa, but on a neutral white paper base instead of the old warm base. Other than the whiter base, everything else about ADOX Premium MCC 110 is exactly the same as Agfa Classic. The paper also reacts well to warm- and cold-tone developers with impressive tonal shifts, and is excellent for lith printing.
ADOX Premium MCC 110 will come in a glossy finish, and is expected to arrive in early September 2009. It is now available for pre-order in 25-sheet packages of 8x10", 11x14", 16x20", and 20x24".

Contact: Freestyle Photographic Supplies, 5124 Sunset Blvd., Hollywood, CA 90027; (800) 292-6137 (within North America), (323) 660-3460 (international); www.freestylephoto.biz.
To submit information for "Roundup," please contact our New Products Editor by e-mail at: Cynthia.Boylan@sorc.com or regular mail at: Shutterbug Magazine, 1419 Chaffee Dr., Ste. #1, Titusville, FL 32780.

FEATURED VIDEO