Covering The Photo Beat: An LED Light Panel, Flash Trigger, And Lens Cleaning Kit
Nik Software Color Efex Pro 4
This is the latest version of Nik's popular digital photographic filters for image retouching and enhancement. Color Efex Pro 4 is easy to use and offers a new generation of technologies and features that help you to create stunning effects. It has stackable filter combinations, visual presets, filter recipes, and new filters such as Detail Extractor, Vintage Film Efex, and Image Borders. The software also includes a History Browser, improvements to imaging algorithms, greater performance, and enhanced usability. The Color Efex Pro 4 Complete Edition contains 54 filters for a suggested retail price of $199.95. The Select Edition contains 25 filters for $99.95. You may also upgrade to the Complete Edition from any edition of Versions 2.0 or 3.0 for $99.95.
Contact: www.niksoftware.com.
The Nex Kit From Arca-Swiss
Created for use with Sony's Nex 3 and 5 cameras, the mini L-bracket is adaptable with the monoball Fix and Classic quick-release systems and lets you change from landscape to portrait format easily. It allows free access to cable ports without having to remove or shift the bracket. The kit includes the bracket and a shoe for easy attachment of an optical finder.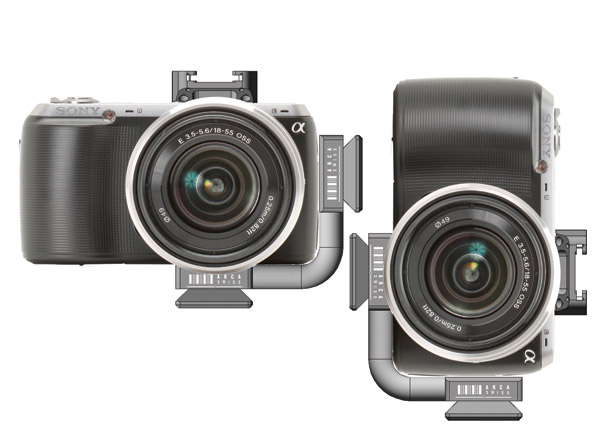 Contact: (480) 755-3364 or e-mail: rod.klukas@arca-swiss.com.
Vanguard Heralder Messenger Bag
Created for the photographer on the move, the Heralder messenger bag gives you quick top access to all your gear with one easy zip. The bag features a tripod holder, a padded anti-slip shoulder strap, numerous accessory pockets, a padded laptop compartment, and a detachable inner pouch that lets you remove and reload your gear in one simple step, allowing you to transform the Heralder from a serious gear bag to an everyday tote in seconds. The Heralder is available in three sizes with street prices ranging from $139 to $199.
Contact: www.vanguardworld.com.
PinPoint Laser-Aided System
The compact PinPoint assists your camera's autofocus function to lock on even in low-contrast conditions. The device, made by DeluxGear, emits a narrow pulsing green beam of light that your camera zeroes in on to acquire focus or you can use the spot of light to manually focus. PinPoint allows you to control the length of time the light is visible and it can also serve as a sighting tool for frame alignment. It can acquire a focus lock up to 160 feet away in daylight and even further at night. PinPoint features a universal mount so it can be used with D-SLR or point-and-shoot cameras and it can be attached to the camera body, battery pack, tripod collar, or the tripod's quick-release plate. It weighs 6 oz, measures 2.84x3x1", runs on two E-90 3v batteries, and comes with a velvet storage bag and a one-year warranty.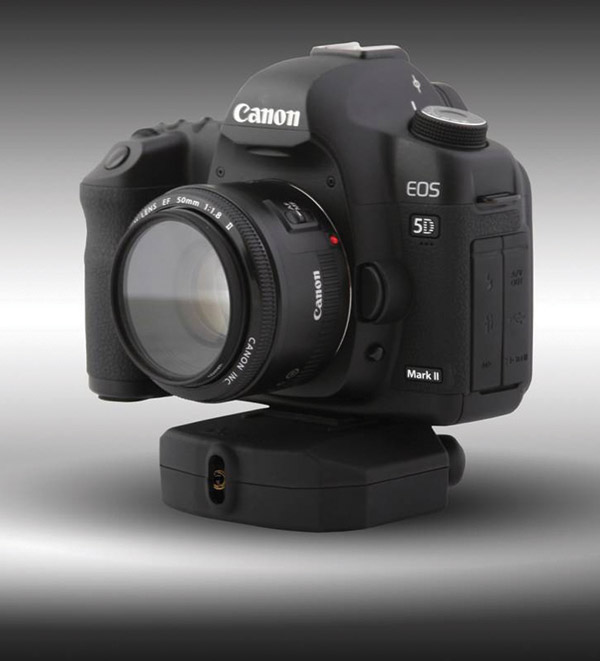 Contact: www.internationalsupplies.com.
Seculine LED Lighting Panel
Created with photographers and videographers in mind, the Seculine LED Light can be used in the studio or in the field. Portable and durable, the unit features a fan to keep the lamps and electronics cool and each panel is fully controllable in 1 to 30 steps. There are two versions currently available, Tungsten- or Daylight-balanced as well as the dual-controlled Tungsten and Daylight unit. Each one has an LCD control panel and comes with a battery, battery charger, ball-and-socket, and honeycomb grid. The LED unit with the Tungsten module (L2S3K) has a list price of $429, the LED unit with the Daylight module (L2S5K) is $429, and the LED unit with the Tungsten and Daylight module (L2S3K5K) is $613.
Contact: www.interfitphotographic.com.
The Phottix Odin TTL Flash Trigger
The Phottix Odin for Canon equipment allows you to wirelessly trigger TTL flashes and remotely control power and flash zoom settings. The system includes an on-camera transmitter and control unit and receiver units for compatible hot shoe flashes. It has four wireless channels and three control group designations, and it can designate groups in TTL/Mixed mode. Groups can also be set to Manual mode. The Phottix Odin system will also trigger compatible non-TTL flashes and studio strobe units. It is compatible with Phottix Strato 4-in-1 and Phottix Strato II Multi 5-in-1 wireless triggers. The system can be upgraded via the USB port and software.
Contact: www.omegabrandess.com.
Hoodman Lens Cleanse
Lens Cleanse's specially formulated organic plant enzymes break down dirt to gently clean your lenses and filters without harming your equipment or the environment. Comprised of soft, natural wood fibers, the no-scratch towelettes are available in 12- and 24-count packs (wet and dry varieties) that can be easily stored in your gear bag.
Contact: www.hoodmanusa.com.
To submit information for Roundup, please contact our New Products Editor by e-mail at: Cynthia.Boylan@sorc.com or regular mail at: Shutterbug Magazine, 1415 Chaffee Dr., Ste. #10, Titusville, FL 32780.

FEATURED VIDEO