Covering The Photo Beat; Backgrounds, Portable Hard Drives, Light Meters, And A USB Video Viewing System
The Camerz USB Video Viewing System
Photo Control Corporation's Camerz division has released a new USB Video Viewing System. This device was designed for use with a digital SLR camera and is suitable for photographers who deal with a high volume of portraits. The USB Viewer adapts a high-resolution CCD camera to the digital SLR's viewfinder and transfers the image to a 4" color LCD screen mounted to the base of the unit. The USB port and software also allow the images to be viewed on a PC. The USB Video Viewing System includes a built-in 4" LCD screen and has a retail value of $1295. The basic USB model does not include the screen and sells for $975. The standard version without the USB option is $1195. Contact: Photo Control Corporation, 4800 Quebec Ave. N, Minneapolis, MN 55428; (800) 787-8078, (763) 537-3601. www.photo-control.com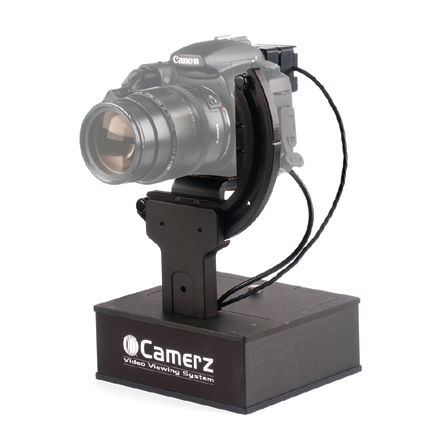 Adorama: Belle Drape Muslin Backgrounds & A LadderKart
Adorama is now offering a line of lightweight plain-weave cotton muslin backdrops that are available in over 60 different styles. These fade-resistant backdrops come in 10x12-foot or 10x24-foot sizes and 16 solid colors, along with other dramatic variations like Pastel, Splatter, 3D, or the Old Master series. Easy to store or carry, they feature a well constructed 4" hemmed loop for secure hanging. The retail price for the line of Belle Drape backgrounds ranges from $39.95-$99.95.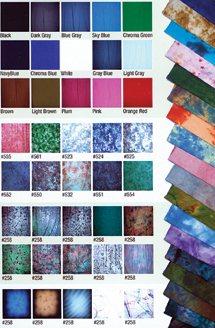 Adorama's adaptable LadderKart was designed for the photographer on the move. Constructed of lightweight aluminum alloy, the LadderKart features a foam-covered carrying handle that is also a safety rail, and folds down to 6.5" for easy storage. This three-step ladder is portable and can support up to 250 lbs. With a bit of adjustment it quickly converts into a hand truck with an 11x11" platform and 4" wheels. The retail value is $59.95. Contact: Adorama, 42 West 18th St., New York, NY 10011; (800) 223-2500. www.adorama.com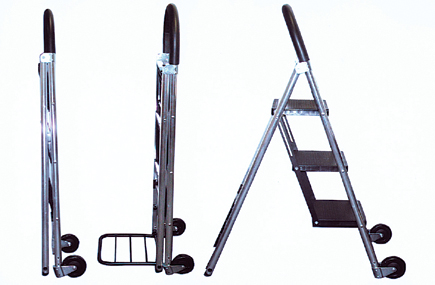 SmartDisk's USB FireLite XPress Portable Hard Drive
The SmartDisk Corporation recently introduced the USB FireLite XPress portable hard drive. The palm-sized, lightweight unit features a cholesteric LCD that is readable without power. It provides information on the data stored in the unit, the date it was saved, and how much space is still available. The always-on feature allows you to check the hard drive without powering up or connecting the FireLite XPress to a computer. The 60GB version is $199.99, while the 120GB version has a retail price of $299.99. Contact: SmartDisk Corporation, 12780 Westlinks Dr., Ft. Myers, FL 33913; (239) 425-4000. www.smartdisk.com
Sekonic's L-398A Studio Deluxe III Light Meter
Sekonic has announced the redesign of their popular Studio Deluxe light meter. It has been updated to meet new standards but still retains the features that photographers loved about the original unit. The new version offers an environmentally-friendly photocell crafted from amorphous silicon. The L-398A also includes a needle lock for easy measurement readings, a memory pointer for fast reference to the last measured value, Lumisphere, Lumidisc, Lumigrid, high-slide, case, and a neck strap. Contact: Sekonic, 8 Westchester Plaza, Elmsford, NY 10523; (914) 347-3300. www.sekonic.com

LATEST VIDEO

SPONSORED VIDEO
Testing Tamron's SP 150-60mm G2 lens while capturing birds and alligators in Apalachicola, Florida.