Covering The Photo Beat: Albums Special
In keeping with our wedding theme this month, our Roundup entries cover the albums beat. Keep in mind that Roundup is not a test report per se, but a place where we get to provide information supplied by manufacturers on new products and services.—Editor
Kingston Flush Mount Albums
Custom-made Kingston Flush Mount Albums can be created in three different ways: as a design, print, and bind service; a print and bind service; or a mount and bind service. Sizes range from 2x3" to 16x20", with the largest square size of 16x16". There is a wide variety of cover choices, including accent silks, leather, acrylic, metal, canvas wraps, and photo covers. Two eco-friendly lines were recently added. The albums are guaranteed to lay flat and feature a lifetime warranty.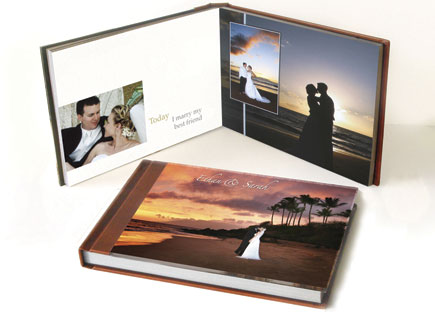 Contact: Albums Unlimited, 1050 N. 5th St., Unit C, San Jose, CA 95112; (800) 625-2867, (408) 436-4500; www.albumsunlimited.com.

Art Albums
Customizable Photo Art Albums are available in five sizes: 5x5", 8x8", 10x10", 9x12", and 12x12". Choices include e-surface or metallic photographic paper, and standard foil edge gilding or photo edge gilding that allows you to take any full-color image or images and apply them to the edge of the pages for a unique look. The albums feature lay-flat spread pages and are ready to ship in as little as two days.
Contact: American Color Imaging, 715 E. 18th St., Cedar Falls, IA 50613; (800) 728-2722; www.acilab.com.
NeoClassic Albums
The NeoClassic album is a contemporary flush-mount book with thicker, board-type pages. Choices include laminate matte or glossy finish. The glossy cover is customizable and available in hard or cushioned hard cover. The slide-in presentation case features a space to insert a DVD.
Contact: AsukaBook USA, 19855 4th St., Ste. 105, Bend, OR 97701; (866) 330-1530; http://asukabook.com.
Pacific Albums
Pacific Albums are flush mount, customizable, and ready to ship in just three business days. Cover choices include various colors of leatherette or linen with optional silver, gold, or embossed imprinting and round or square page corners. You may even choose a full wrap photo cover with an optional luster, metallic, or canvas surface with a satin or glossy laminate.
Contact: Bay Photo Lab, 2161 Delaware Ave., Santa Cruz, CA 95060; (800) 435-6686; www.bayphoto.com.

Mosaic Albums
Black River Imaging makes creating a one-of-a-kind album quick and easy. Produced in just three days, they offer a wide variety of style and color choices that allow you to create one of their high-quality Mosaic Albums to fit any occasion. These lay-flat, flush-mount albums feature tightly rounded corners or optional square page corners, cameo covers, and a premier album storage box. Divided into two categories, deluxe and exotic, there are 24 choices of leather covers available. Customers can even choose two-tone cover designs.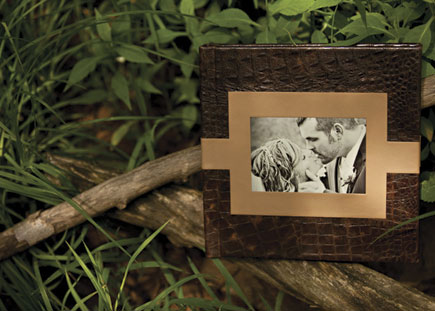 Contact: Black River Imaging, 2525 N. Partnership Blvd., Springfield, MO 65803; (888) 321-4665; www.blackriverimaging.com.

Balance Albums
Collages.net's Balance line offers free software to allow you to design your own album. Album styles are available in 5x5", 8x8", and 10x10" sizes with lay-flat pages, 10 photographic spreads, and a pillowcase slipcover.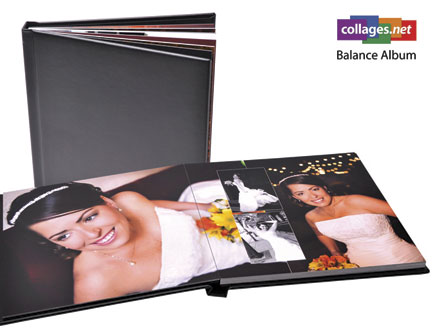 Contact: Collages.net, Inc., 444 Oxford Valley Rd., Ste. 230, Langhorne, PA 19047; (877) 638-7468; www.collages.net.

Anza And Marina Albums
DigiLabs is currently offering two flush-mount album lines. The Anza albums are economical yet stylish with 20 fixed sides. Available in two sizes, 8x8" and 10x10", they feature a black leather cover with square-cut corners.

The Marina albums are fully customizable with 20 to 80 sides and are available in four sizes: 10x10", 14x11", 12x12", and 11x14". There are eight cover options, including a one-piece premium leather cover or an animal-friendly cover with round corners and various color choices.
Contact: DigiLabs, Inc., 1032 Elwell Ct., Ste. #245, Palo Alto, CA 94303; (866) 344-4522; http://www.digilabspro.com.

Optimus Ultra Albums
High-quality Optimus Ultra self-mount albums are easy to use and feature thick black pages with repositionable mounting adhesive that becomes permanent in 72 hours. The padded covers have pleated corners and a premium textured paper lining on the inside covers. They are available in 5-, 10-, and 15-page capacities. Sizes range from 4x5" to 12x12". The Radiance Photo Cover features a UV-resistant coating, brilliant color reproduction, and smooth laser-cut edges.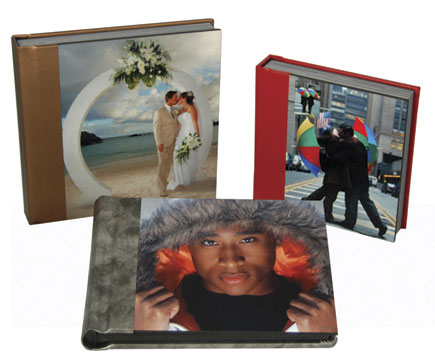 Contact: GP Albums, 4045 N. Rockwell St., Chicago, IL 60618; (800) 888-1934; www.gpalbums.com.

Graphistudio Albums
Graphistudio offers free software to help you create a unique high-quality photo album. Sizes range from 4x4" to 16x20". Choices include photographic or metallic paper with digital laser printing or, as an alternative, textured or smooth board with digital offset four-color printing. There is a wide variety of cover choices, from an Italian leather cover to a metallic, transparent, or soft silk cover.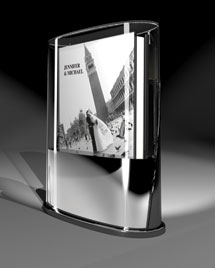 Contact: Graphistudio, 960 Inwood Ave. N., Oakdale, MN 55128; (866) 472-7445; e-mail: sales@graphistudious.com; www.graphistudio.com.

H&H Albums
Luxury fashion custom-made photo albums are available in 16 sizes, ranging from 5x5" to 11x14", and feature one-piece album cover construction with gallery lay-flat binding. Albums have rounded corners and pages are available in luster, pearl (glossy), or luxe (velvet matte). Distressed leather covers come in brown or red; embossed crocodile covers come in black, brown, eggplant, red, pumpkin, or lime; and synthetic metallic or opal covers come in a variety of colors, including silver, gold, green, blue, and periwinkle.
Contact: H&H Color Lab, 8906 E. 67th St., Raytown, MO 64133; (800) 821-1305; www.hhcolorlab.com.

FEATURED VIDEO