Corel's Painter IX; An Improved Application To Recreate Photographs Page 2
Painter IX also sports familiar functional editing features, like layers. In fact, some brush selections (like the Photoshop Font tool) trigger their own layer automatically. Although this layering may seem to be a complication, it actually provides protection of the integrity of the image work already done, allowing it to be elaborated non-destructively, and mimics, to an extent, the analog process of creating painted images in progressive stages, one on top of another.
Although you need to do hand work to recreate a painted clone with Painter IX, the photo image from which the cloning is done actually suggests both what brush selections are most effective and the direction and line of the brush strokes. Painting in hair in a portrait, for example, is most effectively done with a brush that forms a linear arrangement of the image values (a Camel or Bristle brush) and is more effectively accomplished by following the natural contours of the subject's hair. Smooth complexion tones, I found, can be gradually painted in with the Soft Cloner brush with a low Opacity percentage setting, while details like eyelashes can be sharply rendered with a small Straight Cloner brush.
Many of the other and very large selection of brushes in Painter IX can be converted to use as a Clone brush by first selecting the brush and then, in the Color Palette, manually selecting a color. You can also choose to add color from the Color Palette and then brush this color in. In fact, if you use Painter IX with a black and white photograph in RGB mode format, you can create an oil-paint color rendition to digitally simulate the look of traditional oil-colored photographs.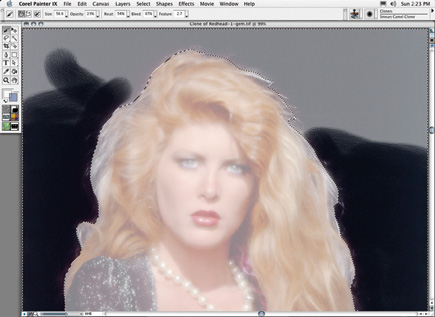 Painter IX has many parallel tools and functions similar to those in image-editing applications, closely following the standards established by Photoshop. The familiar toolbox includes selection tools including a freehand lasso, which allows you to precisely select a part of the underlying photo image. For instance, I found after my first few images that it's beneficial to select the subject from the background, invert the selection protecting the subject, and to then paint in the background.
Another dimension can be added by selecting one of the Papers. This simulates a natural medium upon which the "paint" is applied to a substrate, like French Water Color paper. The painting actions interact with the paper texture as the image information is applied, and it simulates how oil paint really looks texturally when applied to canvas. In addition, the effect can be modified with the KPT filters included with Painter IX or any other standard plug-in filter you may have. Finally, with any color work you do in Painter IX, once set up, the application fully supports either ICM or Colorsync color management, so the color you see on screen you will be able to reproduce with the same quality you would expect with another color-managed application
like Photoshop.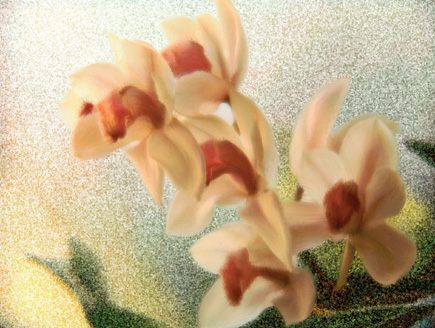 This image of some orchids has been in my files for ages, but something caused the background portion to deteriorate. For some reason I never discarded it because there was something I liked about it. So I scanned the slide and began to play with it in Corel's Painter IX. I was able to obscure the background defects using a Splattery Spray brush. Then I painted in the orchid petals with a Smeary Camel Cloner brush, which further enhanced the soft, creamy tones of the flowers. It still isn't a "great" picture, but that old slide in my files no longer frustrates me when I come across it looking for images.
Conclusion And Recommendation
My exploration of Corel's Painter IX barely scratched the surface, yet I was able to recreate several photographs with great satisfaction. And with Painter IX now so much easier to use, I am sure I will return to it whenever I have some free time and need to be playful, and I'll be able to get right into it and learn even more. I find it particularly satisfying and encouraging because I have always wanted to draw and paint but was never able to master the eye/hand skills well enough to do more than embarrass myself. With Painter IX, working from an underlying photograph was just enough of a guide, a helping hand to encourage me and keep my interest high. One small satisfaction led to another, and another, and now I have the confidence and the curiosity to come back as soon as I can to find out what more I can do with this now friendly way to make new images from old photo files.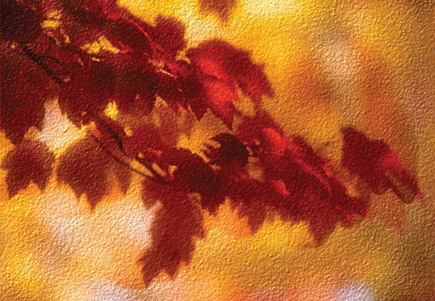 Corel's Painter IX readily complements image-editing applications as well as lends creative tools. This image was made by combining two different clone images brushed in with Painter IX, and then saved to TIFF files that were merged as layers by multiplication in Photoshop. The possibilities are almost endless with all of the different capabilities in Painter IX, like mosaics and tessellations, in addition to the numerous painting modes.
Corel's Painter IX supports both PC Windows and Apple Macintosh users at a moderate cost; it is currently available from the Corel website at $369 or $199 for an upgrade. You can save some money if you also need a pen/tablet by getting a bundle of both, including a Wacom Graphire or Intuos combo package from Corel. For more information about Corel's Painter IX, contact Corel Corporation, 1600 Carling Ave., Ottawa, Ontario, Canada K1Z 8R7; (800) 772-6735, (613) 728-8200; www.corel.com.