Continuous Ink Systems; Are They Right For You?
By far the most expensive component of printing your own digital images is the cost of consumables--ink and paper. There are plenty of paper options out there that range from very reasonable to extremely expensive, and I'll take a look at these in a future column. With paper, you're kind of stuck with paying for the type and look you want. Ink, however, is a different story.

For most people, the manufacturer's own inks are the only option they've ever considered. If you own a smaller desktop printer (and by smaller I mean 13x19, or Super A3/B, and smaller) and print a decent number of images, you already know that the small ink cartridges used by these printers seem to need constant replacing, often at $10 or more per color. This high cost leads some to try the inexpensive generic inks found at office supply, department, and even grocery stores--usually with poor results, occasionally with a ruined printer.

There are alternatives, however, that will save you money without sacrificing image quality or your printer. Using a reputable source, such as InkJet Art, Lyson, Media Street, and Pantone, may not be the absolute lowest price ink available, but they will give you consistent results that are equal to and in some cases surpass the original manufacturer's own inks. Although there are both refillable cartridges and bulk feed, or Continuous Ink Systems (CIS) available for most printers, in this article I'm going to focus on CIS.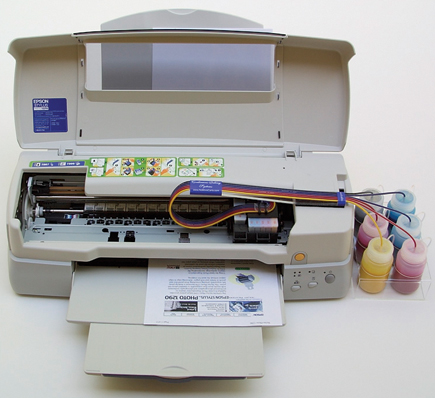 Once your continuous ink system is set up, like this one from Inkjet Art, the printer works just as it did with the original cartridges. Having the larger bottles keeps ink costs down, and makes it easy to see when refills are needed.
Deciding If It's Right For You
A CIS can save a significant amount of money over the cost of replacing individual cartridges of ink. After all, you're buying the ink in bulk quantities; usually in 4 oz or larger bottles compared to the typical cartridge that holds 12-15ml of ink (for reference, there are 29.4ml in 1 oz).

I'll use the Media Street product as the example throughout this column. First, let's take a look at the cost differences. If you use the Epson pigment printers such as the R800 or R2400, you're probably paying about $12 per cartridge. The Media Street Quad-N-Color, which is the direct replacement, runs about $20 per 4 oz bottle. Canon users can save even more with ink costs for the i9900 printer running only $8 per 4 oz bottle (less than the cost of a single cartridge). You'd spend roughly $130 for the same amount of ink in cartridge format, so it would seem to be a no-brainer, right?

If you print enough, it is a no-brainer. But there are additional costs to factor in. First, you need to buy the Niagara system to actually feed the ink to the printer. This is a one-time cost of about $300 (the price varies a bit depending on your printer model). The Niagara system is a set of bottles, tubing, and special ink cartridges. Now add in the cost of a set of ink at $164 to complete the transition and you're looking at over $450 to get up and running. Of course, you would have spent over $1000 for the same amount of ink in the Epson cartridges, but it would have been done in smaller, less painful increments.

If you can handle the initial start-up costs, the final consideration is the volume of printing that you do. Let's face it--if you're only changing ink cartridges every two or three months it doesn't make much sense to switch to a CIS. In fact, you could actually end up with less than optimal results due to inks sitting around for a long period of time. On the other hand, if you're replacing cartridges more than once a month, and especially for those of us who print enough to change them out on a weekly basis, a CIS will quickly pay for itself.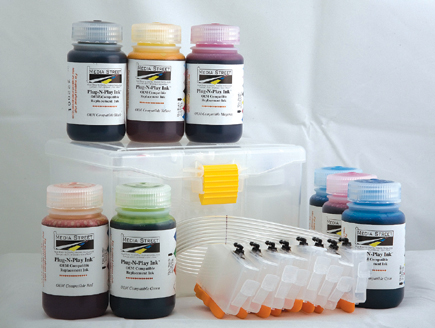 The Media Street Niagara kit comes with everything needed to get set up with a continuous ink system. Bulk ink, cartridges specific to your printer, and a set of easy to follow instructions round out the kit. Refills are inexpensive once the initial kit is installed.
Installing A CIS
Getting a CIS installed and working isn't difficult. If you're a klutz like I am at times, it can be very messy though, so I advise working with something under the printer to protect carpets and furniture. And my wife would tell you to wear something you don't care about.

The basic process is to remove the existing ink cartridges from your printer, set up the stand with the CIS bottles next to your printer, place the new cartridges into the printer, and then prime the system to get the ink from bottle to cartridge and remove air bubbles. It sounds more complicated than it is, but plan on spending an hour or so of quality time with your printer to get up and running.

Be sure to read the directions that come with your CIS to avoid problems after the installation. The biggest areas to watch for are air bubbles that will ruin a print, and keeping the bottles filled to the proper levels (you don't want them to get too low or you'll need to run through the priming process again). If you find that you're printing less often than anticipated, I suggest running a test print through your system every few days just to keep things working smoothly. This isn't any different than the advice I offer to users of the original cartridges.

Conclusion
Moving to a CIS can be a wise decision for many users. Knowing the advantages and potential risks will help decide if it's the right choice for you. Regardless of your decision to go with a CIS or refillable ink system, be sure that you use high-quality inks to avoid problems with your printer and to give you the kind of printing results that you're looking for. After all, if the print quality suffers, is it really worth the cost and effort?

Jon Canfield is the author of "Print Like a Pro" and "RAW 101," and an instructor on BetterPhoto.com. You can contact Canfield via his website at: www.joncanfield.com.

LATEST VIDEO

SPONSORED VIDEO
Testing Tamron's SP 150-60mm G2 lens while capturing birds and alligators in Apalachicola, Florida.