Contemporary American Photography In Germany; 7th International Photo Days In Mannheim/Ludwigshafen
Larry Fink's "Forbidden Pictures: A Political Tableau 2005" was one of the highlights at the biggest German photo exhibition "7th International Photo Days," which was located in the cities of Mannheim and Ludwigshafen.
AlexWebb, "Crossings"--Webb probes the hard contrast on the border between the US and Mexico in his subtropically-colored street photography.
All Photos © 2005, Courtesy of 7th International Photo Days, All Rights Reserved
The Larry Fink exhibition was a major part of a show entitled "Contemporary American Photography." Around 100 American photographers took part in this event, the biggest exhibition of contemporary American photography shown in Europe in memory. The exhibition showed a broad range of styles, themes, and concepts from the American photographic scene.

"Contemporary American Photography" was arranged by the Cologne gallery owner Tina Schellhorn, who not only wanted to show the visitors a photographic viewpoint but also let them see an interesting mixture of American lifestyles, one that often confirmed prejudices but also broke a few myths.
Lili Almog, "Bed Sequence"--An overwhelming documentary, Almog's work represents an intimate cooperation between the photographer and her models.
Schellhorn became acquainted with many of the photographers at photo exhibitions in Portland and Houston. "The greatest thing for me was that many of the American photographers came to our Photo Days on their own account and were always willing to help with workshops and seminars. German photographers are much more complicated," she said.

Among the shows within the show that met critical acclaim was that of Alejandro Tomás. His series, entitled "Los Ranchero Visitadores," documents a gathering of the rich and famous at a cowboy convention, a world that was quite new to the German audience. Similar work was shown by Dave Anderson, who took pictures in the rural city of Vidor, Texas, where he highlighted activities of the Ku Klux Klan.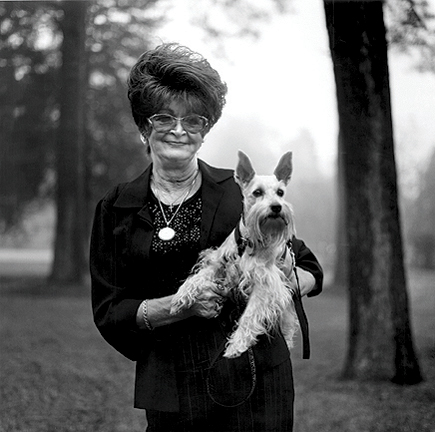 Dave Anderson, "Rough Beauty"--These images were mostly photographed in the impoverished country town of Vidor.
Another side of American vision was Lili Almog's "Bed Sequence," a portrayal of women between 18 and 76 years old. Lauren Greenfield's "Girl Culture" showed young girls under the influence of the media.

The themes of the festival ranged from current documentaries on problems like AIDS and environmental damage to essays on social development in the countryside and cities to political satire. Well-known photographers like Steve Hart, Alex Webb, Jeff Mermelstein, and Benedict J. Fernandez were also shown, as well as newcomers to Europe such as Dan Nelken and Maggie Taylor.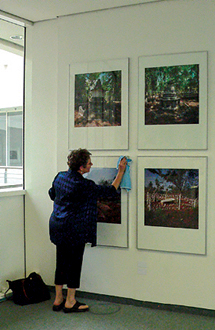 Ann Simmons Myers, "After Tsunami"--Portrait photographs of the people in the damaged regions. "I wanted to give the disaster a face," she said.
In addition to the exhibition of "Contemporary American Photography" was a second major themed exhibition called "The Art of Being German." This show was arranged by Hansjoachim Nierentz, the head curator and organizer of the entire festival. It featured internationally recognized photographers from Germany, including Bernd Arnold, Regina Schmeken, and Herlinde Koelbl, famous for her critical images of German political and social life. Many new young photographers also debuted their work, with many being vignettes of German living rooms, kitchens, clubs, or public spaces, each of which showed a side of Germans and Germany itself.



LATEST VIDEO