Computerless Digital Photos
The Epson Photo PC 700 And Stylus Photo 700 Can Make It
For all of you still not into computers, some of digital photography's many advantages are available without one. Although I had some doubts coming into what I am about to propose: to use a digital camera and then print directly from it without a computer in between; I can assure you that it works from experience and quite well at that. Last year I was very impressed when one of Epson's representatives presented a slide show on a TV monitor driven directly from a Photo PC 700 camera. I asked then, what else can this camera do by itself? When I was told you could make prints directly with it plugged into the back of an Epson printer, I thought here's a way for anyone to get into digital photography. Besides the fact you don't have to buy any more film, digital photography has many more advantages even to the most casual snapshooter.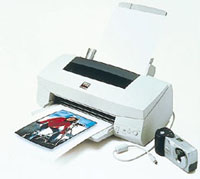 First, let me fill you in a bit about the Epson Photo PC 700 and its companion Stylus Photo 700 printer. The camera is a megapixel model with a maximum 1280x960 pixel resolution, which is enough to make really fine 5x7" full-color prints. It is also compact enough to fit in my pants pocket and is fully a point-and-shoot automatic, but with the essential options like controllable built-in flash. It also supports CompactFlash storage cards, in addition to its own 4MB internal memory. The Epson Stylus Photo 700 printer is a full letter size, six color, photo-realistic ink jet with a maximum 1440dpi resolution. In addition to this model Epson that's an industry leader in photo quality printing, the Photo PC 700 can print directly to five more different Epson printer models.

To continue, an Epson Photo PC 700 digital camera with its support of Com-pactFlash memory cards does not even require you also have a printer--just get some extra memory, like the 16MB card I purchased from Samy's for $80. Besides giving the camera a lot more storage of 20MB in all (there are even larger CompactFlash cards to store up to 36 full resolution highest quality images and many more lower and smaller images), those images can then be transferred at many photo stores and minilabs to a computer and printed. An increasing number of minilabs and camera stores now have digital processing and print services with many of those having a reader for CompactFlash memory cards. These memory cards also have other uses. For instance, they can be used to store a series of images making up a slide show, which with the camera connected to a TV, it becomes the driver/controller used to run such a slide show. How about that, the next time you visit grandma's you can just plug the camera into her TV and present a slide show of the latest pictures of the kid's or even last summer's vacation.

Finally, one distinct advantage of the Epson Photo PC 700 is that you can look at thumbnails of the pictures you've taken with the LCD panel on the back of the camera. Then if there are stupid pictures you really don't want, just delete them--you'll have room for even more pictures. what do you do when your Compact-Flash memory is full and you want to keep the original picture files? The very same minilabs and camera stores with digital services usually also have the ability to record your image files on a CD or a CDR, which can be added to until it is full--over 600MB, which is enough room for over 500 full size top-quality images. If you just want to have a copy of one image file to mail to someone with a computer of course, it can be put on a 1.4MB floppy disk.
This scan of a collection of trimmed 4x6 Epson Photo Paper prints displays just a bit of the camera and printer's combined capabilities.
Photos © 1998, David B. Brooks, All Rights Reserved
Using The Epson Photo PC 700 And Stylus Photo 700 Printer. After over 40 years of professional photography I'm really not much of a snapshooter, but it was easy just stuffing the Photo PC 700 in my pocket and making a few snaps here and there. After I got back home, I took the connector cord, plugged the camera into the printer, and made 4x6 Photo Paper prints of the images. Right off I was pleasantly surprised at the quite good quality of these prints. They are of substantial paper weight, with a nice glossy surface, and the paper is precut with micro perforated borders so they can be removed to make a borderless picture. A close friend and long-time photo enthusiast, who uses minilab services frequently, even said they were better than the prints he's used to getting. Besides the standard snapshot size of 4x6, there are three more picture size options including A4, A6, and printing a 5x7" image on a letter-size sheet of paper. Besides using Epson's Photo Paper, you can also print successfully on less expensive paper, like Epson's Photo Quality Ink jet paper, and obtain very nice image quality. The camera also supports printing more than one image on a single sheet of paper. It is a quite flexible control, operated from layers of menus displayed on the LCD screen on the back of the camera, easily navigated and controlled with four buttons next to the screen.

I found this abbreviated form of digital photography entirely worthwhile providing results at least as good as the best snapshot prints you'd get from typical minilabs. The only accessory I'd recommend beyond the packages I was provided by Epson would be an accessory power supply to adapt the camera to household power rather than using its four internal rechargeable batteries. The reason I found was that printing most of the 36 pictures I was able to take and store in the camera and on the CompactFlash memory card, used up an entire battery charge. A transformer adapter from Epson to provide external power for printing would reduce the frequency of battery charging significantly.

Conclusion And Recommendation. Although this little trial and demonstration project may seem to be stretching a point, the experience was honestly as satisfying as making snapshots conventionally with film. In addition, it did not require a trip to a store to purchase film nor a trip to a minilab at least twice to get film developed and pick up the finished processing. To pay a price approaching $1000 for this may seem a bit high. But, for anyone who takes a lot of snaps, of the kids, on trips, at family gatherings, etc., the initial cost is soon equalized when the price of film and processing that was saved is taken into account. Sure the Epson photo paper costs a bit and so does the occasional ink cartridge, but in the long run, not even considering the wear and tear of dropping off film and picking up processed pictures, as well as going out to buy film, digital will break even in total cost with just a reasonable amount of use.

Then of course, seeing as you have a computer printer already, why not get the computer? Considering the Epson Photo PC 700 and the Epson Stylus Photo 700 printer come with software bundles already, all you need is the hardware to use it and have even more fun. How about producing your own unique photo holiday cards this year? For more information call (800) 463-7766 or visit their web site at www.epson.com.
Technical Specifications
Epson Photo PC 700 Camera
Sensor: CCD size _.7" with 1.25 million pixels
Resolution: 1280x960 pixels and 640x480 pixels optional
Modes: Superfine with low compression, fine with medium compression, and standard (640x480) with high compression (compression: JPEG)
Color: 24-bit RGB
LCD Monitor: 2" TFT active matrix LCD
LCD Functions: Instant playback and review, view--menu, playback--menu, including 9x thumbnails
Internal Storage: 4MB or 7 superfine, 15 fine, or 50 standard pictures
Removable Storage: CompactFlash cards, in all sizes 4, 8, 16, 32MB
Lens: 5.5mm f/2.8 glass, five elements in four groups--equivalent to 36mm, 35mm lens
Autofocus: 20" to infinity normal, 4-20" macro mode
Shutter: _ to 1/500 sec
Exposure Control: Programmed autoexposure with +/- two-step compensation adjustment
Built-in Flash: Range 8" to 8', with auto, forced, and no flash modes
White Balance: Automatic TTL and manual fixed 5000K
Sensitivity: Equivalent to ISO 60/120
Estimated Street Price: Under $699

Epson Stylus Photo 700 Printer
Printing Method: Drop-on-demand micro piezo ink jet technology
Color Configuration: 32 monochrome and 32x5 color nozzle print head
Photo Print Speed: 3x5", 90 sec--8x10" under 5 minutes
Resolution: 1440x720, 720x720, 360x360, and 18x180
Software Driver Compatibility: DOS, Windows, and Mac OS
Interface: Bi-directional IEEE-1284 parallel Macintosh 8-pin DIN serial
Printing Paper Sizes: Letter (8.5x11"), legal, A4, B5, executive, statement, and 4x6
Ink Cartridges: Separate black and five color
Dimensions: 16.9x9.2x6.4"
Weight: 11.5 lbs
Estimated Street Price: Under $279

FEATURED VIDEO