Clyde Butcher
A Photographer In The Heart Of The Everglades
Photos © 2003, Clyde Butcher, All Rights Reserved
In 1993 Clyde Butcher moved with his family into the heart of the Big Cypress National Preserve, 13 acres of swamp with a two-story dwelling surrounded by wild orchids and irises in the middle of a cypress strand. Today, Clyde sits on his back porch and watches the alligators "kickin' up a fuss."

Saddened by the sudden death of his 17-year-old son in '86, Clyde and his wife Niki sought refuge in the pristine beauty of the remote environment, a place where he could photograph nature as few people would be privileged to see it. Orchid Isle was a place to heal where Clyde could live and work and eventually open a gallery to exhibit his work.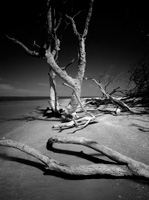 Preserving the fragility of the complicated ecosystem in the nearby Everglades soon became his life's work. "We needed to do something positive rather than negative with our lives," he says, "and this untouched place still gives me a sense of the beginning of time. I knew this was where I needed to photograph."

A self-taught photographer, Clyde was studying architecture at California Polytechnic College in '60 and conceived a plan to simplify a difficult assignment using a pinhole camera he had made and a box of film. It was the beginning of a lifelong career. Today Clyde works in large format, using three Deardorfs (a 5x7, an 8x10, and an 11x14) and a 12x20 Wisner.

Clyde is a big man, very big indeed, with a long Santa Claus beard and the crinkled sweet smile of a happy man. Always by his side is his wife of 40 years, Niki ("the most wonderful woman in the world"). Faced with the dilemma of how to use his photography to save the ecosystem, the Butchers began to put Clyde's work out in public places where masses of people go. "When they first saw my work, they thought I was photographing Africa," he recalls.
Black And White Vision
Working strictly in black and white, Clyde says, "Only in black and white can I see the design and textures. I don't consider color photography art. Black and white is an interpretation. Color is a duplication."

He tips his hat to Ansel Adams as he captures the dramatic cloud formations above the cypress trees and the mangroves with their gnarled roots or the Spanish moss that graces the mammoth branches of the oak trees reflected in the water.

I have yet to see a picture of the whole Clyde since he is always waist-deep in water, holding his tripod aloft and looking like something out of a Grant Wood painting. "The water feels great," Clyde says, "cool and refreshing. When I feel hot I just sit down. This is rainwater here in the Everglades, spring fed and always moving. In the summertime it is only 78Þ."

As for his bedfellows in the swamp, Clyde seems to have come to terms with the alligators, insects, snakes, and whatever else dwells there. Is he afraid? "Hell, no!" he says. "If an alligator starts to act up, I just pick up a stick and tap him on the nose. Their noses are very sensitive, you know. And they know I'm not going to hurt them."
An Awareness Of The Earth
With his deep feelings for the earth and its fragility, Clyde's concerns have grown. Living in the swampland has driven him to create through his photographs an awareness of what is happening as excess water being pumped out from a billion acres of sugar to the north carries nutrients and pesticides that cause strange plants to grow and consume the oxygen, killing the fish and taking over the once clear,
sweet water.

Over the years Clyde's photographs have made him a familiar figure worldwide. Working with independent filmmaker Elam Stoltzfus of Tallahassee, Clyde has made a number of appearances on national television documentaries, first in '85 with Peter Jennings on ABC as well as on the BBC and in Germany, Holland, and Japan. His most recent project is working with the DEP (Department of Environmental Protection) in Florida and he has completed nine out of the 12 commissioned documentaries on the aquatic preserves and estuaries in Florida, the latest to be released in the early part of 2004. Along with the documentaries there is a book called Visions for the Next Millennium and a traveling exhibition currently in Texas, which is booked through 2005.
Seeking The Rare And Wonderful
A recent documentary on CBS showed one of the rarest plants in the world. Few people have seen the ghost orchid that Clyde seeks out to photograph in its natural habitat in the Fakahatchee Strand State Preserve in Florida. "Each year I go out to find the ones that bloom," he says. "There are approximately 150 plants that we know about and only about seven will bloom. We search them out and since there are no leaves on the plant, hopefully we will find a spike to indicate its presence. When we see that spike I just keep going back until it blooms. Only by the roots on the tree can we determine if there will be a bloom. All the photosynthesis takes place in the roots. Today the Native Orchid Restoration Project, the Smithsonian Institution, and other government agencies are trying to save the ghost orchid."
Spreading The Word And The Images
Slide shows, museum exhibitions, talks to environmental groups and yacht clubs have helped to spread the word that we must protect the health of the land and keep the planet happy. The Butchers have recently completed their third trip across Cuba from the western end of Mogote to Guantanamo Bay where the mountains seem to just come out of the ground, coral mountains that the earth has pushed up. He has been filming the mountains for brochures and a poster for the United Nations. "We loved the people there," Clyde says, "and we just photographed the landscape--no cars, no Havana, no political arena."

Clyde's interests keep expanding to show us the natural beauty of the Redwoods, the Rocky Mountains, areas in California, and of Lincoln Park, which is the main outlet that protects the Chesapeake Bay. "These are natural places not everyone gets to see in a lifetime," he says. "Our latest project is to talk with developers and ranchers and politicians to teach them to be good environmentalists in the way they take care of their property. Hopefully if we can understand each other's problems, they can be solved."
A Long Road Traveled
Living on a small fill of earth in the middle of a swamp is a long way from Kansas City, Missouri, where Clyde was born 60 years ago. "Ochopee is 50 miles from Miami and 50 miles from Naples," Clyde explains. "There are two people who live in Ochopee and we live back a ways in the woods--in the suburbs. Our neighbors are bears, deer, snakes, and anything that flies--and bites." The Big Cypress Gallery is on the Tamiami Trail and attracts visitors from all over who come to see Clyde's work and hopefully find the big man there to talk a bit about his life as a swamp dweller.

The Butchers' daughter and her husband have a second gallery in Venice, Florida, where Clyde and his son-in-law do all the printing. The whole facility is about 5500 square feet and there are three people working in the framing department now.
Big Prints
Though "playing with a little digital now," Clyde says digital is a long way from how he works. "I'm working on a gray scale of 200MB files and the biggest file you can get on a camera is 11MB. Since '86 I have been working with very large prints up to 8 ft and presently have a job for three 8x20 foot prints for the Fort Lauderdale Airport. I am printing those on the new 9600 Epson as I feel it gives me a better quality than I could get in my darkroom. My average size print is 30x40" and these are all fiber prints using a 56" paper made in Switzerland. There are seven 8x10, one 11x14, and one 12x20 enlargers in the darkroom. They're like mowing machines and weigh about 1200 lbs each. We put them together piece by piece. Our darkroom is 1800 square feet, three times bigger than our house. We need the space since the big prints have to dry under pressure for almost a month in order for them to lie flat."

Why such big prints? "So people can look at them and feel a part of the environment," Clyde says. "If you have an 8-foot print and you are standing 4 ft from it, you see only a small portion of it so you must really scan it and have the feeling of being there."

Surrounded by the wonders of Clyde's photographs and documentaries, hopefully we, too, will see the beauty that exists in this world and hear his message to help restore the fish and the birds and the flow of the water that keep us alive.

To see more of Clyde's work, visit his website, www.clydebutcher.com.

FEATURED VIDEO