A Closer Look: Digiscoping with Smartphone Cameras for Wildlife Photography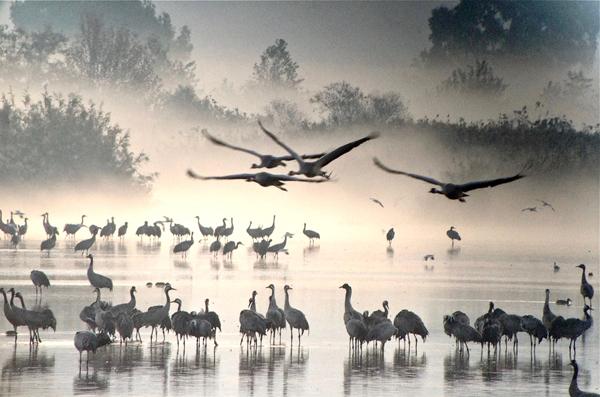 Sharon Stiteler was seven years old when she saw a pileated woodpecker—not in the wild, mind you, but in the pages of a Peterson Field Guide. It was enough. "I was intrigued by the idea that there was a crow-sized woodpecker out there," she says.
Her parents saw her interest as a path to education-type gifts. "For every birthday and Christmas, it would be some kind of field guide or bird book. One year they even got me a parakeet."
She didn't photograph the parakeet. In fact, it took a while for photography to enter the birding picture, and when it did, it was in the form of digiscoping—taking pictures through a telescope or spotting scope to, in effect, extend the reach of a digital camera. At first Stiteler used point-and shoot, DSLR, and mirrorless cameras.
Then, one day in 2011, she found herself on a set of bleachers on top of a tractor in the Hula Valley in Israel, trying to take pictures of cranes. "It was a beautiful, foggy dawn, but I couldn't get any pictures with my DSLR—low light, too much movement—so I started taking landscape shots with my iPhone. Then I wondered what would happen if I just held the phone up to my spotting scope."
What happened was an incredible photo and the beginning of Stiteler's realization of the possibilities of a smartphone-scope combination. "There was no adapter, just me hand-holding the phone up to the scope. And I thought, Why am I bothering with a DSLR?"
Which doesn't mean she gave up her big camera for photos of birds and other wildlife. DSLRs have real advantages, and it took a while for practical, quality adapters to show up on the market. But fast forward to today and you'll find that Stiteler does a lot of shooting with a rig consisting of Swarovski spotting scopes, a Phone Skope case for her iPhone 7, and a sturdy tripod.
The Citizen Naturalists
Sharon Stiteler is known as Birdchick. She is a photographer, a National Park Ranger, an expert on birding, the author of several books, a lecturer, speaker, workshop leader…and a beekeeper.
"I've used the iPhone-scope setup to take pictures of snapping turtles, mammals, bees, and insects," she says, "and I'm an advocate for this type of wildlife imaging because it has real value."
In fact, there are many citizen science platforms, like the eBird and iNaturalist communities, where anyone can document and share images and information about wildlife that scientists may not know about. "I really love teaching people about the [digiscoping] technique and how easy it can be, and that might get them to care a little bit more about wildlife," Stiteler says.
A combination citizen science project and online social network, iNaturalist provides the opportunity for members to report the wildlife they see.
"Somebody found a rare frog in a Minnesota park that we had no idea was there," Stiteler says. "You can create a free account and enter in sightings of anything from birds to plants to insects and mammals, and you can also join projects. And it's a great way to use your photos as a scientific resource for other researchers."
While DSLR imaging is still a big part of Stiteler's photography, she expects smartphone photography to keep improving and playing a larger part.
In some cases, though, she's found it's just fine as it is. A couple of years ago a publication in the UK was doing a special issue on digiscoping in connection with Birdfair (the annual British Birdwatching Fair), reportedly the largest consumer bird-watching show in the world, with 25,000 people attending.
When the magazine asked Stiteler to send 10 to 12 pictures for consideration, she asked them if they wanted DSLR digiscoping or smartphone digiscoping. "And they're like, don't even bother with the smartphone; that's not going to be good enough for print."
She sent a dozen photographs; they chose five. You can guess the rest. Four were smartphone pictures, one was DSLR. And the one they chose for the cover photo was from a smartphone. Stiteler says, "After the issue came out, I told them. They were shocked."
They probably weren't the only ones, but smartphone capability is growing, the future's here, and the shocks are wearing off.
Sharon Stiteler's website, birdchick.com, provides the Birdchick origin story, plus birding notes, podcasts, photographs, and information about gear, books, and workshops. The origin story will lead you to Birdchick's digiscoping web series. You can learn about eBird and iNaturalist at ebird.org and inaturalist.org, respectively.

FEATURED VIDEO