Cleaning The D-SLR Sensor; Commercial Products For Use At Home Or On The Road Page 2
VisibleDust recently came out with a line of swabs and liquids. While swabs are also matched to sensor size--and individually wrapped--they come in an Orange and Green series ($32.95/12-pack), each designed for different applications (I'm still trying to figure that out). VDust Formula ($12.95) is the cleaning liquid for light oil-based stains. Sensor Clean liquid ($27) is a first line of defense for stubborn spots. Smear Away liquid ($18) treats streaks and smears. Aside from the confusing array of products (how do I know when a moisture spot is oil- or water-based?), I found the swabs a bit stiff for my taste.
The following swabs do not require liquids and may be more suitable for travel. Intemos/Intelligent Mobile Solutions Limited (available from Adorama) took a different approach with DSLRClean ($29.95/packet of 10). It is a cushiony soft, dry swab that gently sweeps up dust in its path (kind of a furniture duster, only tiny), the obvious advantage being that you don't have to deal with any liquids. The swab comes straight, and needs to be bent into shape while in contact with the sensor so that it's at the right angle ready for cleaning. IOptic ($14.95) is this company's liquid solution to stubborn dust (but possibly subject to travel restrictions). While it will effectively clean the sensor, the swab requires considerable pressure to bend the tip (bend it in the bag, then straighten prior to insertion into camera). Finally, swabs are not individually wrapped, subjecting them to contamination once the package is opened.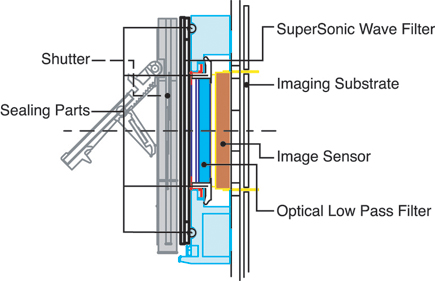 Olympus' Supersonic Wave Filter helps eliminate loose dust before it becomes a problem by simply shaking it off and collecting it.
Green Clean (Brandess-Kalt-Aetna Group) came out with yet another swab solution: Wet Foam & Dry Sweeper Sensor Cleaners 2-Packs come paired and individually wrapped ($32.95/five 2-packs). One swab is wet, the other dry for a one-two punch. Sweeping a few LCD screens with the wet swab I could easily see it picking up the dirt. The Intemos and Green Clean swabs are not sized to the sensor, so you may end up dragging dust around as you attempt to cover the entire surface.
To prevent voiding the camera warranty, follow the manufacturer's recommendations regarding cleaning.

Note: There is always a risk of damaging the sensor when you undertake cleaning on your own.
Tip: Using A Sensor-Cleaning Brush
· Hold the brush at an angle.
· Gently but firmly glide the brush along the surface, with a slow and steady motion, so it attracts dust particles to the bristles and holds them there.
· Do not use artist brushes--they may scratch and shed.
I strongly urge you to visit each manufacturer's website to review product applications, cautions, and detailed instructions, which are not always provided with the product. Especially helpful are online instructional videos.

Follow instructions to the letter. And always work with the camera powered by a freshly charged battery or AC, as recommended by the manufacturer.
Keep The Dust Out
There is practically no place free of dust, pollen, and other airborne particles. So be practical and don't be paranoid, such as avoiding changing lenses in fear of dust entering the camera. You can deal with the dust later--a missed photo op will never be recaptured.

Here are a few steps to minimize the dust problem. Keep in mind that dust can enter the camera not only by way of the lens mount, but indirectly from lenses attached to the camera and even from a dust-laden body and lens caps.

· Try to avoid exposing an open camera or rear lens elements for an excessive amount of time when changing lenses, especially in dusty and windy environments. Placing the lens front end down on a level surface, I loosen the rear lens cap in advance to speed the lens-changing process and thereby minimize exposure of the camera and lens to dust.
· While I haven't seen any new dust resulting from the few occasions when I changed lenses while the camera remained switched on, the recommended procedure is to shut the camera down first, thereby neutralizing the sensor (at least in theory).
· When changing lenses, keep the camera tilted downward so there's less of a chance of dust landing inside, or attach the body cap if you can't complete the process immediately.
· Use a Giottos Rocket Air Blower to blow dust off the back of the lens before mounting to the camera. Do the same with lens and body caps before re-attaching.
Manufacturers/Distributors
Adorama Camera, Inc. (Intemos)
42 West 18th St.
New York, NY 10011
(800) 223-2500
(212) 741-0052
www.adorama.com

Brandess-Kalt-Aetna Group, Inc. (Green Clean)
701 Corporate Woods Parkway
Vernon Hills, IL 60061
(847) 821-0450
www.bkaphoto.com
www.green-cleanusa.com
www.sensorcleaning.info

HP Marketing Corp. (Giottos)
16 Chapin Rd.
PO Box 715
Pine Brook, NJ 07058
(800) 735-4373
www.hpmarketingcorp.com

Intelligent Mobile Solutions Limited
82-84 Queens Rd.
Clifton, Bristol BS8 1QU
United Kingdom
0845 370 1771
www.intemos.com

Photographic Solutions, Inc.
PO Box 135
Onset, MA 02558
(800) 637-3212
(508)759-2322
www.photosol.com

VisibleDust
#316 9768 170 St.
Edmonton, AB T5T 5L4
Canada
(780) 455-1082
www.visibledust.com