Classic Cameras
Polaroid 600 SE
A Multi-Format Monster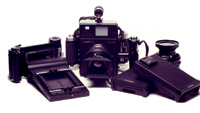 Polaroid 600 SE with Polaroid backs, NPC 545 back (MF-35), rollfilm backs, and (on right) 75mm f/5.6 lens. The finder for the 75mm is missing because of a recent move.
It's a brute: there's no doubt about that. With a 6x9cm back, 75mm lens, and finder, it's over 8" (200mm) tall and weighs well over 6 lbs or around 3 kg. That's one of the biggest, heaviest combinations, but the others aren't a lot lighter. This is a camera you can use with roll film, Polaroid pack film, Polaroid 4x5" sheet film, and conventional "wet" 4x5" film. Everything is manual: shutter speeds (1 sec to 1/500 sec), aperture setting, and focusing via a big, bright, coupled, parallax compensated range/viewfinder. There's no automation or batteries to get in the way: this is a purist's camera. It's a real user, not something to stick on a shelf, and it has no real modern equivalent.

Its simplicity and versatility, though, are only two of the three reasons why I like it so much. The other is that it delivers gorgeous quality on the rollfilm formats that I like to use--and I'm hoping to extend its versatility
still further.

The camera was based on the last generation of Mamiya Press, the Universal, though the lenses aren't interchangeable between the two cameras: the Mamiya lenses weren't designed to cover the 72x93mm of Polaroid quarter-plate pack film. In fact, if you can get hold of a Polaroid back for the Mamiya Press, you'll see that the corners vignette.
Polaroid 4x5" print showing black border; the 80x100mm image area; and the area covered by the viewfinder (dotted line added manually).
The interchangeable-lens 600 SE and its fixed-lens brother, the 600, were introduced some time in the 1970s and discontinued in the '90s: sufficiently recently that occasionally brand-new 600s still surface at the back of dealers' cupboards.

It was an alarmingly expensive camera. It still is. A mint example can easily cost $700 with a standard 127mm f/4.7 lens, though equally, my last one was a real rat and cost me only $150 or so in about '95. They have gone up a fair bit since they were discontinued, and I have no plans to get rid of this one.

FEATURED VIDEO