Check Out Our Revamped Website and Our Collection of Great Photo Gear Reviews
This is a test to see how close you've been paying attention. Have you noticed some changes to Shutterbug.com in the last few months? If you have, you get an A+ because while we have redesigned many aspects of the site, we wanted many of the changes to be smooth and intuitive rather than overdone and confusing.
For instance, one of the biggest tweaks is with the simple Navigation (aka Nav) bar at the top of the site. While it may not look drastically different, it's been completely reorganized to make it easier to find our content, particularly our voluminous supply of great photography gear reviews and news.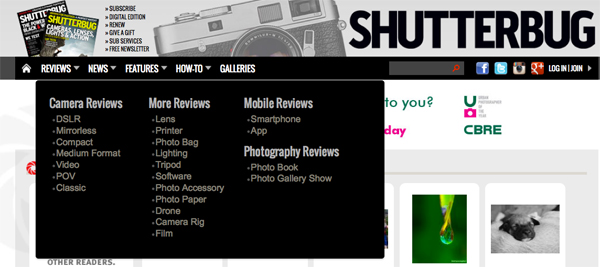 Just hover over the bar and a flyout will appear with dropdown access to all our DSLR, Mirrorless Camera, Compact Camera, Medium Format Camera, Lens, Photo Printer, Photo Bag, and Lighting etc reviews and news. There's tons of stuff there to help you make you make informed purchasing decisions. (And you know you want a new camera, lens, and/or bag, right?)
We also now spotlight the top five stories of the week at the top of our homepage -- currently trending is Josh Miller's piece on the one lens he can't live without (hint: it's a Nikkor), and an interview with photographer Jordan Matter on an image he took of a dancer balancing in ballet slippers en pointe on top of a wine bottle -- and have made it easier to access and participate in our popular Galleries.
Have you visited our Galleries recently? If not, you really need to check them out and share your photos. We now have a Shutterbug Photo of the Day feature where we choose our favorite reader images to run on our homepage and, potentially, to feature as a full page spread in the magazine. And we've also been giving away prizes including a professional photo printer from Canon. While that contest has ended, we recently launched a Nature Photo Contest where you could win a $1K+ lens from Tamron.
And finally, we've also expanded Shutterbug's presence on social media in the last year, with our hugely popular Facebook page (131,000 fans and counting!), and our Twitter, Instagram, and Google+ pages. Check out what we're up to, share your photos, win a prize, and join the fun!

FEATURED VIDEO