The One Lens I Can't Live Without: Nikon's AF-S Nikkor 16-35mm f/4G ED VR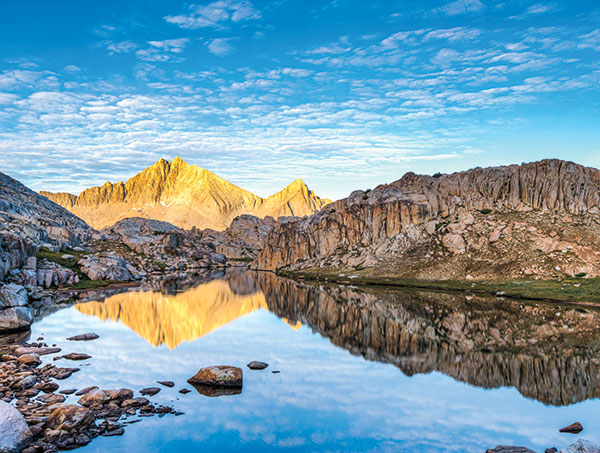 I know what you are saying: isn't this supposed to be a lost on a desert island story? Well, in my case, it is rare that I am on desert islands but I am always in the mountains so it is far more likely that I get stuck at an alpine lake for the rest of my life with one lens than on a desert island.
If I had to choose a single lens to use for the rest of my mountain life, without question it would be a wide-angle zoom. In my case, it would be Nikon's AF-S Nikkor 16-35mm f/4G ED VR wide-angle zoom lens. (But anything similar would probably do the trick as well.) I would choose this over a fixed lens, which would be slightly sharper, because it offers versatility to shoot both landscapes and action with more focal lengths.
With this lens, I can be right on top of my subject or I can back off and zoom into 35mm, bringing all the elements in the photo together. Despite the zoom being a little softer than a fixed focal length lens, it is still plenty sharp, and once I stop the zoom down toward typical landscape apertures of f/8 or f/11, it is just as sharp as a fixed focal length.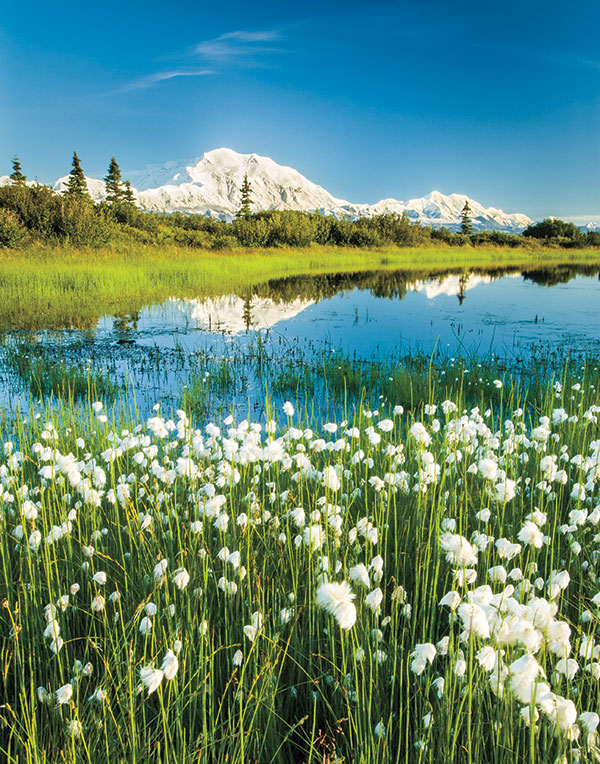 Telling A Story
Early in my photographic life when I used a wide-angle lens it was almost always to include everything in a single image (i.e., the grand view). But as I have developed my photographic voice I have moved away from trying to include everything in a single image, toward using the wide angle to create a strong foreground that tells a story of the place.
By making the foreground large and dramatic, it creates a much more three-dimensional image that leads viewers' eyes from foreground flowers all the way to distant mountains. Thus making the image not about flowers or mountains, but about the place itself.
By placing the lens inches away from my subject it often allows the subject to seemingly jump off the page and grab the viewer. With a strong foreground it often makes the viewer feel like they are standing in the scene rather than looking at a photo of a distant landscape.
To some extent it is a style choice, but I have found the shots that seem to get the most gasps during a slide or gallery show almost always have something large and prominent in the foreground that captures the audience's attention. Typically the biggest gasps are from shots with something seemingly obvious in the foreground but by getting up close and personal, viewers see something they have always taken for granted.
Remember you are the photographer and it is your job to show the viewer a small slice of a larger location that tells a story of the place. All too often people are distracted in a busy/complicated landscape, so use the camera as a selective tool to help viewers focus and not be distracted by everything in the scene. It is easy to tell if you are successful within two seconds of showing someone an image. If it causes them to pause and say something like "Wow, where is that?" then you have a winner.
Personally, I find it fun to create these types of images in well-known locations and hear people who have visited the spot wonder how they "missed" seeing "that." Remember getting up close to your foreground changes one's perspective and gives the entire scene a new voice.
A Feeling Of Intimacy
Getting up close can also create increased drama and distortion in action shots. While not as wild and exciting as using a fisheye lens at point-blank range, using a wide-angle zoom still gives the ability to get right into an athlete's space. This helps give photos a feeling of intimacy and helps to draw the viewer into the action, such as when making a bike tire or runner's shoe practically reach out and grab the viewer.
Super wide angles make objects appear closer than they really are which is why I love them, but remember to keep checking how close you are to the action. Because, as the saying goes, "objects in the viewfinder are often closer than they appear." I have personally added some dents to my gear and have heard more than one story of cameras being destroyed when a photographer was closer than they thought to the action.
Another technique I like to use with my wide-angle lens is tilting it down at a very steep angle toward my subject. While I can and often do get down at "flower" level with a group of wildflowers to include mountains in the background, sometimes I find staying a bit higher and pointing the lens down exaggerates the flowers in the foreground and creates more space between them and the mountains. When focusing on the foreground flowers this is a sure-fire way to reduce your depth of field toward the mountains, which is why many photographers love using a tilt-shift lens to maintain the depth of field for the mountains.
By using a tilt-shift lens, photographers are able to angle the lens toward the ground to create their desired composition, while tilting the camera back closer to a vertical position in relation to the mountains. This technique captures the dramatic foreground perspective while preserving the depth of field that is lost with this angle using a traditional non-tilting lens.
Going Wide
While I own and use a tilt-shift lens on occasion, if I were stuck at a mountain lake I would choose the traditional wide-angle zoom every time because it offers more focal lengths and far more versatility than a single focal length tilt-shift lens. Plus for these types of compositions, when stopped down to f/8 or f/11, the zoom lens can still deliver mountains that are "perceived" as sharp even though they may not be "tack" sharp.
The truth is the majority of all published wide-angle landscape photos would fall into this category where the mountains are not absolutely "tack" sharp, but we all still love them and hang them on our walls as huge prints.
Crop Factor
My last reason for choosing the wide angle over a longer telephoto is, if needed, I can always crop a wide shot tighter, while I could never make the telephoto shot wider. A major crop is never as good as having carried the correct lens in the first place, but newer high-resolution cameras make this option much more possible than ever before.
At a mountain lake I would most assuredly be using my 36-megapixel Nikon D800, which, when needed, can be cropped dramatically and still have a file that is larger than what I was producing just a few years ago uncropped.
Given the choice, if I had my entire kit, I would prefer the telephoto (Nikkor 70-200mm f/4G ED VR), which also isolates subjects against the background better, but I can work in a pinch with the wide-angle zoom if needed. As a rule, even when I am not limited by a single lens, I always err on the side of shooting a bit wide to facilitate many different cropping options down the road. There is nothing worse than needing just a little more foreground when trying to make that sale. With today's cameras, shoot wide and plan on a small crop is my new mantra.
While my Nikon D800 delivers the best landscape images of any camera I have ever owned, lately I have been experimenting with an Olympus Micro Four Thirds camera system to save weight on harder backcountry adventures. When possible, I would surely rather be using my Nikon kit, but the weight savings of the Olympus makes a big difference when I am already carrying a huge pack of climbing gear up some steep trail. But no matter which camera system I choose for a particular adventure, you can bet I still have my trusty wide-angle zoom ready to pull out at any moment.
Josh Miller's images have been featured in publications throughout the world and his work is represented by Aurora Photos. To find out more about his work and his workshops, including Costa Rica, follow Miller on Instagram @joshmillerphotography or check out his website, www.joshmillerphotography.com.

FEATURED VIDEO