Changes In Attitude, Changes In Media; Even More Readers' Websites
"With all of our running and all of our cunning, if we couldn't laugh we would all go insane."—Jimmy Buffett
This issue will be on newsstands around the 12th day of the New Year and subscribers should see it a few days earlier, so it's time to roll out my 2010 web plans, starting with my blog. It will become inactive or as Dennis Lehane put it "gone, baby, gone" as will my Facebook and Flickr pages. While many photographers have found new media to be a wonderful resource, it hasn't worked for me. Instead, I intend to direct my energies into a new traditional media project and then resurrect Tortuga Racing along with its own website as soon as there are wheels on the ground. Part of my 2010 web efforts will also include a fifth-generation non-Flash-based www.joefarace.com so it can be viewed on Apple's iPhone and iPod touch. The pain, brain damage, and money that I wasted on some of the past versions of this site, one of which never saw the light of day and another that only lasted a week, makes me admire the sites featured this month even more.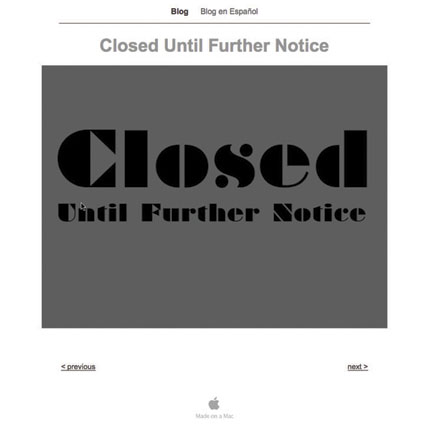 http://englephoto.com
Tim Engle is an amazing photographer who obviously won't settle for the status quo and whose images push the boundaries into areas that are entertaining for their audacity and the amount of fun he apparently has making them. The site contains nine collections of images varying from event coverage that includes the inevitable guys behind podiums, chefs with food, and people holding wine glasses; the difference is that they are executed with the maximum amount of panache and enhanced by his use of wide-angle images to provide his clients with total coverage. "Clowning Around" is a macabre but exquisite (and painful) photo essay that owes more to Heath Ledger's Joker than Bob Keeshan's Clarabell and is definitely not for the kiddies.

Engle's "Fashion & Beauty" collection offers traditional and decidedly nontraditional images that show off his imagination and superb studio lighting control. This also can been seen in an essay called "Red" that explores the many moods of a model wearing red but far more often enveloped in red light. "Body Paint" must surely be Engle's masterpiece and far from concentrating on the body focuses on his model's face and is the most brilliant collaboration between photographer, model, and artist that I've seen in a long time. There's lots more here so take the time to explore the images found in the other galleries and click on "More Inside" to get a look at how spectacularly well Engle makes use of social media. The site, which was created using a WordPress (http://wordpress.org) template, looks nothing like you would expect from a template, partly from the sheer brilliance of Engle's work and partly because it's a darn good template.
© 2009, Tim Engle, All Rights Reserved
www.bryantphotographics.com
The first of three websites by readers this month belongs to Montana's Mark Bryant and contains two collections and an excellent blog. The "Portrait" collection literally takes you to its own site and kicks off with a slide show that includes the inevitable cowboy images but also features photographs of such breathtaking style and sophistication you will be immediately asking "Missoula?" Inside the site/collection are four portfolios featuring high school senior photography that's as good as you will find anywhere in the U.S.A., maybe better. Yet it's in his portfolio of children where his artistry begins to shine with cute, clever, and often stunningly beautiful portraits. Similarly, you'll find the self-titled "Portraits" portfolio filled with a wide variety of people and lifestyles that you would expect to find in a Western city of 60,000 people, each one executed with maximum attention to detail and care for his subjects. The "Groups" portfolio contains family and social groups with a few team shots tossed in for good measure, but what you won't find is the "line 'em up and shoot 'em" images that often pass for group photography. Nope, Bryant cares about his subjects, whether it's one person or a dozen, and I dare say you won't find a better picture of a soccer team anywhere on this planet as the one he treats us to in this portfolio. There is so much here that I'll take a look at his fine art work and site next month.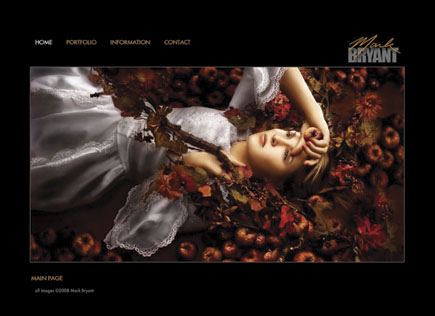 © 2009, Mark Bryant, All Rights Reserved

LATEST VIDEO