Celebrating Camera Day: Racing Around The Web In June
"Happiness is perfume, you can't pour it on somebody else without getting a few drops on yourself."—James Van Der Zee
While National Photography Month may be the entire month of May, Camera Day is celebrated on June 29th. That day is also the 126th anniversary of the birth of James Van Der Zee, the African-American photographer of the Harlem Renaissance that occurred during the 1920s and '30s. It's also a day when photographers of all ages and abilities should venture forth into the world to capture all the beauty that surrounds us. Follow the examples set by the four photographers who are featured in this month's column and I'm sure they'll serve as great sources of inspiration for your images.
www.briankosoff.com
Originally a studio still life photographer, Brian Kosoff turned to producing monochrome landscape images that speak in a whisper. His images are collected into seven galleries with deceptively simple titles. I started with New Work 2 and was flabbergasted by the soft palette of gray tones he uses to articulate quiet moments in time, from a single tree near a lake ("Loch and Tree") to a new take on sailboats ("Boats at Night") using long exposures to create an impression of the boats, producing an abstract and, dare I say it, painterly effect, albeit in black and white.
Often employing the panoramic format and many times eschewing hard blacks, the images in New Work only occasionally show the hand of man in objects such as telephone poles or sprinklers, but seldom any people. With his pristine compositions Kosoff has created an idealized world that sometimes strays into the allegorical, as in his image of three telephone poles titled "Three Crosses" that may generate internal debate within the viewer. And then it hit me: Kosoff is a poet with a camera, rendering stanzas in grayscale using the rhythm of minimalistic images of pier pilings ("Pier Pilings with Bird") where you have to work to see the bird. It's as if Kosoff wants to make his work accessible while at the same time not too accessible, holding back part of an image's mystery for discovery and interpretation by the viewer. And because you can never take the still life out of the still life photographer, Kosoff offers a gallery of everyday objects photographed in ways you never expected using the same monochrome dynamic that pervades his landscapes. You might even call them "tabletop landscapes" but they are really answers to something I often hear from photographers: "There's nothing to photograph." My reply is to look at Brian Kosoff's images and become inspired.
www.danielsroka.com
Daniel Sroka's understated website states that his photographs "celebrate the physical and spiritual grace of the simplest elements of nature" and while that's a tall order for anybody, even a quick glance tells you that he's succeeded. The Artwork menu contains eight collections from New Photographs to Leaves with each displaying images as tiny thumbnails. Clicking any one of them opens a larger version on the left. The whole experience feels as if you're flipping though a series of mounted prints in an art gallery. The Vines and Twigs collection, for example, includes macro photographs and while one or two may be what you might expect, the rest are a quiet surprise filling you with the kinds of feelings you get when meeting an old friend after a long time. Like all of Sroka's work, these images are full of warmth, love, and care.
New Photographs contains macro photographs of tiny portions of leaves and while many have titles such as "Untitled Leaf #240," there's also a description (in this case) that says, "an abstract macro photograph of a dried leaf, forming the image of an eye," answering the inevitable question: what is that? Sroka takes it one step beyond most fine art sites by not only telling you the what but also the how. Tucked away on the About page is a series of menus, including Technique, which when clicked not only opens a window but a window into how Daniel Sroka creates these timeless images. You won't find any lens descriptions or exposure data but instead you'll gain insight into a talented photographer's psyche on how he discovers, explores, and creates. This is must reading for anybody looking to take his or her own photography to the next level. If you need more inspiration, go back and look through these stunning images again.
www.mwrphotos.com
Shutterbug reader Marcus W. Reinkensmeyer constructed his website with Zenfolio (www.zenfolio.com) using a domain name he acquired through Go Daddy (www.godaddy.com), which also happens to host all of my personal sites. On his site, Reinkensmeyer has assembled 16 collections of nature and landscape photography along with a smattering of urban images such as the colorful "Blurred Night Life, Bourbon Street" that vividly captures the spirit of the place. Similarly, his
fog-shrouded "Golden Gate Bridge Sunrise" recalls my favorite scene in Alfred Hitchcock's film Vertigo where Kim Novak jumps into the bay. Reinkensmeyer is at his best when shooting traditional landscapes, including a beautifully composed and minimalistic series of Death Valley sand dunes that's not to be missed.
In his series of images of Arizona, Reinkensmeyer gets all green and wet with images that will have you looking at what most people consider a desert state in an entirely new way. Speaking of wet and wild, his huge collection of images of Maui, Hawaii, are so immersive it makes me wish I were there right now. If you ever needed a reason to take your camera to Utah, his photographs made along the Arizona-Utah border, including Monument Valley and the Vermilion Cliffs, show how Marcus W. Reinkensmeyer has mastered the art and craft of making landscape images that leap off your screen.
www.mountainphotographer.com
This month's Blog-of-the-Month is from Jack Brauer whose WordPress-based site uses a template from Upstart Blogger (www.upstartblogger.com) that was modified by WideRange Galleries (www.widerangegalleries.com). The blog, according to Brauer, is about "all things related to mountains, photography, and especially mountain photography." It is full of his insightful text and gorgeous mountain images, ranging from photographs of skiing in the San Juans of Colorado to the snow-filled valley of Griessental, Switzerland. Along the way there are interviews with photographers such as Dave Showalter (www.westernwild.org) and video clips, too. Yet even when offering advice about avalanche warnings in the San Juan Mountains, Brauer illustrates his blog posts with beautifully crafted and composed images of snowy mountains, showing a side of Colorado that people familiar only with the Rockies seldom get to see.
But don't think this blog is all about Colorado; check out his images of the Andes Mountains that he photographed while on a trek with his fiancée Claudia in Chile and Argentina. His otherworldly image of Salar de Aguas Calientes in Northern Chile looks as if it was made on Mars. Fine art prints of this and many of Brauer's other images are available for sale on the site at affordable prices. Don't leave the blog without visiting his Galleries—there are 20 of 'em—all containing images made around the world in places such as New Zealand, Croatia, and Slovenia that will make you appreciate not only Jack Brauer's extraordinary photographic skills and aesthetic talent but also the beauty of our natural world. And that's no mean feat.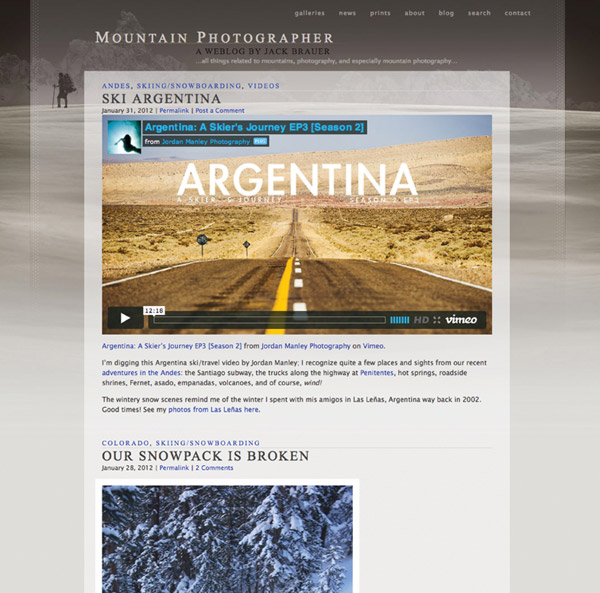 FEATURED VIDEO