Casio's EX-S500; For Spontaneous Snaps
Coming in at just over a 1/2" thick and weighing an unnoticeable 4 oz, the Casio EXILIM EX-S500 is a wonder of miniaturization, considering it has a 3x optical zoom and 5-megapixel sensor. This, the latest version of Casio's mini-digicams, also has what the company terms Anti Shake DSP (Digital Signal Processor) and a large 2.2" LCD screen for both taking and previewing images. The battery of course matches the size, and it's a lithium ion that recharges via the tiny and portable dock that lasts, in our testing in the field, as long or longer than the Casio claimed 200 images per charge. One of the aspects that Casio touts is the MPEG-4 movie mode, which does produce 640x480 high-quality movies, though keeping the camera steady at that size through any extended length of shooting time is a task that proved challenging. But you can snap a still while shooting movies, much superior to trying to grab a "frame" from an MPEG file.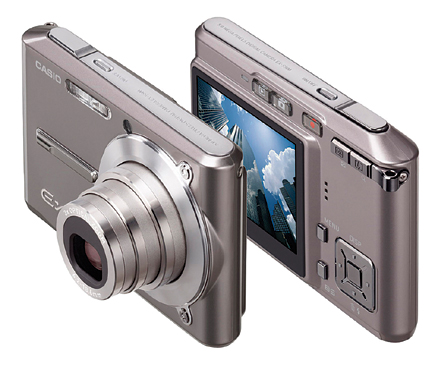 Coming in at 5 megapixels and about a 1/2" thick, the Casio EX-S500 also boasts a 3x optical zoom and Anti-Shake processor.
For what might seem a "fun" camera the Casio delivered very decent results, what with the sensor at 5 megapixels and Fine JPEG making but a 1:5 compression. We shot with a new SanDisk Ultra II 2GB Secure Digital card loaded and write time was so fast that we could make use of the 1 frame per second continuous shooting mode in stills and get, if desired, over 300 shots per card.
The lens and image processing from the Casio EX-S500 delivers very good color and clarity, considering how small the camera is to tote around. These floats on a Maine lobster shack were photographed using the Best Shot "Autumn Leaves" option, for increased warmth and color saturation.
All Photos © 2005, George Schaub, All Rights Reserved
Connecting the camera is simple enough, though I still use card readers. Downloading is fast, with the SanDisk Ultra II 2GB Secure Digital card it was as swift as it gets. The camera itself allows for USB 2.0 connection, given you have a computer with similar port, that hooks up through the supplied charger/cradle. I appreciate the convenience of the cradle, and it is thankfully smaller than any with which I've worked, but a direct AC connector from the camera would have been nice as well.
For a small camera the Casio EX-S500 has some fairly advanced features, such as center-weighted metering used to capture this Maine scene from under the shade of the porch. The display is "live" and reacts to metering, scene, and special effects options chosen.
While I hate to admit it, I do have fun with the Casio Best Shot scene modes, which in this camera have been elevated to 33 in number. This is a very cool interface where after hitting the Best Shot toggle on the camera you get an illustrated and captioned menu on the LCD from which you can pick all sorts of scenarios--the typical ones like Portrait and Sports--and some special effects such as Monochrome, Autumn Leaves (saturated), Soft Flowing Water (steady it when you do), Food (close-up and warm), Retro (sort of a sepia), Twilight, and Business Card. There's even a Silent Movie mode for the movies, which delivers a fun, herky-jerky motion to videos. The Casio also surprises you with such features as an ISO range of 50-400, a touch over 6" Macro mode, and even three metering options: multi, center-weighted, and spot.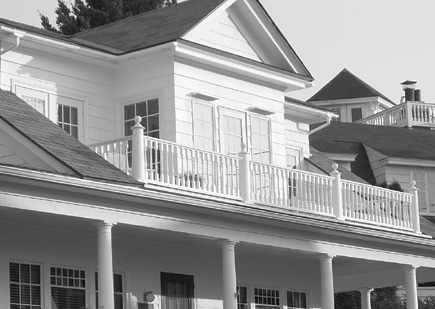 There are 33 different Best Shot settings, captioned and illustrated effects and scene mode options available on the LCD menu. This one's from the Monochrome item.
Coming in three colors--gray, orange and a buff white--the Casio EX-S500 is the ultimate travel companion for those who enjoy making spontaneous images with surprising clarity and enlargeability. Suggested retail price is $399.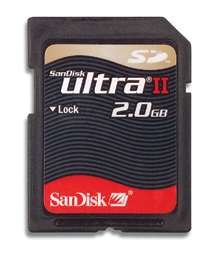 For our shooting we used the SanDisk Ultra II 2GB Secure Digital card, which gave us plenty of room to shoot and fast, efficient read and write times.
For more information, contact Casio, Inc., 570 Mount Pleasant Ave., Dover, NJ 07801; (800) 836-8580, (973) 361-5400; www.casio.com.

LATEST VIDEO