Capturing Images In Camera And The Digital Darkroom; My Way, Your Way, Or The IR Way
"No problem is so formidable that you can't walk away from it." --Charles M. Schulz

After recently acquiring a Canon EOS Rebel XTi, I was able to retire (thanks, Gary) the EOS D60 I've been using for digital infrared photography and start using a camera with a 2.5" LCD screen that delivers 10.1-megapixel resolution. To convert the Rebel XTi to infrared capture, I used Life Pixel, a Washington-based company that was recommended by a reader of the Complete Guide to Digital Infrared Photography. Life Pixel conversions are affordable, ranging from $200-$500 depending on the specific model, and they guarantee a 5-10 business day turnaround time. More importantly, the workmanship was superb and they even returned the original filter Canon places over the image sensor. Their website (www.lifepixel.com) has a cool video showing the entire conversion process, including IR capture, along with tutorials showing how to do the conversion; they sell kits if you're comfortable taking your camera apart. I am not, and the Rebel XT tutorial convinced me to let them do the work.
All Photos © 2007, Joe Farace, All Rights Reserved
Plug-In Of The Month
Neat Image (www.neatimage.com) is a Mac OS or Windows noise-reduction application or Photoshop compatible plug-in that uses algorithms claimed to surpass the quality of most noise-reduction methods, including wavelet-based methods. Neat Image builds and uses noise profiles that are a reusable analysis of the noise properties of a digital camera or scanner. Neat Image lets you build noise profiles automatically or manually. Auto Profiler automatically builds a noise profile with just one click. (Being lazy that's the one I prefer.)

You can also manually select an image area for analysis and let Neat Image do the rest. Profile Matcher selects the best matching noise profile from a ready-made set using the image file's EXIF data. You can manually select a desired noise profile, use the default filter settings, or manually adjust the software's noise filters. You can save and later reuse both the profiles and filter settings. The Home version of Neat Image costs $34.90, while the Pro version, which supports 24- and 48-bit images and works with Photoshop Actions, costs $59.90.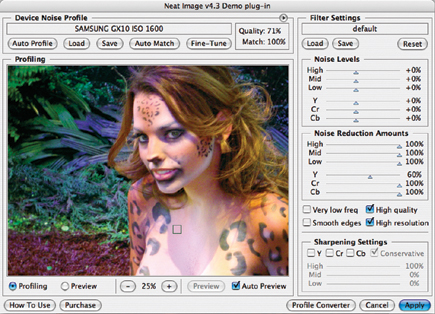 Framed Again
Now that all the various Photoshop shoes have dropped, onOne Software (www.ononesoftware.com) announced that a free PhotoFrame Pro 3.1 update for registered users is available via download. PhotoFrame Pro 3.1 supports 16-bit images and has a new auto-rotate feature that detects an image's horizontal or vertical orientation and automatically rotates frames to fit the image. The Mac OS version of PhotoFrame Pro 3.1 is Universal Binary and features native support for Intel and PowerPC-based computers. In addition, onOne Software announced the Dave Cross Digital Frame Collection that adds 20 custom frame selections to their library of border and edge effects; the group is currently available as direct downloads from their website.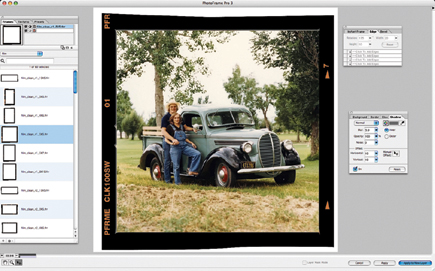 The Panoramic View
FirmTools' Panorama Composer 3 program can generate a 360Þ panoramic photo from several snapshots and save it as a JPEG, HTML, or EXE file. Using a blending algorithm, the application creates a high-quality panorama out of photographs with an overlap as small as 2 percent. By analyzing the blended images, Panorama Composer enhances focus and eliminates photo distortion. This latest version uses automatic lens type detection and has a Flash interface that's easy to learn and use. It runs under Windows 95/98/Me/2000/XP/Vista and costs $29.95. A free and fully functional evaluation version can be downloaded from the following URL: http://panorama.firmtools.com/download.

LATEST VIDEO