CapturePRO Camera Clip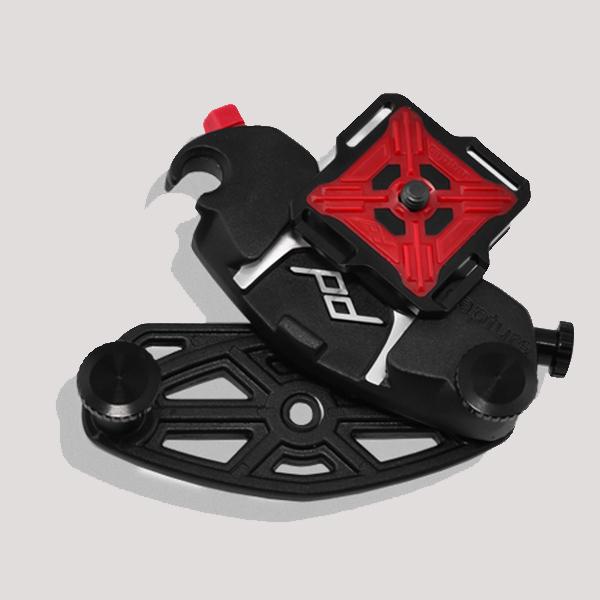 Carrying a heavy camera by a thin strap can be a pain in the neck. A wide strap helps, but not enough. Backpacks, sling packs, shoulder bags and the like are terrific when the camera is not in use, but don't help much once the shooting starts. Ever try working with three cameras at the same time? By the end of the day it feels like you've had a ton of metal and glass dangling from your neck and shoulders.
Belt clips for cameras have been around for decades. Rumor has it that Mathew Brady used one. Some are well made; some are crappy stamped sheet metal. The CapturePRO Camera Clip from Peak Design is precisely milled from solid aluminum and is so well made that it could pass for a surgical implant. No kidding.
Attaching the CapturePRO to a belt or strap is straightforward. Loosen the large screws at either end and open the clip long ways into two connected halves. Position the strap over the exposed grooves and close the clip. Thumb tighten the screws and the CapturePRO grips the strap like a vice. Remove the camera baseplate from the clip and attach it to the tripod socket on your camera. Finger pressure on the D-ring connector should be enough, but Peak Design includes a 4mm hex wrench to snug-up the connection (or conversely, to loosen it). Not too much force—do not over tighten. The bottom of the camera is protected by a thick plastic composite material that also provides friction for a tight fit.
Next slide the camera—baseplate first—into the groove on the CapturePRO and hear it click into place. To detach the camera from the clip and swing into action, press and hold the red release button while lifting straight up. To secure the camera for rough travel, tighten the thumbscrew on the end opposite the red button.
The baseplates come in three flavors. In addition to the standard PROplate, Peak Design offers the MICROplate for smaller cameras and the DUALplate which is compatible with Arca-Swiss and Manfrotto RC2 tripods.
I have one small complaint, and it's not about the product. In order to use the camera clip you must remove the strap from the camera. That's not an enormous problem, but it is a pain. Maybe the smart people at Peak Design will come up with a camera strap that is as easy and convenient to attach and remove as the CapturePRO.
—Jon Sienkiewicz

FEATURED VIDEO