Canon's EF 70-300mm f/4.5-5.6 DO IS USM
An Incredibly Small, Fully-Corrected Telephoto Zoom With High-Tech Diffractive Optics Page 2
Optical Performance
In addition to the diffraction grating, the EF 70-300mm f/4.5-5.6 DO IS USM zoom includes aspherical optical surfaces to correct distortion and spherical aberration at shorter focal lengths. Light rays entering near the edge of the lens are forced to focus on the film plane or image sensor, for higher edge sharpness at wide apertures. While this DO zoom works perfectly with 35mm cameras it was optimized for use with digital SLRs. According to Canon, "lens shape has been optimized and new coatings added to suppress ghosting and flaring" caused by the highly reflective CMOS sensor.
At maximum apertures, the DO zoom produced superb image quality at short and intermediate focal lengths, (far left) (70mm at f/4.5). At long focal lengths, chromatic aberration is extremely well controlled but resolution and sharpness are lower, (left) (300mm at f/5.6), but improve substantially at smaller apertures. (Canon EOS-1Ds; ISO 100; at 1/500 sec and 1/250 sec, respectively; Manfrotto tripod.)
Evaluation: As expected from a lens with the latest in optical technology, image quality was excellent overall with high sharpness and resolution of fine detail. I found little or no flare even in backlighting and color rendition was neutral. Defocused areas in the background look great, without any evidence of unusual patterns or artifacts created by the diffractive optics grating. Under a 10x loupe, 35mm slides made at the widest aperture at 70-200mm are well within professional standards and exhibit little vignetting even at the widest aperture. Because this lens produced the highest resolution and sharpness at f/5.6 at these focal lengths, there was absolutely no need to stop down further.

By the 250mm focal length, center sharpness was very good at f/5.6 but subjects located outside the central area of the frame were quite soft due to lower resolution. Performance improved by f/8 and was close to outstanding at f/11, an aperture that I used often, thanks to the Image Stabilizer. After optimizing my best EOS-1Ds images with Photoshop CS, I made some 13x19" ink jet prints; they're gorgeous, meeting exhibition quality standards. Images made at f/16 at very long focal lengths are even better, with incredible resolution of intricate detail across the entire frame.
Although the DO zoom does not allow for extremely close focusing, it produces exceptionally high quality in tight framing at long focal lengths, especially at f/14 to f/22. (Canon EOS-1Ds at ISO 200; IS Mode 1; 300mm; f/14 at 1/125 sec.)
Final Assessment
For an extremely compact zoom lens, the EF 70-300mm f/4.5-5.6 DO IS USM is certainly a fine performer, but is it competitive with the L-series lenses? Frankly, that determination could only be made with a fully-equipped optical lab after extensive scientific comparison testing. Nonetheless, I can offer the following evaluation based on extensive previous experience with the EF 70-200mm f/2.8 and EF 300mm f/4 L IS USM lenses. Those lenses produced greater contrast and higher sharpness around subject edges, most apparent in digital images. The difference is merely academic because it's easily resolved in post-processing. In the 70-200mm range, at the widest apertures, the DO zoom definitely meets professional standards. It's less impressive at 300mm until f/11; at wider apertures, the prime telephoto lens maintains a strong advantage.

Professionals who often shoot at long focal lengths at wide apertures, or need to use tele-converters, will still want the L-series pro lenses. Of course, the two mentioned earlier add 5.4 lbs to a camera bag and $2750 to a credit card bill. By comparison, the new zoom weighs 1.6 lbs and it's relatively affordable at $1299. It's also a lot more versatile, providing the full 70-300mm range in a single barrel. Use it with a digital EOS camera with an APS size sensor and you'll get 112-480mm equivalent focal lengths. Who needs a tele-converter?

After developing shoulder problems from years of dragging hefty equipment around North America, I enjoyed testing the compact DO zoom. It often delivered superb image quality that will satisfy my stock agencies particularly after a bit of enhancement in Photoshop. In my estimation, it would be a fine choice for most photo enthusiasts, especially for travel, hiking, cycling, and family events. With an EOS Digital Rebel or Canon EOS 20D, it would also be great for some wildlife and sports photography. Regardless of the type of EOS camera that you own, check out the EF 70-300mm f/4.5-5.6 DO IS USM lens if you're a serious photographer who insists on high quality and the latest technology.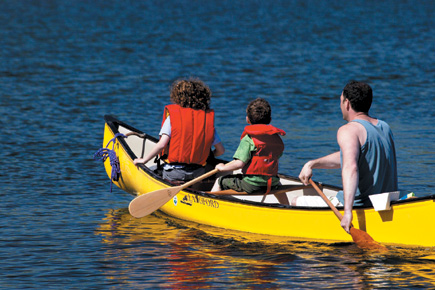 While the L-series telephotos produce higher image quality at longer focal lengths like f/5.6, I frequently worked at 300mm with the DO zoom at f/11, relying on the Image Stabilizer to compensate for camera shake at the longer shutter speed. Images made at the smaller apertures meet professional standards and make for very good 13x19" prints. (Canon EOS-1Ds at ISO 50; 300mm; f/11 at 1/160 sec; IS Mode 1.)
Diffractive Optics Technology
The EF 70-300mm f/4.5-5.6 DO IS USM zoom employs technology originally developed for the 400mm f/4 DO super telephoto. However, the zoom incorporates a new three (vs. two) layer diffraction grating to correct chromatic aberration: the inability of all wavelengths of light to focus on the same plane (the film or image sensor) in basic telephoto designs. In other high-grade Canon lenses, expensive fluorite or UD glass elements are used for the same purpose. In this zoom though, the single DO element, plus a conventional refractive element, correct chromatic aberration, and even more effectively according to Canon.

Diffraction--the bending of light rays entering a very small opening--usually degrades image quality, as in photos made at miniscule apertures such as f/32. However, according to Canon, superfluous diffracted light is not produced by the DO element and almost all of the light is used for forming the image. Also, by adjusting the pitch (spacing) of the diffraction grating, the new element simulates the effect of an aspherical surface, effectively correcting spherical and other aberrations. When compared to the conventional EF 75-300mm f/4-5.6 IS USM zoom, the new lens produces higher resolution, edge sharpness, and color fidelity at all focal lengths, most noticeable at wide apertures.

Aside from the greater effectiveness and lower material cost for a single DO element, the technology allows for smaller telephoto lenses. Because the diffraction grating increases the refractive power of the front and rear lens group, the space between elements can be reduced. Hence, the barrel of a fully-corrected telephoto lens can be shorter. With some models, like the 400mm f/4 DO, significant weight reduction is also achieved. We expect to see the benefits of this valuable technology applied to other Canon products in the future, including digital projectors, additional EOS-system lenses and digicams with built-in telephoto zooms.

Technical Specifications
Construction: 18 elements in 12 groups
Diaphragm: Six blades, circular type
Angle Of View (In 35mm Or Full-Frame Format): 34Þ-8Þ 15 ft
Max./Min. Aperture: f/4.5-5.6 and f/32-38
Minimum Focus: 4.6 ft
Maximum Magnification: 0.19x at 300mm
Filter Size: 58mm
Features: Zoom lock; Image Stabilizer (2 modes); lens hood included; compatible with optional EF 12mm and 25mm extension tubes
Dimensions: 3.9x3.2"
Weight: 1.6 lbs
Street Price: $1299

For more information, visit Canon's website at: www.usa.canon.com.
A long-time contributor to "Shutterbug" and "eDigitalPhoto," stock photographer Peter K. Burian is the author of a new book, "Mastering Digital Photography and Imaging" (Sybex). Covering the technology, equipment, and techniques, this book provides 270 pages of practical advice.