Canon MR 14EX Macro Ring Lite
Simple, Small Product Lighting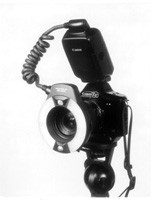 The Canon MR-14EX Macro Ring Lite not only fits onto many lenses for the Canon EOS autofocus SLR cameras, it also is compatible for automatic TTL exposure operation with the older Canon T90 SLR that accepts FD mount lenses. It is intended primarily for use with macro lenses, but will work with others having a 58mm or smaller diameter.
When you have lots of small items to photograph in minute detail, a ringlight is the easiest method of producing consistent results with soft, gentle lighting that shows the item most advantageously. Instead of having distracting shadows such as you typically get with a single, tiny in-camera flash, or flash unit attached to the hot shoe, a ringlight produces soft, even, wraparound lighting that's not only pleasing but also allows you to show the item without bothersome, distracting shadows.
Typical subjects for ringlights include small objects of varied types such as coins, documents, stamps, jewelry, artwork, etc. In addition, they are very handy for all sorts of medical photography including dental and forensic subjects. Some glamour photographers like the soft lighting as well.
One ringlight we recently tested is the Canon MR-14EX Macro Ring Lite. It consists of twin circular flash tubes, each of which is individually controllable for more creative lighting. There are two incandescent lamps positioned between the flash tubes to provide an indication of the lighting in the SLR viewfinder prior to making the exposure. The flash tube section, which fits around the lens, is at the end of a 16" long, heavy-duty coil cord, and contains the lighting components while the controller unit (similar in appearance to a normal shoe-mount flash unit) contains an LCD panel and houses four AA batteries.
Compatibility
This portable flash is compatible with all Canon EOS cameras and even the Canon T90 manual focus SLR that accepts older FD mount Canon lenses. The flash head has a 58mm diameter circular opening that has retractable pins for rapid, easy mounting on the grooves in the front end of Canon Macro lenses such as the EF 50mm f/2.5, 100mm f/2.8, 100mm f/2.8 USM, and 65mm f/2.8 MP-E lenses. It also attaches to the 180mm f/3.5 L lens with an adapter. Once attached to the grooves in the end of compatible lenses, it can easily be rotated through 360°.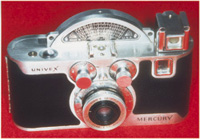 Shiny chrome on camera bodies often is difficult to light without obtaining glaring highlights and reflections. The ringlight provided even light across the chrome top and front of this old Mercury Univex 35mm. By using Aperture Priority at a small f/11 lens opening the entire camera is recorded in sharp detail. (Canon EOS A2, 35-135mm lens at 135mm f/11, Kodak Royal Gold 200.)
The unit fit easily onto the Canon EF 35-135mm f/4-5.6 lens I used for most of my testing on a Canon EOS A2 body. I also used it on my older Canon T90 body with an FD 35-105mm f/3.5-4.5 lens and an old Canon FL 50mm f/3.5 Macro lens, although this latter lens didn't have a groove around the end so the light unit tended to slide off instead of clinging firmly. Both of these cameras fall in the Canon Type-B camera category so the flash could be used in TTL metered fully automatic exposure. The camera could also be manually set to the specific shutter speed or aperture while the flash still fired automatically. In this latter manner you can select a smaller lens opening to achieve greater depth of field and maximize the utilization of the full light output.
When any flash is used in Program automatic mode it tends to select a moderate lens opening of about f/5.6 or f/6.3, which does not produce much depth of field and uses little of the full light output the flash is capable of producing. So working in Manual aperture mode is preferable. With Canon Type-A EOS SLR cameras you can use E-TTL automatic mode.
Although the intent of any ringlight flash is to provide extremely even illumination across a flat field, this unit has versatile adjustments so, when desired, you can add some variation to the lighting. Either of the twin flash tubes can be switched off so the lighting will be stronger from one side or the other. In addition, you can adjust the output level of each tube from full down to 1/64 power for a nearly infinite control of the balance of the light output.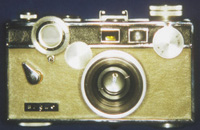 Once again, bright chrome did not present a problem to the ringlight. Note the circle reflection in the old Argus C3 Match Matic 35mm camera lens. (Canon EOS A2, 35-135mm lens at 135mm f/11 at Aperture Priority, Kodak Royal Gold 200.)
Practical Testing
The built-in illuminating lights on the top and bottom of the light unit help immensely in determining if there is any unwanted glare from the subject. They automatically go off after 20 seconds to conserve battery power. The ringlight itself easily attaches to the grooves around the end of many Canon lenses, which hold it securely in place. Yet, it can be quickly removed by simply pressing in on the two locking buttons. For lenses without end grooves, such as my old Canon FL 50mm Macro, you have to carefully hold the flash in front of the lens being careful not to accidentally block the flash tube with a finger that might alter the light output and exposure.
I exposed Kodak Royal Gold 200, Imation HP 100 color negative, and Fujichrome Astia 100 color slide films in both Canon EOS A2 and T90 cameras with several different lenses. My chrome films were all reliably processed by Accu-Color Lab Inc., Fort Wayne, Indiana.
I exposed extra ID color balancing frames on each roll shooting a precision Macbeth Color Checker along with a white background and standard gray card in the frame. This subject was recorded on each roll exposed both with the camera's built-in flash (on the EOS A2), a dedicated Canon hot shoe flash, studio flash, and the ringlight. There was no visible color variance with any of the four different flash units.
Flat, shallow subjects such as stamps or coins can be photographed on Program automatic with the lens only stopped down to about f/5.6 since great depth of field is not needed. (Canon T90, 35-105mm lens at 105mm, Canon ringlight on Program automatic, Fujichrome Astia 100.)
For quick, simple results, just leave the camera in Program automatic mode. But when requiring more depth of field (as on pictures of several old cameras from my collection) I switched over to Aperture Priority automatic with an opening of f/16 or f/22 to achieve the maximum depth of field. The flash then automatically adjusts the light output for proper exposure with TTL metering and sets the shutter speed at the proper sync speed. It's still very automatic, but with much better depth of field. You can select FEB (Flash Exposure Bracketing) if you are concerned about the exposure, but I found my test pictures were all well exposed in normal TTL automatic mode while in Program or Aperture Priority.
This light was very simple to attach and use. The LCD panel is pretty easy to interpret and use when you want to make any adjustments from the normal full power output from each of the two flash tubes. My test images of a variety of small close-up subjects were all well exposed and well illuminated.
The Canon MR-14EX Macro Ring Lite is available at a suggested list price of $750. For more information see your nearby Canon dealer, or contact Canon U.S.A. Inc. by phone: (516) 328-5000 or web site: www.usa.canon.com.

LATEST VIDEO

SPONSORED VIDEO