Canon Intros New EF 35mm F/1.4L II USM Lens with Blue Spectrum Refractive Optics Technology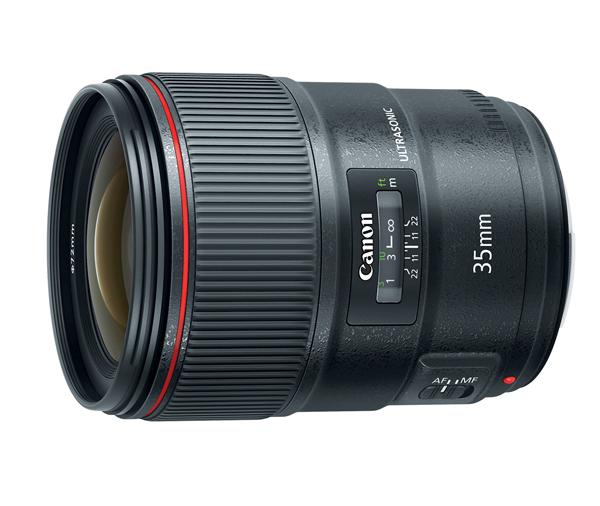 It's been a long wait but it seems to have been worth it. Canon just unveiled new EF 35mm f/1.4L II USM lens, the company's (and world's) first lens to use Canon's new Blue Spectrum Refractive Optics (BR Optics).
According to Canon, BR Optics is a new optical technology that uses organic material newly developed by Canon that's designed to achieve a higher level of chromatic aberration correction than previously possible.
The Canon EF 35mm f/1.4L II USM lens is the follow-up to the original EF 35mm f/1.4L USM, which was introduced in 1998.
"It's kind of a tough act to follow because the original 35mm was pretty good," Canon spokesperson Chuck Westfall said in press call ahead of tonight's launch. "What (the new lens) brings to the table is a new optical formula that's exclusive to Canon. Chromatic aberrations are a tough imaging defect to correct for in wide angle and telephoto lenses. BR Optics is a way to correct chromatic aberrations to a much better extent then even the fluorite crystal or super ED glass that we've used in the past."
Westfall explained that the BR Optics technology is sandwiched between the two optical glass elements in the lens, and refracts the blue spectrum of light to a greater degree than was available before.
"It corrects chromatic aberration to a level that, up to this point, was not possible," he said. "The result is the sharpness of lens has improved and color fringing, which was a common defect, is virtually eliminated. This is something we feel will put this lens above anything in the marketplace."
To see a further explanation of BR Optics, check out the slide below, which was provided by Canon with its press materials ahead of tonight's launch.
The Canon EF 35mm f/1.4L II USM lens is slightly longer than the previous model to make room for the BR Optics and the 14 total optical elements versus the 11 in the older lens. While the lens is fully weather sealed, you can add an optional 72mm filter on front for further protection.
The Canon EF 35mm f/1.4L II USM lens comes with Lens Hood EW-77B and Lens Pouch LP1219. It is scheduled to go on sale in October 2015 for of $1,799.

FEATURED VIDEO